by Erika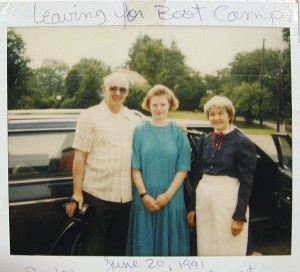 The morning that I left for my missions trip Boot Camp. I'm pictured with my pastor and his wife.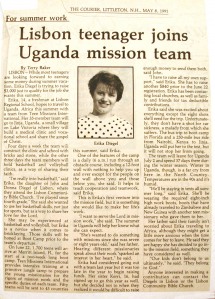 A newspaper story that was done before I left for my missions trip.
When I left for Africa in the summer of 1991, I was excited about my trip and the things that I would see but I was also disappointed to know that I would be coming home to my sophomore year as a homeschooler. I was crushed by my parents' decision and begged them to let me stay in school. After all, I wasn't the one that wanted to be taken out and I wasn't the one that had the problems in school. My parents told me that it was all or nothing. If they were taking out one kid, they were taking us all out. If my 3 siblings, who didn't mind the situation at all, were going to be homeschooled, then so was I. Besides, my mother had told the school that NONE of her children would be back the next year and she didn't want to go back on her word. Even more importantly, she didn't want to appear as though she'd compromised by sending one of us and keeping the others home.
While I was away, I had time to reflect on the upcoming changes that would be happening when I got home. Being disconnected from it all and not being around my friends for the summer made it a little easier to come to terms with the fact that I would not be going back to school in the fall. I think some of this also had to do with being on an emotional and experiential high with being in a foreign country and on a missions trip.
A crazy photo booth picture taken while in Switzerland with two of the boys from my team.
I received a letter from my parents while I was in Switzerland at the end of that summer (my team spent a week in Switzerland as a debriefing session.) The letter told of a church that they had visited a couple times. They had heard about the church at the convention because one of the church elders spoke at the homeschooling convention they had gone to over the summer. My parents were intrigued and encouraged by what he had said and spoke to him afterward. My mother assured me in her letter that we would not be changing churches, but thought it would be nice to visit this church every now and then because there were a lot of kids our ages that we could make friends with. They all homeschooled so we would have a lot more in common than the kids that went to our local church and the friends we had at home. I was glad to hear this because I loved our church and the people in it and didn't want to leave.
I actually still have those letters that came to me while I was away. I pulled them out of storage tonight to re-read some of them. The one I received while in Switzerland said, "Sunday morning, Daddy and I will be all alone! We are going down to Bellows Falls to visit another church. The Elder's name is John Thompson. We are NOT thinking of changing churches. It's 1 1/2 hours away from us, but Dad did tell Pastor Bob we were going on a fact finding mission! Hopefully we can come back armed with some ideas to get our church out of its rut."
I was glad they weren't thinking of leaving, but it also concerned me at the same time. That concern, I found later, was not unfounded. That "fact finding mission" proved to me that when you go looking for something "extra," for the "perfect church," to try to fix other people….you usually get what you're looking for and it's not the thing you need.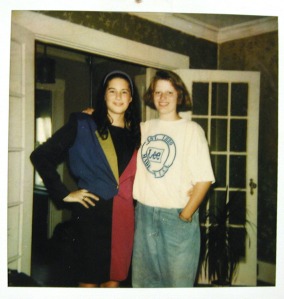 A school friend and I after I returned home from Africa and had started homeschooling.
When I came home from Africa, things at home seemed pretty normal other than the fact that we didn't go to the public school. My parents had assured me that I would still be able to participate in extra curricular activities. I would still be able to be in contact with friends. This made me feel like some things had still stayed the same.
On the first day of school, I walked with the other girls on my street to the schoolyard. I stood around and talked with them about my trip and caught up as quickly as I could with what had happened over their summer until the school bell rang. They all walked into the school and I had to turn around and go home. I remember feeling a "snap" in my heart as I walked home. I'm not sure how else to describe it, but it wasn't a good feeling. Like something had broken. I felt lonely and sad. I wanted so badly to walk into that school with them and to see all of my teachers again. I wanted a locker of my own to put my books in. I wanted to sit at our "regular" table in the cafeteria with my friends. I didn't want to go home to do school.
At the end of the school day, I walked back down to the school and waited until the bell rang. I hung around talking to some of my friends and then walked home again. I did this for a few more weeks until things started to change at home.
In the meantime, my parents took us to the church in Bellows Falls (in southern Vermont) for a visit. All the girls had long hair and looked like they'd just walked out of a "Little House on the Prairie" book. Many of the families were large. There was no Sunday school and no nursery. There was a room for the nursing moms to go into to nurse or change diapers, but other than that, everyone was in the main room of a rented town hall.
There was a communion service first that lasted about an hour. This happened
every Sunday
. The men in the church were encouraged to come prepared to read a passage out of the Bible, to lead hymns, to pray or to share their thoughts on the work of Christ on the cross. Women were expected to stay silent throughout the service. If there was a hymn that a wife or daughter wanted sung, a husband, father or brother would need to voice the request.
There was a break after the service and after about 15 minutes, the main service took place. That lasted about an hour and a half. One of the 3 elders would get up to speak. Like I said in my first guest post, the church was supposed to have a "plurality of leadership." No particular person was supposed to be in charge. This was supposed to keep the men accountable to each other. Even after that first visit to the church, I could tell who was in charge. The same man that had spoken at the conference my parents had attended over the summer. It was quite clear. There was no mistaking it.
Something didn't sit quite right with me on that first visit. The other girls were nice enough and came up to say hello, but they were a little wary of me, it seemed. There was one girl, however, that didn't seem afraid of me at all. Her name was Sara and we hit it off right from the start. We exchanged addresses and started to write to each other.
We continued to attend the local church right down the road from us. Not long after I came back from my trip overseas, I shared a slide show about my trip and talked about my experiences. I could sense an undercurrent going on, though.My parents were frustrated with the church and my father became a bit more vocal about things he thought should change.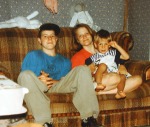 Pictured with my brother (on the left) and my third cousin from Germany.
The fact that we were homeschooling offended some of the people in the church. They felt that if my parents were unhappy with the school system and that they were homeschooling us, there must be something wrong with people that still sent their kids to the school. People also felt sorry for us as children…that we were missing out on the socialization but my parents assured them that we were getting all kinds of socialization between being out in the community, going to the library, visiting with our neighbors, etc. I remember one family was even concerned that we would get a proper sex education teaching. My father continued to talk to the head elder in southern VT and he would bring these "odd ideas" back to the church in town and they weren't met with much enthusiasm. At 14 years old, I could tell that my parents were pulling away from the church in town, that the people there were pulling away from us.
Right before I had left on my trip, I had met a boy. He wasn't a Christian, but he was fascinating to me. He was older (17) and he seemed to like me. When I came home, I found out that he had moved into town and was going to be attending school and would live with his mother, right across the street from my parents' bakery. He was introduced to me by one of my best friends from school. It was over Memorial Day weekend of 1991 and I spent the weekend hanging out with my friend and this new guy and his brother. We talked about all sorts of things, played basketball, walked all over town. It was the weekend of the Lilac Festival in town.
At the end of the last evening, I walked back to the apartment building that my friend's mom lived in. This boy lived right down the hall. My friend ended up going home and I was left to talk in the hallway with this boy. He said he was going back down south to the bottom of the state and that he liked me because I was different. He wasn't sure when he was going to come back but wanted to stay in touch with me.
I was surprised when he put his arms around my waist and pulled me in for a kiss. It was my first kiss. I never expected that I would be 14 and my first kiss would be with a boy that was almost 18, but I was intoxicated by it. There was a part of me that felt really guilty, considering that I was standing there kissing a boy that was so much older than I was (hey, when you're 14, an 18 year old boy DOES seem a lot older) and he wasn't a Christian and I was heading off on a missions trip. My emotions were torn, especially because he had told me that he had a girlfriend back where he lived. (That should have been a warning about the future but I didn't heed it back then.)
I didn't want to leave, but I knew that it was best for me to go home. I played those moments in my mind over and over and didn't tell anyone what had happened, even my best friend (because I knew she had been interested in him at one time and I didn't want to hurt her feelings). I couldn't tell my sister, even though we were very close. I certainly couldn't tell my parents because they would have been furious. So, I kept it to myself and decided that it wasn't such a big deal and eventually, I wondered if it had all really happened. It seemed like a dream. And so I went off to Africa.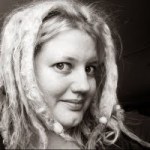 As I said, when I came home, I was surprised to find out that he had moved into his mom's apartment and would be going to school for his senior year in our town. To say that my sophomore and junior year were interesting is an understatement.
Changes of all kinds started heaping on top of me…..