She is like the merchants' ships; she bringeth her food from afar. She riseth also while it is yet night, and giveth meat to her household, and a portion to her maidens. She considereth a field, and buyeth it: with the fruit of her hands she planteth a vineyard. – Proverbs 31:14-16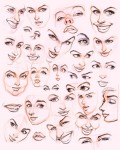 Women around the world have historically been called upon to take care of domestic duties such as hauling water, preparing food, and disposing of waste. In areas where women are denied access to political power, "female concerns" like water security and waste management barely register on the political radar.
Countries with poor track records in recognizing and maintaining women's rights are almost always struggling with endemic issues of poverty and poor water quality.
Most people in the developed world – e.g., Canada , the United States , Australia , and Western Europe – have been shielded from this reality in part because there's ongoing political incentive to build and maintain key infrastructure. This has led, I think, to a general naivety about how lucky we are, and why.
Nowhere is that naivety more prevalent than among patriocentrists – an odd blind spot, given how invested "Complementarians" are in the idea that women and men have unique strengths and discrete spheres of activity.  
I've read a lot of material about, and by, such people as Geoffrey Botkin, Douglas Wilson, and Jonathan Lindvall – all leading lights within the patriocentrist movement. Birth control is wrong. Women shouldn't vote. Daughters should be educated differently – and perhaps less comprehensively – than sons. Maybe women shouldn't drive. They definitely shouldn't work outside the home.
But somehow, these women should be able to guard the home – to produce clean water and good food, despite having no political power to set national priorities that pertain to their supposedly unique spheres of influence. They should be able to take care of all their children properly without having any input on family size. They should be able to educate their kids even when they haven't benefited from a comprehensive education themselves.
In other words, women should be able to do everything…with nothing.
Through this website, No Longer Quivering, Vyckie Garrison has exposed the fruit of that lie. For her, the consequences of this lifestyle were increased health risks, poor food security, and internal strife – a small foretaste of what would happen if patriocentrists were successful in their attempts to disenfranchise women.     
Links:
Women: The Key to Food Security
The 2009 Global Hunger Index: Focus on Financial Crisis and Gender Inequality
Invite others to the NLQ Carnival Days using the buttons below to share this post on Facebook, Twitter, and other social networking sites.