All beautiful the march of days, as seasons come and go; The Hand that shaped the rose hath wrought the crystal of the snow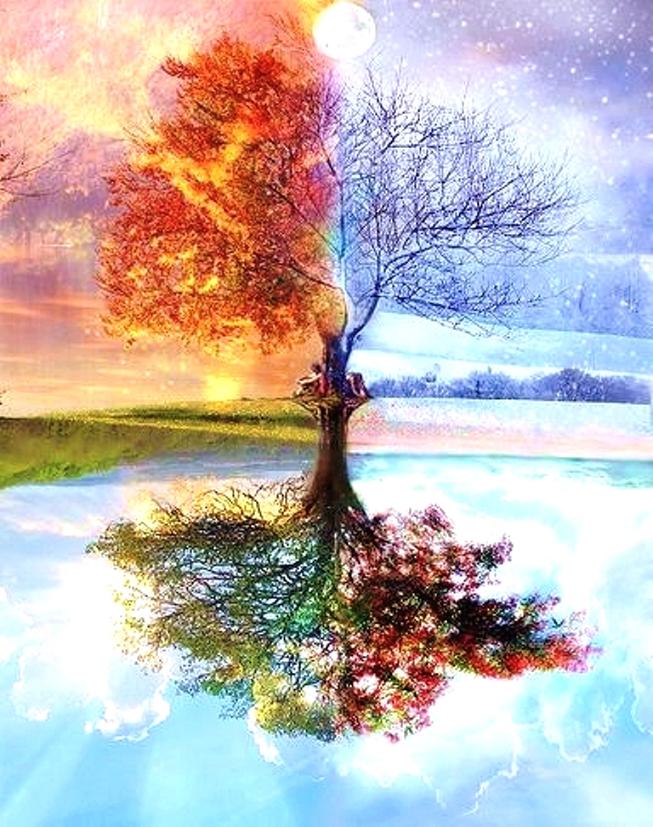 by Shelly Cruz
The night before my dinner engagement was a nervous one. I wanted everything to be extra perfect for my get together the following day. I stayed up praying that evening. Morning came and I felt more at ease. After church service Cecilia's family followed my family home and for the next 4 hours we talked and joked as if we had been friends for years. I seemed to connect really well with Cecilia even though I had nothing much in common with her. Cecilia was ultra conservative, modest beyond words. She was a skirts only, tailored neckline type of woman. She never bared her arms, or wore color on her face or hair. She was prim and proper in every way. Her voice was soft spoken and delicate. She always wore a smile regardless of how she felt.
Cecilia's children seemed delighted to be spending the afternoon playing with my two children. Occasionally they would come back around their mother and listen to her intently as she conversed with me. Cecilia appeared to have so much patience with all her children, always right on top of each of them with loving correction. At least this is how it appeared to me at the time.
Nothing got past Cecilia. She always had a smile on her face when disciplining her children. She knew how to discipline them with love, mercy and grace, or so seemed. I envied Cecilia so much. I felt guilty of envying anyone and later would ask the Lord for forgiveness. How could someone so average, like me, ever amount to anything extra special like Cecilia? I felt amazingly worthless.
Weeks passed, and I found out I was expecting a child. It would be my third. Cecilia also found out that she too was expecting, her tenth child. The church we both attended decided it would be lovely to throw us a baby shower together. I was ecstatic because I wanted nothing more than to spend more time with Cecilia.
I thought it was a great idea to bond with her in a baby shower atmosphere. Most of all, I wanted to learn parenting skills from her. Cecilia taught me different ways to do things. At the shower she taught me about goat's milk, and the benefits it had for young ones. I enjoyed this baby shower more then any I had in the past and I received many sweet things for my new baby.
I remember asking Cecilia at the shower if she knew the sex of her baby. Cecilia told me that they choose to always to be surprised. I thought that was odd and later that day pulled Cecilia aside and asked her why she did not want to find out the sex of her child. It was then that I learned something new about Cecilia and her family. Cecilia gave birth to all her children in the privacy of her own bedroom, no medical assistants. Just her and her husband delivering their babies. I remember thinking to myself, some carpenter he was! I guess he really was a handy man!
Even having diabetes and not being in prime health, Cecilia trusted the Lord in everything, including the birth of her little ones. It was a beautiful vision of faith to me.
Both of our babies were due around the same time. There was something extra special about being pregnant at the same time as my new friend. I felt as if we would grow together, in a sisterhood sort of way.
Several more weeks passed after the baby shower. We got a call one day for an invitation to Cecilia's house after church. I accepted, and left the phone literally screaming and jumping up and down, like a child who got invited to a birthday party!
Folks at church began noticing us chatting before and after each service. They began questioning me; probing me for details about Cecilia's family. Ladies began asking me questions such as what Cecilia's husband did for a living and why did they have so many children? The truth was, I really did not know much about Cecilia's family. I just knew I was drawn to them like a magnet.
The Sunday lunch with Cecilia's family came upon us quickly. My children were excited about having so many other children to play with for that afternoon. After church we followed Cecilia's family over to their house, which seemed to be out in the middle of nowhere.
It was actually a little over a hour away; the town only had a population of five-hundred, I later found out. We arrived at a very humble looking old white farm house with acres as far as the eye could see. Cecilia's husband smiled and said there were 500 to be exact,. We came in and got settled, and shared a terrific lunch together.
I got to learn the ropes of being a great host and extending loving hospitality. Even my husband was having a great time, learning about turn of the century rifles and civil war guns that they no longer make. Cecilia's husband collected old guns. My husband got to shoot his first gun that day; the old fashioned way, with gun powder.
Meanwhile, my children were having the time of their lives, playing out in the old barn; tea party, and dressing up in old pioneer costumes. They later all came inside and one of Cecilia's older daughters played the piano..All the children sang a beautiful song to us. It was beautiful! I never witnessed anything so perfect. Cecilia's children were well mannered, well dressed, and were so helpful to their parents. I found it so odd listening to them beg their mother to clean up and do the dishes.
Meanwhile, Cecilia's husband started telling my husband and I the importance of having children play a musical instrument. At the time, I was taking notes in my head. I have never been very musically inclined and my children were not very interested in instruments. I remember wondering how I was going to change that.
Fellowship was sweet and fulfilling that afternoon, despite the lack of TV in their house, which I thought odd. I never knew anyone who did not have a TV set in their home. My family had a three of them at the time!
Regardless, fellowship had never been sweeter. It was probably the best my family had ever experienced and we were social butterflies within our church group. We always had dinner parties and get togethers with other families on a weekly basis, yet nothing like this kind of sweet fellowship. Something was very different with this family.I continued to make it my mission to find out what that was. I was definitely being affected.
Both of our families started to get together more and more frequently after that afternoon. Many things began to unravel right in front of my very own eyes….
Time Heals All Wounds by Shelly Cruz:
Part 1 | Part 2 | Part 3 | Part 4 | Part 5 | Part 6 | Part 7 | Part 8 | Part 9 | Part 10