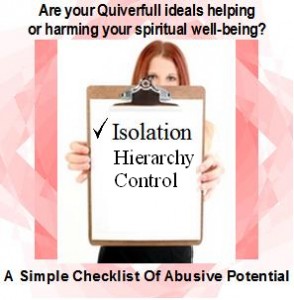 by Kristen Rosser ~ aka: KR Wordgazer
Beloved, believe not every spirit, but try the spirits whether they are of God: because many false prophets are gone out into the world. I John 4:1
Also of your own selves shall men arise, speaking perverse things, to draw away disciples after them. Acts 20:30
Stand fast therefore in the liberty wherewith Christ hath made us free, and be not entangled again with the yoke of bondage." Galatians 5:1
The above passages warn us that not every movement that says it is following Christ and His teachings, actually is. How can we know the difference?
Jesus said "Ye shall know them by their fruits. (Matthew 7:16)." Galatians 5:22-23 says that out of the "liberty" spoken of in verse 1 of that chapter (quoted above), we should see the fruit of "love, joy, peace, longsuffering, gentleness, goodness, faith, meekness, temperance." If the way you and your family are being encouraged to live is a life of liberty, causing a growth of these qualities, then it is bearing good fruit.
This series asks a set of questions designed to help you determine whether following the Quiverfull movement is keeping you and your family in the liberty of Christ and bearing the fruit of the Spirit.
Does your group or beliefs have a high amount of control over how you live your life? Is there pressure to conform to specific lifestyle choices? Does your group or beliefs emphasize some kind of hierarchical authority structure?
Does your group present its specific teachings as self-evident and beyond all dispute? Is questioning your teachers' readings of the Scriptures equated with questioning God?
Here are some teachings or statements you may have heard in the Quiverfull movement:
"In submitting to your husband's authority, you are submitting to God. The husband is God's instrument for guiding, directing and blessing a family. The Lord works through imperfect vessels, so your husband may not always be right, but in trusting him, you are trusting in the Lord to work through your husband ~ and He cannot work as effectively when you go outside His channels of authority and take matters into your own hands."
"Until you are married, you are under your father's authority. Honoring, respecting, loving, trusting and obeying him is a training ground for learning to honor, love, trust and obey God."
"Lukewarm Christians don't understand what it is to truly give yourself to God– to give Him your womb and let Him open or close it as He will. 'Christianity Lite' is about serving the self, not God."
"We dare to be different from traditional, pew-warmer Christians, and we form close associations with like-minded families who will support and uphold our values."
"If this way of living seems harsh or unfair to you, don't complain to me about it, because it's not my idea– I'm just telling you what the scriptures plainly state. So if you don't like it, take it up with God, because it is really Him that you have an issue with– not me."
And here are some of the Scriptures that are emphasized:
"Wives, submit yourselves unto your own husbands, as unto the Lord. For the husband is the head of the wife, even as Christ is the head of the church, and he is the savior of the body." Ephesians 5:22-23.
"Children, obey your parents in the Lord, for this is right. Honour thy father and mother (which is the first commandment with promise) That it may be well with thee, and thou mayest live long on the earth." Ephesians 6:1-3.
"I know thy works, that thou are neither cold nor hot: I would thou wert cold or hot. So then because thou art lukewarm, and neither cold nor hot, I will spue thee out of my mouth." Revelation 3:15-16.
But is this the whole counsel of the Scriptures?
Quiverfull believers often insist that the movement is not spiritually abusive because unlike the common understanding of "cultic" movements, it does not have one central authority figure or centralized structure. Instead, Quiverfull is a loosely associated collection of family patriarchies, spreading their interpretations of the Bible through home-based magazines, tape ministries, seminars etc. But a family hierarchy (husband-wife-children) is still a hierarchy, and the father's authority within this hierarchy is often absolute.
Quiverfull believers will also often deny that there is any life-control in the movement, because in peripheral things– women wearing dresses, long hair and no makeup, as well as home schooling and home churching– some latitude and options are allowed. However, the main teachings of the movement ("priestly" control of the home by fathers for whom children are a "quiver" of arrows raised by a submissive wife who sees herself as a willing "vessel" for as many children as God will send) are non-negotiable. The result is known as "bounded choice." The illusion of freedom is present, but guilt and peer control– fear of disapproval and rejection– actually hold each individual to a narrow set of choices within strict boundaries said to have been set directly by God. The word "lukewarm" is often used in this kind of peer control, to shame a Christian into a more "godly," restrictive lifestyle.
Though Jesus spoke in Revelation 3:15-16 of those who are "lukewarm," verse 17 goes on to define those who are called "lukewarm": "Because thou sayest, I am rich, and increased with goods, and have need of nothing. . . ." These verses are too often used to refer to anyone who does not follow a particular set of practices that "prove" a Christian's devotion or state of being "sold out" or "totally committed" to God. But Jesus defined the "lukewarm" simply as those who were satisfied with their material goods and saw themselves as having no need of God. He described the "blessed," on the other hand, as those who were "poor in spirit" and who "hunger and thirst after righteousness." Matthew 5:3 & 6. Christ's message was about humility, about recognizing our state of need– not about proving ourselves through self-sacrificial lifestyles.
Christ also said to the Pharisees, when they criticized him for eating with "publicans and sinners" — "Go ye and learn what that meaneth, I will have mercy and not sacrifice." Matthew 9:13. Jesus was being criticized by those who showed great devotion to God through sacrificial lifestyles, tithing even the smallest of herbs, building and decorating the tombs of the prophets, carefully observing the Jewish practices of cleanliness (Matthew 23). But Christ was much more interested in a simple life of love– compassion for one another, for the social outcasts, the poor, the widows, and the downtrodden. It is a mistake to define someone as "lukewarm" merely because they don't live the way we have chosen to live. From the Pharisees' point of view, Jesus was the one who was "lukewarm"! But he wanted their devotion to God to show in the mercy they walked in, not in the sacrificial lifestyles they prided themselves on.
Pride is also evident in a Bible teacher or preacher who claims that what he is teaching is self-evident and beyond dispute from the Scriptures. James 3:13 says that true wisdom shows itself in "meekness," and verse 17 says that the wisdom from above is "peaceable, gentle, easy to be intreated (willing to consider another point of view), full of mercy and good fruits. . . ." And the Apostle Peter himself said that Paul's writings contained things that were "hard to understand, in which they that are unlearned and unstable wrest, as they do also the other scriptures, to their own destruction (2 Peter 3:16)." If Peter himself could admit that Paul's writings were hard to understand, and that it was possible to "wrest" (wrestle) with the meaning of all the Scriptures, then how can any modern teacher, 2000 years or more removed from the writing of the passages and the understanding of the original listeners, claim that his or her reading is beyond dispute? How can anyone be so arrogant as to claim that to argue with them is to argue with God? The Apostles spoke many times of the kind of teacher who "exalts himself" in such a way as to bring the listener into bondage (II Corinthians 11:20) or who constrains others to make a "fair show in the flesh," so that the teacher may receive glory (Galatians 6:12).
As for the passages about obedience of children and submission of wives (these passages also discuss the obedience of slaves), Paul makes it clear throughout his writings that he works within the social structures of the cultures in which he finds himself, "that I might by all means save some, and this I do for the gospel's sake." I Corinthians 9:22-23. In fact, in Titus 2:5-10 his reasons for encouraging wifely submission and the obedience of slaves are "that the word of God be not blasphemed," and that "they may adorn the doctrine of God our Saviour in all things." Paul does not want domestic issues or social uprisings to distract from or damage the gospel message. But what Paul is not teaching is a timeless, hierarchical authority structure in which husbands/fathers/slave owners have a "divine right" to rule. The entire counsel of the Scriptures shows that hierarchy is not God's perfect will, but a product of our fallen world.
Those who use Ephesians 5:22 to teach the subordination of wives to husbands forget that the verse just before it says, "Submitting yourselves one to another in the fear of God (v. 21)." Those who use Ephesians 6:2-3 to enforce "honor thy father and mother. . . that it may be well with thee" as a threat that if their child doesn't "honor" their father with complete self-abnegation to the father's will, they will be cursed by God– they are forgetting that the very next verse admonishes, "fathers, provoke not your children to wrath, but bring them up in the nurture and admonition of the Lord (v. 4)." The Lord's nurture and admonition came through "taking upon him the form of a servant (Philippians 2:7)," not by insisting on his authority and on being served. And slave owners are also told in the same passage in Ephesians that they are to "do the same things" to their slaves as their slaves are told to do to them. Ephesians 6:9.
Christ said, "Ye know that the princes of the Gentiles exercise dominion over them, and they that are great exercise authority upon them. But it shall not be so among you. . . whoever will be chief among you, let him be your servant." Matthew 20:26-27. And Philippians 2:3 says, "Let nothing be done through strife or vainglory, but in lowliness of mind let each esteem other better than themselves." Finally, going back to Matthew 23, we see the long diatribe of Christ against spiritual leaders who "bind heavy burdens, too grievous to be borne, and lay them on men's shoulders (v. 4)," who "love the uppermost rooms at feasts, and the chief seats in the synagogues (v. 6)." He tells us that those who want to be "masters" are forgetting that "One is your master, even Christ." And yet our Master himself did not come to be served, but to serve.
Mutual submission, yielding and deferring to one another, is the order of the kingdom of God. Hierarchy and domination are the order of the sinful flesh.
Control through pressure, discouragement of questioning, and an emphasis on authority and hierarchy, are sure signs of a movement that comes from men and not from God. I Corinthians 7:23 says,"You were bought with a price; be ye not the servants of men." Isn't it time to turn away from bondage, and begin walking back into the liberty wherewith he has made us free?
The other parts in this series, when read together with this one, make up a checklist for spiritual abuse within the Quiverfull movement. We encourage you to read them as well.
Discuss this post on the NLQ forum!