All beautiful the march of days, as seasons come and go; The Hand that shaped the rose hath wrought the crystal of the snow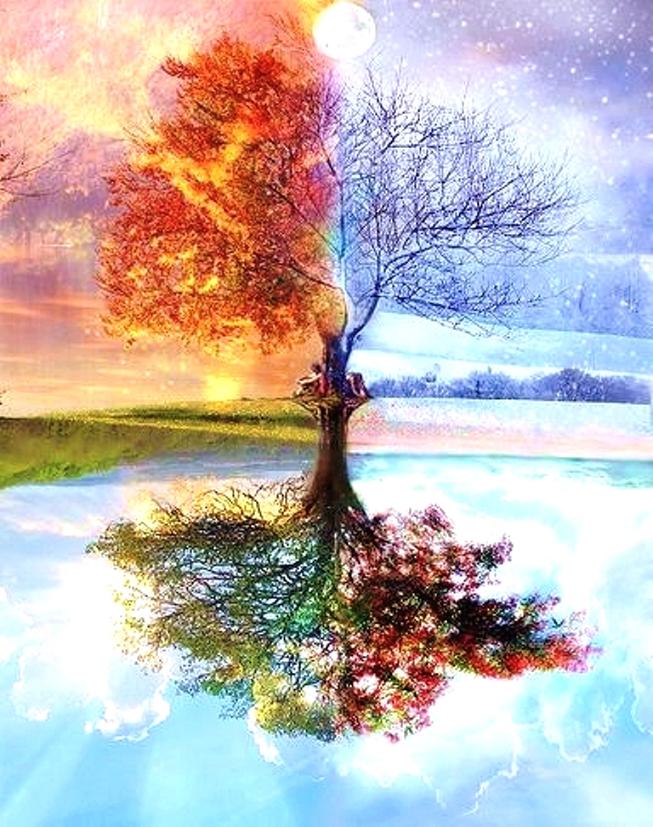 by Shelly Cruz
Our family was planning an out of state move soon. My husband had been praying about our life up North. For him, everything seemed mundane, so he started praying that if the Lord had more for us, he would have to shake things up a bit. For me, I felt that everything had already been shaken up enough.
As always, the Lord answered my husband's prayer almost instantly. The job that he thought he was going to have until retirement became very stressful for him. When folks at work found out that he was a believer, they started playing little tricks on him. One day my husband went to work and there were tiny tacks all over his desk chair. Another time, someone complained about my husband's Christian screen-saver on his monitor, yet another time, he got written up for listening to Christian music in his office. It was time to move on, my husband told me.
We stepped out in a leap of faith, and placed our house on the market. It was sold within three days and we had 30 days to be out.
I spent weeks trying to convince Cecilia and her family to move down South with us, but Cecilia assured me that they would visit frequently. They were not in a position to move right now.
Having turned my womb over to the Lord, I had just given birth once again. I had become pregnant when my son was only 12 weeks old. I had another daughter this time, and was very emotional and confused. I was tired and cranky all the time it seemed. I had no idea who I was anymore. I felt as if I was just going through the motions of my life.
We told our church of the past four years that we were planning a move soon. The congregation was very negative towards this news. Everyone had something negative to say to me, and there was no one offering to help my family with any of the details either. No one except Cecilia's family, that is. They were there for us, right up until the end.
Cecilia's family seemed to be the only ones that cared in my sleep deprived puffy eyes. One day, Cecilia showed up unexpectedly at my house while my husband was at work. She insisted that I go take a long hot shower and nap while she watched my four kids, as well has her own ten. I was so thankful.
The house remained so peaceful and silent too. I remember lying in bed not hearing a single word, wondering how she managed to keep fourteen children so quiet. I barely was able to manage keeping my four children entertained and quiet. My children were 8yrs, 6yrs, 16 months, and 4 months old at the time.
I awoke a few hours later to feed my little one, and to my surprise, during the time I was sleeping, Cecilia managed to clean the whole house and order pizzas for supper. She was such a GEM! She was super mom, super friend, super everything!!! It was genuine love. Real sisterhood friendship, something I spent many years craving for.
Cecilia's family continued to come over every night to help us pack. She spent many hours helping me go through our basement, which was filled with years of shopping sprees.
Looking back, I would not have been able to do it on my own. My husband worked till evening hours, and when he got home, he was too tired to help with anything. I was responsible to get it all taken care of, and now with 4 children in tow, it was sucking the life out of me. I had no family in the state that we lived, and now, the only friendship that I had, was Cecilia, and now we were going to be moving soon to a state where neither one of us knew a soul. I just had to stay focused. I had to trust God, and know that he would make it all turn out right.
Feeling physically and emotionally drained, having turned my womb over to the Lord, I began waiting for the Lord's blessings to come pouring down on my life. I still very much wanted what Cecilia had!
My life went from a smooth sailing lifestyle, dressing my two kids in designer clothing, to now having double the workload; All in less than 2 years.
Although it was hard, I was convinced that I was getting closer to what Cecilia had. I too, would start getting blessed, and would earn God's love and favor! Maybe I would never be "just" like Cecilia, but at least I was going in the right direction now, or so I thought…
That said, some nights I would lay awake in bed thinking about my old friends. I had one very close friend Margaret, who used to be there for me, but she had recently gone back into the work force and was just too busy to check in with me anymore. I had two other friends who I used to go here and there with, but once I started focusing on having more children and staying home, these friends began inviting other ladies to go out, for those girl's night out evenings. I felt so out of the loop, and began to fall into a deep depression.
One day while chatting with Cecilia on the phone, I asked her if she had very many friends. Cecilia said that she had friends in nearly every state. Man, I envied this! Was there not one negative area in Cecilia's life? Evidently not! She was obviously loved by many, and a saint too!
She once mentioned this family called, "The Duggers". They had a TV program called, "14 Children and Pregnant Again." I had actually seen this program before, I told her, and was amazed that Cecilia knew them personally. They first met at a seminar in Texas one year, she told me. Cecilia's family did a lot of traveling, and knew many Quiverfull families. They would spend certain weeks throughout the year traveling from state to state fellow-shipping with other like-minded families. How cool is that!
Massive amounts of envy started filling my heart once more; I was only human! As I listened to Cecilia tell me all these stories about their road trips, I began to recall the certain weeks in the past couple years that I hadn't been able to reach Cecilia by phone. I did not understand why she didn't mention these road trips to me before now. It upset me, and made me sad. I shared everything with her! She was my confidante, my personal Titus 2 friend.
On another occasion, I asked Cecilia if her family had ever got together with anyone else from our church. After all, it had been well over a year now, and surely out of two hundred church members, they had to have gotten together with some of the other families too.
Cecilia told me that they were not like the other church members. That once our family moved away, they were going to stop going to our church all together. I found that odd at the time. I asked if they had another church that they planned to attend. She said no. She did mention that all their other friends, in all the other states, home churched, all except one family in Pennsylvania that they visited.
There was a very nice church in Pennsylvania that they visited the previous year with some friends. It was very exclusive Cecilia told me. I began wondering what made the church so exclusive. Cecilia then explained to me, that in order to become a member, you had to home school your children, and be of like manner.
The church was very Titus 2, she said. I asked what she meant exactly…. Cecilia shared that the ladies were not allowed to work outside their homes. That this went against scripture and would lead to a family being shunned out of the congregation had anyone disobeyed. They were also agreeing to let the Lord plan their family size. The members agreed to be Quiverfull. If you agreed to these few things, you were entitled membership.
I remained silent for a minute, and then asked how big the church was. Cecilia said it was about twenty to thirty families, and close to two hundred children. I remember trying to do the math in my head, and asked if it was a Baptist church. Cecilia said that it was, and very conservative. In fact, it was much more conservative then our IFB church we were both attending at the time. I asked Cecilia how she managed to have friends in so many states. I just had to find out! How cool would that be? To be able to take road trips around the USA, fellow-shipping with so many like-minded families.
Cecilia then mentioned her little secret in more detail……
Discuss this post on the NLQ forum!
Time Heals All Wounds by Shelly Cruz:
Part 1 | Part 2 | Part 3 | Part 4 | Part 5 | Part 6 | Part 7 | Part 8 | Part 9 | Part 10

………………………………………………………………………………………
//
NLQ Recommends …
'Quivering Daughters' by Hillary McFarland
'Quiverfull: Inside the Christian Patriarchy Movement' by Kathryn Joyce