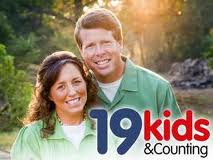 by Hopewell
Viewers of the earliest Duggar TLC Specials [14 Children and Pregnant Again, 16 Kids and Moving In, etc] know that the Duggars have not always lived in a 7,000 square foot debt-free dream house.
In fact, like many of today's Quiverfull families, they lived very humbly for many years saving for that dream home. A 900 square foot home behind a used car lot on a busy highway is not an average Mother of 5 little children's dream home! Yet Michelle put up with these cramped quarters—often hiding out in the bedroom with all the kids while Jim-Bob closed a car sale. Like many savvy real estate investors they "moved up" to a "fixer upper"—a repossessed, all brick ranch home that was much bigger. They did the renovation work themselves, learning along the way, in order to make it affordable. They did their furniture and décor shopping at auctions, yard sales and thrift stores. When Michelle said on TV that they "worked really hard" so they could "relax" today she was telling only part of the story. The rest of it is not taking out a mortgage or any other debt to buy that bigger home.
But while the Duggars, on their 20 acres, with their 2000 square foot boys and girls bedrooms and indoor climbing wall represent the zenith of Quiverfull life, we need to look at how an "average" Quiverfull family lives to truly get the "whole" picture of life in this movement.
Let's look at how other Quiverfull families provide life's basic necessities for their large families. But first, a brief mention of the Frugal Life from way back—like in the 1980s. Frugal Living Guru, Amy Dacyczyn's, Tightwad Gazette newsletter has been collected into a commonly appreciated source book—available in both one and three volume additions. These are revered by "Tightwads" of all political and religious persuasions. These are very often mentioned in blogs with families either voluntarily reducing consumption or who are struggling to survive – the type of family Hillary McFarland writes of in her new book Quivering Daughters:
"Until you have knelt for hours in a field like my mommy, scrubbing thousands of cloth diapers by hand….till you cry with guilt when someone buys you something new and you try to take it back to the store because you could use that money to buy groceries or pay a bill…till you school your children all day, bake twenty loaves of bread by hand…."(p. 30)
In many rural areas, such as my current and former counties in two different Midwest states, it is not unusual to see a well-used van dispensing a river of children in very odd clothing and a haggard mother—often entering the public library for more school books or to make use of free Internet. You'll also see them selling produce at road side stands or at the pay-by-the-pound recycling centers, the clearance racks and ½ price day at the local thrift shops. The struggle is etched on their faces.
From the anecdotal evidence posted in the forums here at NLQ and elsewhere, these families exist everywhere—and far outnumber the oft-profiled Royal Families of Quiverfull such as the Duggars. They cobble together mobile homes, sell e-books of well-worn recipes, they market quilts, cloth diapers, goat milk soap, homemade lotions and herbal remedies. They glean aluminum cans from the roadside and change from the sidewalks. They birth babies alone or with an under-the-radar unlicensed midwife. They treat illness with what they can afford and trust—which rarely includes a doctor. Many times, like Gil and Kelly Bates, they qualify for federal assistance such as WIC or state children's health insurance, but won't take it. Let's take a look at THESE Quiverfull families and see, truly, how the greater portion of Quiverfull families live.
Shelter
At her now defunct blog, Under $1000, blogger Emily describes and illustrates with photos her family's extremely small living quarters in a rental apartment. Certainly, conditions like this are not unusual among families of college or graduate students. [Her husband was in seminary.] In most cases they are temporary and become part of family folklore in later years. What makes Emily's family different is that Emily publically discussed her plans for even SMALLER living quarters as their family grew LARGER! She had no problem with her children sleeping on blankets on the floor if necessary.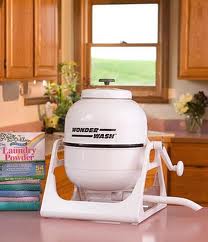 Most American parents would find this at least odd if not almost abusive. [Although, as we will see a little later on, this style of living is endorsed by one of the top Quiverfull evangelists.] She was frugal to such an extreme that she routinely used only a crock-pot to cook in order to save money on the electric bill. She kept tubs of children's clothing stacked in her apartment so she did not need to shop for the next size. Aside from this ridiculous mini-washer, she washed clothes, bedding, diapers, in a plastic storage tub in a shower stall, rather than going to a laundry mat. Many of her money-saving ideas were not quite mainstream (an odd diet of fermented drinks and crock-pot cream cheese, for example).
Build It Yourself vs Shack Living
The Duggars are hardly the first family to ever build their own home with their own hands. Possibly they've built the most extreme house though. Many families have built their homes as they can afford it. In Quiverfull families this is not at all uncommon. Quiverfull "Royalty" such as Steve Maxwell and his sons have built two houses and remodeled a third.
On their blog, the Brow family of Vermont has detailed how, while squeezing into a small mobile home, they are building their own home debt-free. The Seargeant family of Plymouth Rock Ranch, spent a considerable time living in a tent while building their cabin. In Alaska the Wilkinson family details the building of their home on their blog as well.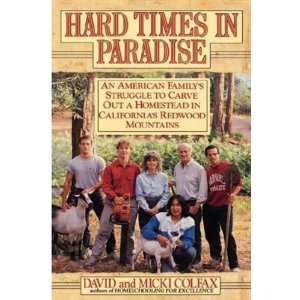 Certainly, build it yourself, is not merely for Quiverfull families. America's first prominent homeschooling family [who were VERY secular!!!] the Cofax family sent a son to Harvard after he helped clear the land, build the house and establish a functioning homestead and after he published several articles in goat breeding journals!
And, let's not forget that the poster family of what can go wrong in Quiverfull life, the Yates family. Not long before the horror of Andrea drowning their children in the bathtub, Rusty had moved the family out of the RV they had been living in and into a modest ranch house. The strain of living with all her children in such tight quarters was too much for Andrea and her post-partum depression reached a danger zone. Sadly, it was too little, too late.
Utilities can be a staggering expense—although two that are often helped by rural living are heating and water. While many families with well water have to use a water softener or water purifying system, some families simply cannot afford these options. The beauty of a well is no water company to pay. This can be a substantial savings. Heat, (especially in the more northern states) can be very, very expensive. Home heating oil, propane, or electric heat is high enough in an area with efficient delivery networks. In rural areas served by Rural Electric Co-ops or in which heating oil or propane deliveries have to add mileage surcharges it can be extremely expensive. Many rural families, even those with a decent standard of living (like the Duggars) choose to heat with wood. Selling firewood supplements many family incomes as well. Finally trash removal is a huge expense in rural areas. Fewer customers per mile, greater distances to dumping sites and landfills, makes regular trash collection out of reach for many people. Rural families are often ahead of the curve on trash—growing food, composting, recycling all help with trash expenses. A once or twice a year trip to the dump, trash burning or burying, often takes care of the rest.
Quiverfull families in rural areas often live in substandard housing or with other primitive conditions like no indoor plumbing or even no running water. Perhaps the most extreme example of staying debt-free while building a home comes from one of the most Royal of Quiverfull "Royal Families"—the Campbells. While Colin and Nancy run the Above Rubies empire from a beautiful custom-built home, daughter Serene and her family have lived for years in conditions familiar to only the poorest of 3rd world nations.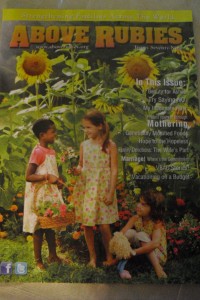 Quiverfull matriarch Nancy Campbell has often written about her daughter, Serene's family and their struggle to complete the building of their home. In spite of coming from a very well-off family who brought the Christian music superstars the NEWSBOYS to America, Serene and her large family live in a "shell" of a house with no running water. Even though they live in a "family compound" with other members of their own family, Serene and her children must haul 5 gallon buckets of water from a nearby stream for their daily use. Recently flooding made the lower level of the home unlivable. Rather than move out, conduct mold abatement and other necessary repairs, the family simply moved upstairs. Nancy called this situation "hilarious." Most Americans would call it child neglect or even child abuse.
Serene herself has written of having to wear masks in the house due to excessive smoke, of having to run laps around the house with her children to keep warm and other equally ridiculous experiences—all in the name of being debt-free. Better to endanger the health of your children than incur debt!
Serene helps support her family by hosting women's retreats, recording and selling cds and promoting her own views of "good health." Heath "advice" from a woman who apparently does not consider a smoke filled, mold-infested home to be a health hazard for herself and her children. Like Serene, Emily at Under $1000 a Month [above], kept her MAINE apartment so cold in the winter that one reader compared it to an old-time city tenement—a breeding ground for TB. Serene also had no problem ignoring other comforts for her children. For years they slept "like puppies" on the floor on blankets—surely the inspiration of Emily's planned future sleeping arrangements for her own children!
Food
The Duggars' shopping trips to Aldis focus on bulk buying of frozen burritos by the case, trays of frozen lasagna, jars of spaghetti sauce and boxes of so-called Macaroni and Cheese. Many other Quiverfull families eat more God-made than man-made food.
There are excellent examples of God's bounty, lovingly coaxed from the ground by busy moms and toddlers, teenagers and even over-worked Quiverfull Dads. (Although not stated as Quiverfull, the family profiled in these posts exemplify a healthy, yet minimal income family). Gardening, canning, freezing, jam-making, soap making, quilting are all frequently found on Quiverfull Mom-blogs and homemaking sites. More than one family has a cottage industry producing ebooks or even dvds on how to do these money-saving tasks (soap making, bread baking, or Serene making sourdough). In fact, the West family even had their homemaking videos produced by Franklin Springs Media.
Gardening and food preservation is another area the Duggars strangely ignore. The garden they showed in one episode ["17 Kids and Counting: Cheaper by the Duggars"] was barely more than most people can grown in a tiny subdivision lot—and yet the Duggars have 20 acres! (NOTE: Likely a substantial garden would be too hard to keep up with while they are touring and filming, much of which takes place in the summer garden-season.)
While cheap, frozen ground turkey, a Duggar staple, is frequently found in many, many homes today, other Quiverfull families raise chickens for eggs and meat, goats for milk and or meat and even pigs and steer for meat. Poultry keeping has even become trendy in some suburbs! Other families rely on deer, elk or moose season to provide the bulk of their meat. Steve Castleberry gives a humorous discussion of learning to butcher his first steer in his book, Our Homestead Story: The First Years.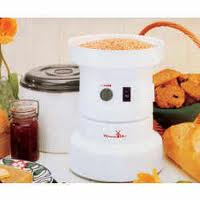 Many Quiverfull families find it a good use of their scarce food budget to buy an electric grain mill and bulk buy wheat that they then grind fresh into flour and hand bake the family's bread. No one can argue with the nutritional boost over gluey American white bread, but the process does take a toll on the wives and daughters who must labor thru the grinding, mixing, kneading baking cycle every few days. In fact, Bill Gothard teaches his followers [who include the Duggars] that white bread is "evil" and that bread must be made by hand—no mixer! [Veinot, p. 299]. A bucket of good red wheat does not come cheaply, either (about $65 a bucket). Nor does a good mixer—for those who don't follow Mr. Gothard's health advice and see the kneading as something a machine can adequately handle, a Bosch universal mixer costs up to $400.00, but is the holy grail of convenience for Quiverfull moms who see bread making as part of their calling. A "Wonder Mill" for grinding wheat can set a family back more than $200.00. A Berkey water filter another $200.
Homeschool
Very few Quiverfull families could afford to buy brand new curricula for each student in each subject every year. Many could not even afford to buy the very reasonably priced and thoroughly excellent [if not terribly exciting!] Rod & Staff curriculum so beloved of the Maxwell family. Nor can many otherwise like-minded families afford the up-to- $600+ a year just to belong to Bill Gothard's Advanced Training Institute and be "encouraged" by the likes of the Duggars and Bates. Many families cannot afford or cannot justify the expense to attend a pricey homeschool convention—all of these are, for the most part, marketed to the solidly middle-class family with disposable income [although there are families who diligently save and sacrifice to get to one]. A burgeoning legion of web sites has sprung up linking to free or extremely low cost homeschooling materials—many of which are excellent others less so.
[For examples, see: Old Fashioned Education or Ambleside Online or Splashes From the River or Christian Parenting Source or Simply Charlotte Mason.]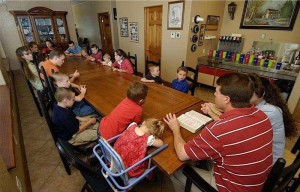 Since so many Vision Forum-influenced Quiverfull families are reluctant to expose their children to the literature of the 20th, let alone the 21st Century, most of the books linked to by these sites are in the public domain [i.e. no longer protected by copyright laws]. Many of these are standard classics that are often even assigned in public schools [example: Charles Dickens A Christmas Carol or Great Expectations]. Several Quiverfull families produce and sell homeschool resources as well. [The Learning Parent or Eagles Wing Ed or Heart of Wisdom.]
While I could not find any poof of this, I suspect with the growing number of states who have free online Charter Schools, some Quiverfull families may take advantage of this at least for higher math classes. In my state, this results in the family having a free computer and high-speed internet access.
College or advanced vocational training—when allowed in such families—is often done on the cheap in a way savvy students have been doing since the 70s: using CLEP tests to earn college credit. By combining this with "safe" at-home online classes, some Quiverfull sons, and a rare few daughters, can achieve a college degree or technical certificate.
Medical Care
Medical care in the United States is a nightmare for self-employed and working poor families of any worldview. Quiverfull families, oddly, often join the New Age in rejoicing in "natural" or "herbal" medications. Old home remedies are also often in favor:
It burned, dripping down my back, scathing tender flesh. The stench crept through my nostrils and landed on my tongue. My eyes watered. "Hold still," Mom ordered, one hand rooted in my scalp and the other poised above my head…"It will kill the lice," Mom said, swishing my hair in kerosene. I lay in it [in the tub] drenched, my body on fire…..I know her hands burned, too.
Grandma Millie, our neighbor, said it worked because that's what they did in the old days. We wanted to live like they did back then, because that's when life was simple….living frugally and biblically, which meant not relying on the conveniences of modern culture, but welcoming hardship—"For in the sweat of your face you shall eat bread"(Gen. 3:19) (McFarland, Quivering Daughters, p. 1).
Herbal remedies, regardless of their true effectiveness [which can go either way—many ARE effective] are often seen as more beneficial than "chemical" medications. (See: http://www.thefamilyhomestead.com/herbsfamilyhealth.htm, or http://www.greenpeople.org/webpage.cfm?memid=26891&pmtlevel=0&linkpage=http%3A%2F%2Fwww.VintageRemedies.com or http://www.trinityschool.org/about.php)
The biggest cost for most families is child birth. While there is a cooperative program such families may choose to join that provides a limited solution to the health insurance problem, the solution for many, many families is simply home birth.
While Anna Duggar had a perfectly normal home birth, she had received state-of-the-art prenatal care, had attended a standard childbirth education class with her husband and "just happened" to have on-hand both an experienced childbirth educator/doula and her very experienced mother-in-law. For many families none of this is an option. Mistrust of medical science in general—and of obstetricians specifically, refusal to accept government assistance, extreme rural living, combined with a poverty-level income makes homebirth the only possibility for many mothers.
Sadly, NLQ's Vyckie experienced a far more traumatic home birth than Anna Duggar was blessed with –so too was Carrie C., whose horrendous midwife care and near death resulted in national news coverage. Like Carrie, many Quiverfull moms can count only on the care they receive from generally well-intentioned, but poorly trained non-licensed midwives. [Note: These are not the same as Nurse Practitioners or Licensed Midwives—my point is not to condemn midwives/homebirth in a responsible setting, just to point out the obvious dangers of an untrained, unlicensed so-called "midwife".]
In her book, The Way Home, Mary Pride called for women who die in childbirth to be regarded as martyrs. Sadly, with more money or even simply a greater ability to reason and trust, some of these mothers could have stayed to raise their many children.
Elder care is beyond the means of many, many families today. Unlike other families who choose a Medicare/Medicaid funded nursing home or other solution, Quiverfull families often, commendably, care for their elderly at home. It's not only the Duggars who have given end-of-life care in their homes to parents or grandparents (Duggars, p. p. 219-220 and "18 Kids and Counting: Duggars Say Goodbye) but most such families do not enjoy the luxury of a full guest suite in their home in which to house the loved one. Nor can most afford a doctor who makes house calls. (See here – scroll down to "Nursing Home".)
Another area of medical care that is not in the budget, or the mindset, is vaccination. As the Duggars showed recently with 12 children covered in chicken pox spots, ("19 Kids and Counting: Duggars Chicken Out") vaccines are pretty much seen as an evil. Although most well baby shots can be had from your state's department of health at regional or county clinics for little or no charge, Quiverfull families tend to steer clear of any form of government assistance. This also means that nursing mothers and their little children who qualify and would benefit would not accept WIC or food stamps. Nor would most families sign their children up for state health insurance. Staying away from the government is a goal.
Clothing and Diapers
The Duggars spend a lot of time promoting thrift store, and more recently, clearance rack shopping for clothes and shoes. Many families of all types nationwide have jumped on the "buy used" bandwagon—if only to survive. Goodwill is chic these days! For families at or below the poverty line yard sales, clearance racks, consignment shops and thrift stores are the main suppliers of clothing, bedding, shoes and other items.
Like the Duggars of old (and the Duggar girls today when desired) many still sew clothing—although sources of cheap fabric are not plentiful anymore—even Wal-Mart has cut back or eliminated yard goods from their sales floor.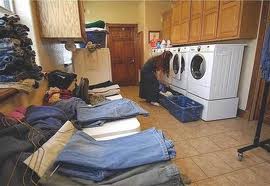 Caring for clothing, bedding, towels etc, is another place many families struggle. While the Duggars installed low-water front-loading washers in their 8-machine family laundry room, with 20 acres to work with it would seem that a lot of those khakis and polo shirts—not to mention sheets and towels—could be hung out to dry at a substantial savings. This is another part of either savings or basic survival in many homes. With large numbers of children, possibly no water heater, no electricity, and at best ONE washer, many, many families end up doing a combination of hand washing, machine washing, outdoor drying or indoor rack drying.
One place the Duggars show good planning though is their "family uniform"—developed back in the day of their ranch house. With two washers, and later in a rental house with only one washer, they simplified their laundry by having everyone wear the same color each day—khaki pants for all the boys, same color polo shirt for all the boys and similar dress or jumper for the girls reducing the sorting and number of loads of laundry. All the Duggar boys at that time wore black socks, while the girls wore white socks. [I have not confirmed this, but have been told that matching clothing is promoted by ATI for family unity. Still, it totally makes sense with limited laundry equipment.] With more laundry equipment this rule seems to have been loosened if not completely abandoned. Another money-saving tip the Duggars have adopted—like many other families of all beliefs—is making their own laundry detergent [I have personally been doing this for 4 years—it's great and so cheap.] ("17 Kids and Counting: Cheaper by the Duggars" and Duggars, p. 173).
In Blogland, many Moms signal their beliefs and desired audience with phrases like "Attachment parenting, breastfeeding, cloth-diapering, homeschool mom." Or "God-honoring, dresses only, head-covering, wheat grinding, non-vaccinating, cloth-diapering…etc". Cloth diapers are no less a point in the Quiverfull "Mommy Wars" than elsewhere. While it's nice that the older Duggar girls and Grandma aren't stuck washing all little girls' diapers, it would seem that as cost-conscious as Jim-Bob and Michelle are, that they'd have clambered onto the cloth diapering band wagon about 18 kids ago. Sewing cloth diapers, cloth nursing pads and other similar items is a popular home business for many stay-at home moms at BOTH ends of the political spectrum. While the cost to the environment is hotly debated, the sheer COST of all those packages of disposable diapers for the Duggars has to be mind-boggling.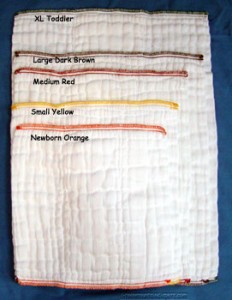 (image from http://www.greenmountaindiapers.com/diapers.htm)
Finally, some families take washable cotton a few steps further into the bathroom. Cloth sanitary napkins, like diapers, are a popular home business. Like cloth diapers, they come in all styles, prints, and price ranges. Also like diapers they are a "love 'em or leave 'em" product. For many families at the poverty level with large numbers of girls they may be the only alternative. Free patterns are available on web sites and blogs just like for cloth diapers [pads] [diapers].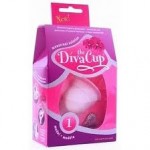 The other reusable feminine product is a rubber cup known as the "Diva Cup." It's been mentioned in Tightwad circles for years. It's inexpensive and re-useable. Since it is an internal device, meant to replace tampons, it may not be considered appropriate in Quiverfull families for unmarried girls.
Many families, like Gil and Kelly Bates [who taught the Duggars this savings] make their own baby wipes using paper towels. Other families do the same, but with re-useable strips of terrycloth or other absorbent cloth. "Recipes" for the soaking liquid are available at many websites and blogs.
And then there is the [ahem] "family cloth." This is simply washable toilet paper. Small squares of cotton are kept in a basket by the toilet. Used cloth is put in a diaper pail (or similar) with vinegar or bleach and then washed. Used cotton sanitary napkins are done in a similar way as are homemade hemorrhoid cloths with witch hazel.
Additional Money Savers
[Note, this section is added to Hopewell's article by Vyckie ~ as evidenced by the sudden appearance of run-on sentences strung together with lots of tildes. :)]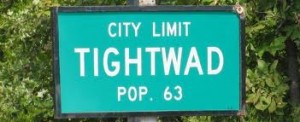 Families which take Quiverfull fundamentalism to the extreme frequently develop even more radical (if it were possible) convictions which can also cut expenses considerably.
No insurance. Many of the QFers I knew (including Laura's ex-husband, Dale) believe that purchasing insurance is tantamount to putting ones trust in "man" (insurance companies) rather than God. These families only purchase the minimum insurance which is required by law, such as liability insurance for their vehicles ~ rather than purchasing homeowners insurance (which is not required on their debt-free homes), they are relying on the Lord as their "insurance policy." Because life insurance is also optional ~ these families trust that God will provide for their orphaned children should He choose to take them home early.
No extra-curricular activities. Followers of Jonathan Lindvall's teachings regarding "sheltering children," do not allow their kids to participate in sports, cheerleading, band, etc. ~ this eliminates the expense of uniform and equipment purchases and/or rentals.
No frivilous entertainment. Okay ~ this one is fairly common among Quiverfull families who take the protection of their children from worldly influences very seriously. Most QF families do not own televisions, let alone subscribe to cable programming. Nearly all movies ~ yes, even Disney! ~ are out of the question too.
No toys. According to Nancy Campbell's daughter, Evangeline, "Things do not make you rich! Children do! Children do not need another toy – they need you! Excess toys create fights, chaos and mess. I hate them!" Although in this article, Evangeline encourages Moms of Many to get rid of "excess toys," a later Above Rubies article (which I'm not finding online), details how she got rid of all the children's toys, insisting instead that the children "play" with real babies rather than plastic dolls, or make their own play things (sticks for guns, etc.) rather than buying over-priced "stuff" from the toy department which takes up space in their already-overcrowded home.
Debt-Free – A Recipe for Neglect & Burn-Out
Vyckie Garrison of No Longer Quivering has often stated that the ultra-demanding Quiverfull lifestyle is a recipe for neglect and burn-out. NLQ readers have asked, both on the website and on the forum, how realistically are the Duggar family and other "Quiverfull Royalty" portraying this debt-free ideal? The high standards of striving to live debt-free, keeping Mom (and often, Dad, too) at home, tithing 10% – 15% of their income, and eschewing government assistance do not offer a promising financial outlook for Quiverfull families who are actively welcoming an abundance of children in today's economy.
While this combination of principles may seem especially godly and makes for a popular "reality" TV show, such utopian idealism more often adds up to a stark and impoverished Quiverfull reality.
Discuss this post on the NLQ forum! Comments are also open below.
More from Hopewell:
A FULL QUIVER OF INFORMATION [my information only site]
Personal Blog