All beautiful the march of days, as seasons come and go; The Hand that shaped the rose hath wrought the crystal of the snow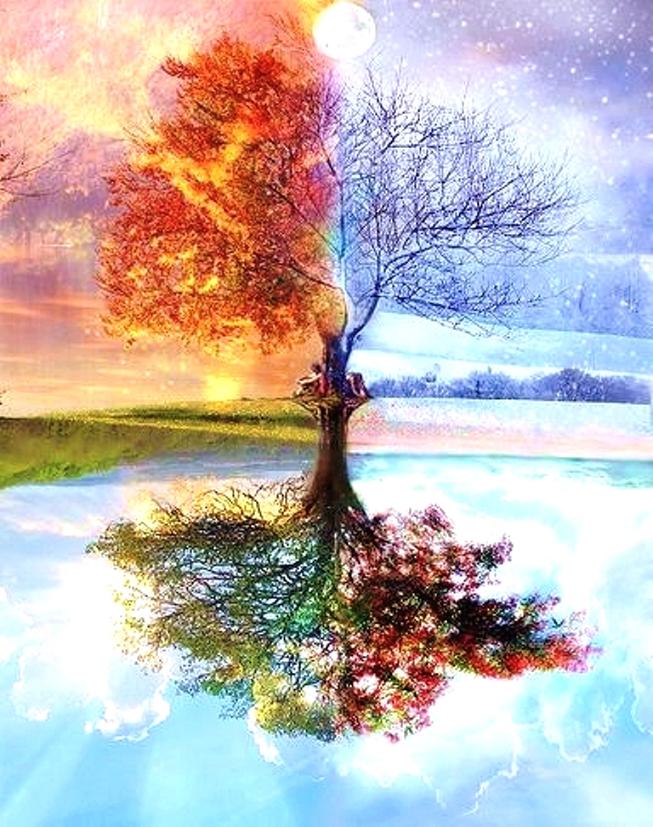 by Shelly Cruz
It was not until a period of distance was placed between my family and Cecilia's, that I began to see the blessing that Cecilia gave me. It was an ABUNDANT blessing in disguise! At the time, I felt sad, lonely, depressed and even angry with her and with her whole family. I felt that Cecilia divorced our friendship, and I had no idea why.
I went from being a babe in Christ, to a woman, desiring nothing more, than to love my Savior Jesus. God was changing me little by little each day. I began to pray for specific things, and within weeks, sometimes days, prayers were being answered.
As I spent time in prayer, I started hearing the Lord speak directly to me. I became sensitive to hearing his voice. Good things began happening in my life. It felt amazing! I felt on fire for the Lord, and wanted to scream it from the rooftops! I felt that I had been lost, walking around in limbo for so long, but now I was found.
I clung to this verse: "Draw near to God and he will draw near to you." (James 4:8)
I also went about my days, repeating…. "I Can Do All Things through Christ who strengthens me." (Philippines 4:13)
The Lord started redirecting all my negative thoughts. I did not have to try to act a certain way anymore or anything like that. The Lord himself molded me, just like the potter and the clay. Me, a former mall-rat, was now more interested in tending to my flock at home, than shopping at the mall till midnight with friends.
I had no desire to paint my face with all the latest cosmetics, or keep up with the latest trends.
I once paid over two hundred dollars for a pair of Chanel sandals, which had the cutest CC logo on them. They made me feel so special. I remember showing my expensive sandals to Cecilia one day at church, along with my new Dooney & Burke bag. Cecilia just remained silent. God only knows what she was thinking, but who cares now!
I began to realize that buying frivolous things, such as very expensive shoes and expensive handbags, was not using my money wisely. I even traded in my much loved, Burberry coat, for a practical barn jacket. I became very frugal and wise with the money the Lord blessed my family with.
God was transforming me at last!!
These changes did not happen over night, but within a three-year stance. I firmly believe that God allows us to go through certain things, at certain times in our lives, to help us mature, and grow spiritually. If you have never been through any hard times in your life, why would you ever need the Lord to lean on? If everything has always been fine in your life, you would never realize the need for a higher power, which is Christ our Lord!
It is when you are at your lowest, that you reach up, with tear filled eyes… tired, confused, and feeling like anything would be better than the situation that you are in at that moment.
You call out to God, begging him to help you through it. You feel so weak, and realize that you can not do anything on your own. You want to close your eyes, and pretend it is all a dream!
That is when the Lord, reaches his hand to you, promising, that you will never be alone again. You dry your tears, now feeling an amazing inner strength that has just over taken you. And you just know that everything is going to be OK.
This was the way it was for me many nights.
Family will fail us, Friends will fail us too, but the Lord will never leave us, or forsake us.
I could not be happier nowadays. I have an awesome marriage. My husband is hard working and an amazing provider, who loves and treats me like the gem I am. As for my four children, they are happy and thriving. I just want them each to be the person that God has created each of them to be. I do not want to have robotic children, who have exquisite manners, but no personalities of their own.
That said, it is still hard for me to be around families like Cecilia's. There have been a couple of families like that, who have passed our way. I do not want to shun anyone, but I can still see that I could possibly be lured back into something ugly.
Unless you have experienced this kind of situation, it may be hard to understand what I am saying. And I'll be honest, oftentimes, I still think about Cecilia and her family. It is amazing how much of an impact one family can have on another. I often wonder how other families view my own family?
Does Cecilia have any idea what I have been through these past few years? Probably not, and despite all that has happened, I would not want her to feel bad about anything that happened. I am an adult, and take full responsibility of my own actions and emotions.
Where is Cecilia now? Well, just a few weeks ago, while cleaning out my bedroom closet, I came across a phone number, which read, Cecilia xxx-xxxx (call anytime)
Anytime huh? That is not even funny! I thought to myself.
I instantly had a flashback of this little yellow Post-it Note, which was given to me almost 5 years ago, by Cecilia herself. I turned the Post-it over, feeling the slight stickiness that it still had left to it. I walked over to the refrigerator, pressing it hard on the front door.
Silly as it sounds, I said to myself; if it is still stuck there by morning, I will pick up the phone after lunch tomorrow and call her. If it falls to the kitchen floor, I will pick it up and toss it in the trash, leaving well enough alone….
The next morning arrived, and guess what? It was still stuck to the refrigerator. I said a prayer, and headed over, and picked up the phone …
Discuss this post on the NLQ forum.
Time Heals All Wounds by Shelly Cruz:
Part 1 | Part 2 | Part 3 | Part 4 | Part 5 | Part 6 | Part 7 | Part 8 | Part 9 | Part 10