Warning: This story series contains descriptions of physical abuse.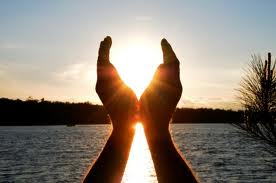 by Tess Willoughby
On my wedding day, I embraced a new religion.  I marched up the aisle on my father's arm, in a white lace gown with monstrous leg-o-mutton sleeves—very fitting for a lamb going to the slaughter.
No bride was ever more madly in love, or more giddily romantic, or more enraptured with her white church wedding.  It was my greatest accomplishment; it was my reward from God for being virtuous and pure. Saying vows that I wrote myself, I outdid every right-wing, anti-feminist bride on earth. I promised to obey and submit and never speak a word against my husband until either I was dead or he was—but I think I phrased it more poetically than that.  Then I walked up to the altar and took the symbolic body and blood of Christ directly from the hand of Nate Willoughby, while my own pastor, and my beloved Granddaddy who was also a pastor, stepped aside.  My mother, who later became a pastor herself, told me it was "a little weird."
She had no idea.
Something was saying "weird" to me on my honeymoon.  There were forecasts of bizarre on the horizon, but a 23-year-old virgin wouldn't know from bizarre, now would she?
It was weird that from day one, Nate would not have sex after dark.  Or without immediately showering afterwards.  It was weird that I could not initiate sexual contact—it always had to be his idea.  I tried seduction, the day after I married him.  I had some inkling from TV or the movies that if a new bride on her honeymoon put on a racy little red-and-black number and emerged from a hotel bathroom, her husband would. . . smile?  Make passionate love to her?  Say, "You look [insert flattering adjective here]"?
Nate looked blank.  He looked through me and said, in a voice colder than Christmas in Siberia, "That's not the kind of lingeré I like."
I beat a hasty retreat and sat on the hotel bathroom toilet seat in a state of shock, tears flowing, fists clenched, and thought, what was that?
Then I thought the fatal thought.  The thought that would lock me in a prison for almost eleven years:  "I'll try harder to please him." It was a poisonous thought, as poisonous as the "sacramental" grape juice that I had taken from Nate's hand the day before.  These were the two foundations of my marriage:
1.  I get my Jesus from Nate.  The Christ I worshipped as a child, teenager, and college student is dead.  Nate is my pastor, my Jesus-proxy, my god.
2.  I will try harder.  If Nate is displeased, Tess is guilty.
Idolatry and shame.  My marriage.  I can't believe I'm alive to tell the tale.
Looking back, I think it was the Mary Poppins aspect of my marriage (besides the fact that I worshiped the man) that kept me stuck in it. If "a spoonful of sugar helps the medicine go down," Nate used truckloads of verbal corn syrup to make the guilt and control go down with ease.  When he wasn't being shockingly rotten, he was overwhelmingly attentive and complimentary, to the point where he followed me around the house praising me.  And I ate it up like a rat in a science lab.
I was really married to two men.  Anyone who saw my Dr. Jeckyll husband, who sat and stared into my face and stroked my hand and murmured "you're beautiful, I love you" into my ear, would have flatly refused to believe that Mr. Hyde existed.  (During the courtship, Nate was all Dr. Jeckyll, but with a disturbing tendency to be jealous of anyone else I spent time with.)
But Mr. Hyde did exist, and he kicked my hide every day of my life over every little measly thing.  Everything was always my fault.  From the very beginning.  I wore the wrong lingeré.  I cooked the wrong meals.  I miscarried our first child.  Whose fault would that be but mine?  Nate didn't "shoot blanks," he pointed out.  He hit a dead ringer within three months of marriage.  It was my stupid uterus that hiccupped and couldn't hold onto Nate's child.  Nate was worried.  Had he married a malfunctioning woman who could not give him children?
Needless to say, when I got pregnant again, I was a nervous wreck.  It was very important to Nate and to Nate's Jesus that I carry this baby.  The baby I lost was to have been a son, named Daniel, which in Hebrew means "God is my judge." And this child was to be Daniel, Nate declared.  My femininity was on the line.  Nate explained that I would still be acceptable as a woman and a Christian if I had a girl, because a girl could be raised to be fruitful for God herself, and I could get pregnant with a boy again A.S.A.P.
Even with this caveat, the pregnancy was very stressful.  I think Daniel got a lot of freak-out hormones. He's a very driven, temperamental kid to this day.
During my fourth month of pregnancy with God-please-let-it-be-Daniel, Nate and I had an argument in the parking lot behind our apartment building during which he invoked his authority as my husband and Head.  This should have ended the dispute.  Women (says the Bible somewhere, I forget the exact place) are to Submit and be Silent when a man who has Headship over them says so.*
Nate said so, and I wasn't silent.  I pressed my point.  Nate went into a cold rage, face like stone, icy eyes.  He strode into our building and up the stairs.  Behind him, I tripped on the staircase on the way up and fell to the bottom.  I cried out.
Nate kept walking up the staircase without turning around or even pausing.  He went into our apartment and shut the door forcefully behind him.
I made an extra good supper that night despite some bad bruises.  Nate talked to me again.
Daniel was born five months later.
Nate and I learned this mindset as college students in an ultra-conservative Christian sect called Great Commission Students (part of Great Commission International), which put a lot of emphasis on Men in Charge.  Men could be Elders and Deacons in this group, but women's highest office was that of Deaconess, a fetch-and-carry person for the elders and deacons who urged the sisters to be sweet and submissive. The big issue in this group was whether women ought to wear head coverings. In retrospect, not the best crowd to hang with in one's formative years.
Discuss this post on the NLQ forum.