[Note: This piece was originally posted at "Enlightened Life."]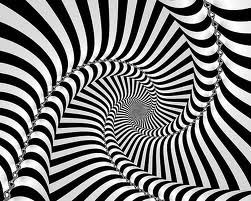 Five years ago, we commenced our homeschooling journey.  We were moderate christians, active in church and we believed in our faith wholeheartedly.  My 2 oldest were very interested in the solar system and dinosaurs and we spent a great part of that year learning about those subjects.  Our approach was purely scientific and secular.  I had a few moments of doubt (as a christian) about what we were learning but felt confident that "exposing" them to secular science was a good thing. 
As the years progressed and we traveled deeper into the homeschooling world, I was faced with some tough decisions.  None of the families we knew were teaching their kids about evolution.  When I questioned the literal interpretation of the bible (quietly and discreetly) I was told that we HAD to believe in creationism.  We had to study the "facts" and get in line with the bible.  So in my quest to belong and fit in, I did just that. 
Let's take a look at how I devolved while I languished in the christian homeschooling world. 
Year One, my goals were academic excellence.  I identified with the Classical educational approach and I pushed my daughter to do her best (probably too hard but that's another post).  Although I was unsure what I believed, as far as evolution was concerned, I found it perfectly acceptable to "expose" my children to all the ideas and review the facts with them.  I had occasional bible verses for the children to memorize and we narrated a bible story or two throughout the first year.  As far as culture and "worldliness"  we were in the middle.  I'd rate us as low on "legalism".  Spongebob, Timmy Turner, spaghetti straps,  bikinis and pop music were all fine with me. 
Year two, we joined our local homeschool co-op.  During our first year,  we met other christian homeschoolers.  This was an eye opening experience for me.  I was introduced to the extremes of biblical fundamentalism.  I honestly didn't know what to think.  On the one hand, I was glad to meet other homeschoolers and glad for my children to meet other wholesome kids but on the other hand, I was horrified at the attitude of these women and the oppressive nature of our meetings and conversations.  Examples include, submission to husbands, "managing" their homes, the evils of yellow cheese, the evils of public school children, and the general unsuitableness of just about anything you can think of and modesty, modesty, modesty. 
My general outlook, at the time, was one of uneasiness.  I both despised and admired these women.   I was lonely.  I didn't feel that I belonged.  While the seasoned mothers bonded during breaks, I floundered in the corner.  I did eventually make friends and this shaped (distorted) my reality.
Somewhere between year 2 and 3, my focus began to morph.  Character training, biblical knowledge, "godly" attitudes and outlooks became my focus.  I turned in my pants and started wearing dresses.  I bought in-depth bible studies for the children and began to restrict more and more things.  What I couldn't fix, I tried to hide.  Oh the sorrows of leading a double life!  
I began year 4 in earnest.  I was going to be the best, most godly, homeschool mother ever.  My new found passion was finding my less than perfect, potty humour son "better" friends.  I was determined to mold this boy.  Was I ever in for a surprise!  The wholesome boys that I wanted my son to befriend were specifically warned by their mother NOT to interact with my son. 
I can't even begin to describe the utter hurt, disappointment, disillusion that this caused me.  My initial reaction was to try even harder.  This was the beginning of the end for me. 
A combination of hurt, outrage and doubt rested upon me. Before this incident,  I was so enamored with christian homeschooling that I began to pursue the idea of the quiver full.  My husband had a vasectomy after our fourth child and I was researching the possibility of getting a reversal.  I happened upon a Secret Lives of Women episode on the quiverful movement.  I was so excited to know that this movement was getting more tv time (on top of the Duggars).  I devoured the episode.  I couldn't believe that one of the moms had "escaped" from the movement and was now an atheist.  I found her website and I began to read it and I read it and read it and read it and read it and read it.  It was like a ice cold glass of water had been thrown at my face.  The truth that I read resonated within me. 
At the very least, forcing my children to be perfect fell off my radar.  It was as if some of the smudge that had been on my glasses, distorting how I saw my children was washed off.  My next big step was bible reading.
Of course, I didn't want to give up my faith.   How does bible reading equate with losing your faith?  Have you read your OT lately?  Have you studied the history of the NT?  What began as a sincere desire to reestablish something that I felt I had lost with God, ended with a lack of trust and assurance in the god of the OT/NT. 
Right now we are creeping along in limbo land.  Without my special god goggles, the world looks different.  I find it perfectly fine to look at Hinduism and see their gods look like Indians.  I find it humorous to research and see the streams of thought that came from the ancient world and how they have evolved over the centuries.   I can see fanaticism or fundamentalism in a whole new light. 
It's not easy. In fact, it's really hard.  But I have a peace and sense of well being that I haven't had before.  Taking the lightning Bolt out of God's hand has been very freeing for me. 
I'm at a crossroads.  We are leaving behind christian homeschooling and embracing secular homeschooling.  We are saying goodbye to some and hello to others.  I am searching for a way to be honest with myself and others in a respectful way.   I'll be examining our curriculum and expanding our worldviews.  … we are studying world religions.  What a privilege to see life through another cultures' eyes and not disdain it but embrace it and see the truths that it has to offer. 
We've got a long road ahead of us and what a beautiful road it is.
Discuss this post on the NLQ forums.