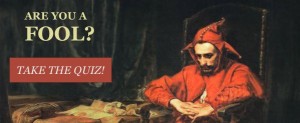 Over on the NLQ forum, we've all been taking Visionary Daughter's "Are You A Fool?" quiz ~ it's annoyingly hilarious ~ and I thought No Longer Quivering readers who aren't on the forum might like the chance to join in on the fun.
Here's question #1:
How do you respond when criticized/corrected?
1) I hate it! I get angry and defensive.
2) I usually laugh it off. (Sometimes I roll my eyes.)
3) If I get criticized for the same thing enough times, I usually start to take it seriously..
4) I'm thankful for the smallest hint of reproof and take it very seriously.
What do you think? Post your comments below ~ or join the forum to participate in this and many other interesting & engaging conversations.