[Note: this series is dedicated to Quivering Daughters by the former-Quiverfull moms at No Longer Quivering.]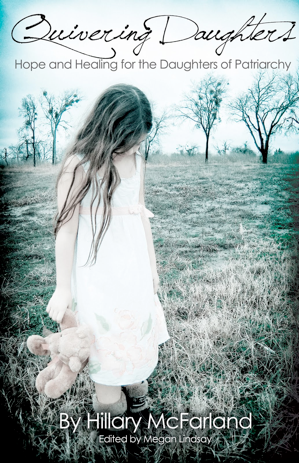 by Vyckie

Stacey McDonald, author of "Raising Maidens of Virtue: A Study of Feminine Loveliness for Mothers and Daughters," has set up a new website devoted to responding to Hillary McFarland's "Quivering Daughters" book and website.
As one who embraced the idea of trusting the Lord with my family planning and devoted myself to raising up polished "arrows" fit for the Lord's service ~ "Raising Maidens of Virtue" was a much-referenced book in my large collection of "biblical family" materials. I loved the title. The words "Feminine Loveliness" filled my imagination with visions of my five lovely daughters whom I wanted above all to be wholesome, carefree, healthy-minded, devoted, steadfast, and full of joy ~ secure in my love and in the love of the Lord.
The reason I was so enamored of Stacey's writings is because, like Stacey, I had experienced a less-than-ideal childhood ~ a broken family, abuse, insecurity ~ and I wanted to spare my own children as much of that sort of pain as possible. I believe that's the motivation for the majority of parents ~ and especially Christian parents who adopt the Quiverfull ideals ~ homeschooling, courtship, sheltering children, stay-at-home daughters, etc.
On her Steadfast Daughters site, Stacey shares some very painful memories of her own agonizing childhood ~ reading her account, my heart went out to Stacey. All those feelings of intensely desiring to protect my children from all the hurt, the uncertainty, the cruelty and the indifference of "this world" ~ my determination that things would be different for me and my children overwhelmed me and for a moment, I was back in my old Quiverfull reality.
So I will admit to feeling nostalgic and surprisingly sympathetic to the mother's-heart senitment which I read on the Steadfast Daughters website. I believe Stacey and the other SD contributors when they repeatedly claim to love the Lord and their children ~ I believe as parents, they have the best of intentions ~ they are intelligent, kind-hearted, caring Christians who only desire to give their ALL for the sake of bringing up a quiver full of children for the glory of the Lord.
I think Hillary ~ whose Quivering Daughters outreach is proving to be a considerable challenge, bringing much-needed balance and perspective to the "Virtuous Daughters" ideal ~ would agree that Quiverfull mothers such as Stacey have noble motives. They certainly have not chosen these incredibly grand ideas and the demanding lifestyle for the sake of their own convenience or from lazy, ignorant, or selfish hearts. They're not doing it because it's fun ~ or because it is their first preference or only alternative. These moms are sincerely convinced that they are doing the Lord's absolute best for their families. Hillary understands and recognizes that QF parents do love their children ~ and for that reason, the tone of her book is incredibly gentle and her accounts of abuse are often understated.
It's a dilemma which all survivors wrestle with when we write about mental, emotional, and spritual abuse ~ certainly we want to expose the harm in order to warn others and provide refuge for those who are seeking support and comfort ~ but at the same time, we do not want to lash out in bitterness and anger against those who, despite our hurt and suffering, we know to be good people at heart.
That's why most of the NLQ guest writers share their stories using a pseudonym ~ they leave out identifying details ~ they desire to protect the identity of their family. Quivering Daughters walk a fine line between honoring parents and telling the truth about their experience of the QF/P family life.
One theme which pervades the Steadfast Daughters website could be summarized this way:
We, your parents, mean well. We love God and we love our children. We strive to do our very best ~ but we are not perfect ~ sometimes we mess up and we unintentionally hurt our children. Please don't let our mistakes lead you to bitterness and hatred ~ hold fast to the Lord ~ forgive and forebear.
What makes the Quiverfull teachings especially pernicious is the unlikely, but unmistakable combination of very good intentions and really, really bad ideas.
Since "waking up" from the Quiverfull dream world ~ I've spent a lot of time and brain power puzzling over this: Sincerity and good intentions should count for something.
How many times as a fundamentalist Believer did I hear a preacher or teacher say, "It's possible to be sincerely wrong!!"?
I do not want that to be true.
Of all the teachings which I no longer believe ~ this is the one I'd most like to be a complete and total lie.
I haven't been on speaking terms with God for quite a while ~ but if I were to have a conversation with The Big Guy ~ here's the very first thing I'd like to know: How is it that my whole-hearted sincerity was not sufficient to protect me from horrible deception and from harming myself and my family? I mean, the Lord supposedly knows my heart ~ He knew that I was willing to do WHATEVER ~ even to the point of nearly losing my life ~ so why didn't He honor my devotion by steering me clear of the craziness? Instead, I was absolutely certain that the Lord was leading our family to follow "the old paths" ~ Quiverfull was not my idea! Warren & I were finished ~ he had a vasectomy and we were DONE! But, God … He is the One who revealed these truths to me ~ and, "though He slay me" ~ I trusted in Him.
In my journey toward healing and wholeness, I've had to face some hard facts ~ and this one for me is the hardest of all ~ and yet, it's inescapably true: Sincerity and good intentions do not make right.
Consider the mothers at Jonestown ~ do you honestly believe that none of those moms who put the cups filled with deadly Kool-aid to their babies' lips actually loved their children? The effectiveness of the cyanide was in no way correlated to the motivations of Mommy's heart.
With all my heart, I wish that our love, our sincerity, our intelligence, our diligence, our sold-out dedication, our blood, sweat and tears could somehow guarantee protection and justice for our children. Reality tells me ~ it isn't so.
We have already discussed Steadfast Daughters on the NLQ forum here ~ comments for this post are open below.
This series is written by Vyckie Garrison with the help of many ex-QF moms on behalf of Quivering Daughters.
Steadfast Daughters in a Quivering World: