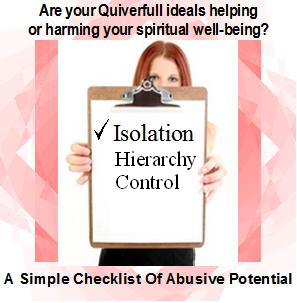 by Kristen Rosser ~ aka: KR Wordgazer
Beloved, believe not every spirit, but try the spirits whether they are of God: because many false prophets are gone out into the world. I John 4:1
Also of your own selves shall men arise, speaking perverse things, to draw away disciples after them. Acts 20:30
Stand fast therefore in the liberty wherewith Christ hath made us free, and be not entangled again with the yoke of bondage." Galatians 5:1
The above passages warn us that not every movement that says it is following Christ's teachings, actually is. How can we know the difference?
Jesus said "Ye shall know them by their fruits. (Matthew 7:16)." Galatians 5:22-23 says that out of the "liberty" spoken of in verse 1 of that chapter (quoted above), we should see the fruit of "love, joy, peace, longsuffering, gentleness, goodness, faith, meekness, temperance." If the way you and your family are being encouraged to live is a life of liberty, causing a growth of these qualities, then it is bearing good fruit.
This series asks a set of questions designed to help you determine whether following the Quiverfull movement is keeping you and your family in the liberty of Christ and bearing the fruit of the Spirit.
Do you feel guilt that you and your family could be doing better in living out the principles of godly living that are being presented to you as God's best? Is it implied that in following these principles, you are part of a special group, called to higher things than other Christians? Do you ever feel dread or hesitation about what new biblical standards the Lord might reveal to you next, because the way you live now is already such a challenge? Do you ever find yourself putting up a "front" of family blessing and harmony for others to see? Have you seen individuals or families who fail to meet the standards, rejected and ostracized?
Here are some teachings or statements you may have heard in the Quiverfull movement:
"God has revealed to us the true, biblical model for godly homes and families. We dare to be different from 'lukewarm' Christians, rejecting worldly ways that are steeped in humanism."
"So many other Christian couples are 'planning' their family size for the sake of their convenience, but God has not given us that option. He has called us to a life of faith and trust."
"Your own home can become an outstanding example of how following biblical principles for godly family living will result in children who are wholeheartedly dedicated to serving the Lord in their own lives."
"When we fulfill with excellence our high calling as wives, mothers and homemakers, we raise the standard of God's truth to the nation."
And here are some of the Scriptures that are emphasized:
"And Jesus said unto him, 'No man, having put his hand to the plough, and looking back, is fit for the kingdom of God.'" Luke 9:62
"He that is faithful in that which is least is faithful also in much, and he that is unjust in the least is unjust also in much." Luke 16:10
"I can do all things through Christ which strengtheneth me." Phil. 4:13 (implying that if you are truly letting Christ strengthen you, you should be able to meet all these standards)
But is this the whole counsel of the Scriptures?
Those who follow the practices associated with the Quiverfull movement are led to believe that though other Christians might not do as they are doing, they themselves are responding to a higher calling of God, to a more biblical, deeper, truer Christianity that will defeat the devil and his temptations and result in great spiritual joy and fulfillment. There is an unspoken implication that those who do not do these things are less mature, less committed to God, or less holy than those who have received this higher calling.
As time goes on, families– especially the women– are encouraged to express this higher level of devotion through more and more new practices:
Focusing on homemaking is followed by baking your own bread, then by grinding your own wheat to bake that bread.
Welcoming many babies is followed by home birthing, then by home birthing with only the husband present.
Dressing more modestly is followed by wearing only dresses, then by lowering the hemlines of those dresses.
And on and on, as women strive to imitate one another in ever-higher standards, in a kind of spiritual one-upmanship to show just how devoted to Christ they can be.
But this competitive, perfectionistic spirit is not what Jesus or the apostles taught that following Christ was supposed to be about.
Hebrews 10:24 does say that we should "consider one another to provoke [spur on] to love and to good works," but what are those good works? When Jesus said, "Be ye therefore perfect, as your Father which is in heaven is perfect (Matthew 5:48)," He was speaking of fullness or completeness of love. The context of the statement was, "love your enemies." The word "perfect" in the original language is "telios," which does not refer to a state of being flawless or without limitation, but instead refers to fullness of spiritual goodness– goodness which comes in not just loving those who love us, but in loving those who are against us, too. Love and good works go together and are a result of walking in the Spirit. Galatians 5:22-23.
But a competitive, perfectionistic practice of Christianity is focused instead on actions related to living in this world– such as baking bread, wearing dresses, home birthing– all of which are forms of "Touch not, taste not, handle not," which Paul calls "ordinances" or "rudiments of the world" which are "to perish with the using." Colossians 2:20-23. Even such things as homeschooling and homemaking are ultimately lifestyle practices of this earthly life. "Biblical principles for godly living" as defined by the Quiverfull movement, actually means living life in terms of strict observance of rules that focus on our practices here on earth– and this is what Paul was talking about when he said that we could easily come into bondage to "weak and beggarly elements" if we lose track of the fundamentally spiritual nature of our Christian walk. Galatians 4:9.
Romans 14:17 says "The kingdom of God is not [about] meat and drink, but righteousness, and peace, and joy in the Holy Ghost." The Romans were focused on rules and observances regarding "holy" eating and drinking. Nowadays the tendency is to focus on rules and observances regarding other kinds of "holy" lifestyle practices– but the principle is the same. To seek to show devotion or holiness through such practices is to seek to be "made perfect by the flesh." Galatians 3:3. But when we walk in the Spirit, when we live our lives in terms of simple love for God and others, this is the true biblical principle for godly living.
Paul finished his statements against fleshly perfectionism by warning against becoming "desirous of vain glory, provoking one another, envying one another." Galatians 5:26. "Provoking" or spurring one another on in a spirit of envy and vain glory (competitive seeking of empty glory) is the very definition of elitism.
Several times Paul did speak of the Christian walk using competition as a metaphor for the focused seeking of God, but none of those metaphors ever imply that Christians are to be competitive with one another regarding who can be more externally "holy" or who can live the most outwardly devoted lifestyle. Instead, we are to keep our eyes on the goal of knowing Christ. Philippians 3:14.
Jesus did speak of being faithful, of putting our hand to the plow and not looking back, but our faithfulness should be to Him and His Kingdom, not to agendas in a culture war or to lists of ever-stricter lifestyle practices. We can do "all things" through Christ who strengthens us– indeed, it is only in His strength that we can seek that fullness of love that He was speaking of when He said, "Be ye perfect." But when Paul said "I can do all things through Christ," he was talking about being strengthened to follow Him in whatever circumstances. He was not talking about making Herculean efforts to meet ever-increasing standards of fleshly performance which, let's face it– no human being is capable of maintaining on a long-term basis without putting up some sort of front or pretence, for fear of being judged for not measuring up. The fruit of perfectionism is hypocrisy and pride, not love, joy or peace.
Nor does Jesus ever imply that there are some callings that are "higher" than others or some Christians who are more special to God than others. In fact, the words "higher calling" do not appear in the Scriptures at all. Philippians 3:14 says all Christians have a "high calling," but that has to do with knowing Christ (v. 10), not with lists of self-sacrificial practices intended to show devotion. In fact, Galatians 5:12 speaks of people who focus on outward acts of devotion (in this case, circumcision) as wanting to "make a fair shew in the flesh." Paul responds in verse 14 by saying, "God forbid that I should glory, save in the cross of our Lord Jesus Christ."
In Matthew 20:1:16 Jesus tells a parable of a vineyard owner who went out at the beginning of the day to hire workers. He agreed with them on their day's wage, and sent them into the vineyard. Then later that morning, and at noon, and again near the end of the day, he went back out and hired more workers. At the end of the day, those who had worked only one hour received the same wage as those who had worked all day. The workers who had worked all day were angry at this, thinking they should be paid more– but Jesus said the vineyard owner (who represented God) was not cheating any of the workers by giving them all the same reward that the first set had agreed to. He is gracious to all and shows favoritism to no one. Acts 10:23, Romans 2:11.
For some Christians to think of themselves as more special than others is a form of spiritual pride. We are not in a competition against one another to see who is better or greater in the Kingdom of God. When the disciples came to Jesus in Matthew 18:1-5 and asked who was the greatest in the Kingdom, Jesus called a child to Him and said, "Whoever shall humble himself as this little child, the same is the greatest in the kingdom of heaven." Children had no social standing, no place in any hierarchical structure of status, in Jesus' day; and He calls us all to become as those children, not worrying about status– because it's not about status. We are all saved by grace, as the gift of God, with no reason to boast– either before we become Christians, or in extra-special lifestyles after.
These teachings do not lead to liberty in Christ, nor do they bear good fruit. Standards of perfectionism based on elitism are characteristics of spiritually abusive religion– religion that brings pain and bondage. But Christ came (John 10:10) that we might have life, and have it to the full.
The other parts in this series, when read together with this one, make up a checklist for spiritual abuse within the Quiverfull movement. We encourage you to read them as well.
[Note: This article is intended for those readers who have chosen to accept the Bible as authoritative for faith and practice. If you are not one of those readers, please be understanding of the intended audience and refrain from commenting on the assumptions on which it is based.]
Discuss this post on the NLQ forum. Comments are also open below.