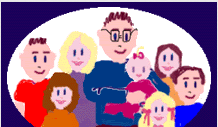 My name is Incongruous Circumspection.
You can call me Circ, for short, as long as it doesn't make you think of circumcision. Then again, if you are at all familiar with Christianity, circumcision and the analogies of circumcision are all too familiar and you will feel more than comfortable calling me Circ. In fact, being Circ, you may view me as a sort of King David, being that he circ-ed hundreds of dudes for some chicks big time dad to let him marry his daughter. After all, I love women as much and more than David ever did. I just don't peep from rooftops.
Ok, enough of that rabbit trail. Let me further introduce myself.
I will be writing my story from beginning to end (though it hardly has an end, at this point) and will occasionally write commentary on current events that I find troubling, guffaw-ready, or even celebratory – advancing the power of women and men together.
I am a husband of one woman. She is so smokin' hot I have trouble concentrating at work, play, and even while sleeping. We have been married for over ten years and have been growing closer as the days go by. We have six children. They are aged 9, 8, 6, 4, 2, and 1.
While I love children and hate them at the same time, we are done for good. I got snipped as a Christmas present to my wife last December and our sex life has never been better.
I grew up in a matriarchal home (single mom) with patriarchal ideals. We churched in a commune sort of church and socialized with only those people that agreed with us and swallowed Billy G. (Gothard) whole.
We learned about sex being evil, women being inferior, men being the spiritual leader of the home and always expected to be perfect, the Bible being inerrant and infallible, the Republican Party being configured to usher in the second coming of Christ, the idea that all liberals were the spawn of Satan, children were supposed to be beaten into submission, shirts were to be buttoned to the neck, shorts were evil, women were to wear dresses, skirts, and jumpers at all times (even while swimming), the idea that bunches of children that you couldn't support made you more holy in the sight of God, the evils of public school, and much more.
I rejected most of this on the surface of my life when I "ran away" at the age of 19. But, I still lived with the guilt and the foundational principles of red-blooded ultraconservative Christianity. I took it into my marriage and made the first six years a living hell at times, with many a bright spot in between.
Eighteen months ago, we finally cast off the last piece of the baloney sausage and moved into a life of freedom and happiness. I became an agnostic and my wife became a questioning Christian.
My story will hit on many of the juicy details of my growing up years. The abuse of my mother. The physical, emotional, and borderline sexual abuse. The spanking of my sisters until they were 25 years of age. Being accused of having two affairs because I left a church. Learning to swear intelligently and then overusing the talent. It will all be mixed in with my sorry attempt at humor.
I hope to keep your attention and learn you a thing or two about patriarchal and quiverful life from the perspective of a man who would rather be submissive to a woman (or many women) so I don't have to go through the tiring pretense of trying to be perfect.
I look forward to it.
Discuss this post on the NLQ forum. Comments are also open below.
I am a 30 something husband of one and father of 6 dynamic and loud children. My wife and I are still madly in love – at least in my view. My world is exciting, tense, and full of life. I love to write and hope to one day, do it full time. – Incongruous Circumspection
Snipped! by Incongruous Circumspection
Debunking the Fourteen Basic Needs of a Marriage:

Part 1a | Part 1b | Part 1c | Part 1d | Part 2a |
More by Incongruous Circumspection:
The Formula Problem: Why Duggarizing Your Marriage is Not Recommended

Should a Wife Submit to Her Husband?
NLQ Recommended Reading …
'Breaking Their Will: Shedding Light on Religious Child Maltreatment' by Janet Heimlich
'Quivering Daughters' by Hillary McFarland
'Quiverfull: Inside the Christian Patriarchy Movement' by Kathryn Joyce