This is a repost from 2009. An excellent piece written by Vyckie that talks about how many QF moms think about their bodies after years of birthing. Worth revisiting now. Thanks Tapati for the reminder of what a powerful piece this is.

by Vyckie
I beseech you therefore, brethren, by the mercies of God, that ye present your bodies a living sacrifice, holy, acceptable unto God, which is your reasonable service. (Romans 12:1)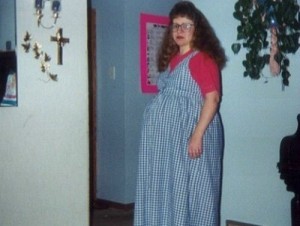 For the past week and a half, NLQ has been presenting the excellent material in Tapati's Body Image Workshop. As I've read through the posts and all the related comments on the NLQ forum, I've been thinking about how the Body Image issue is incredibly relevant to No Longer Quivering and the stories here of women who've left the Quiverfull philosophy and lifestyle.
In theory, virtuous Quivefull moms do not have body image issues. I say this because, of course, there is no "you" in qivering ~ in other words, QF women are taught not to think about ourselves, our bodies, our issues.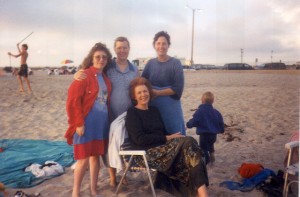 About 10 years ago, I attended an Above Rubies retreat in California taught by Nancy Campbell. The theme verse for the weekend was Romans 12:1, which Nancy had us memorize ~ with special emphasis on "that ye present your bodies."
While acknowledging that moms of many face some special challenges physically, Nancy encouraged us not to regard our bodies as our own personal property: our bodies belong to Jesus ~ He paid a very dear price to redeem us from eternal destruction ~ and in so doing, the Lord set an example of the sort of self-sacrificial love which we were to have towards God, our dear husbands, and our precious children: a Christ-like "in the flesh" sort of self-sacrificial love.
Presenting our bodies as a living sacrifice was our "reasonable service." In giving over our reproductive lives to His service, we could not claim to be extraordinary Christians ~ no, we were only doing our duty ~ our reasonable service.
So that's the theory.
In practice, it's a little more complicated because, try as we may (and QF moms do try harder perhaps than any other Christians) to take up our cross ~ to remain on the cross and not shrink back from a life of self-sacrificial love ~ we cannot escape the fact that bearing all the pregnancies and deliveries which the Lord sends our way is extremely hard on our bodies.
No matter how faithfully the husbands carry out their part of the patriarchy deal ~ loving their wives as Christ loved the church ~ caring for her as he does his own body, no matter efficiently QF couples train their older daughters to serve Christ by serving their families ~ thereby working mother "out of a job," no matter how carefully QF moms follow a healthy diet and supplementation program, the repeated wear and tear of half a dozen or more pregnancies does eventually take a heavy toll on the bodies of QF women.
Here's the really shitty part which has been bugging me lately as I've been considering Tapati's body image ideas:
It seems that QF women who've presented their bodies as living sacrifices to God ought to have an incredibly positive body image. These women have lovingly served their Lord, their husbands, their children ~ the very Kingdom of Heaven ~ with their bodies: and they have the stretch marks, saggy breasts, flabby bellies, and c-section scars to prove it.
I mean, there've been songs written about the scars on Jesus' hands and feet ~ visible evidence of Christ's love which He reportedly still bears even in His resurrected body.
At the very least, QF moms' bodies are worthy of respect and adoration on par with the Lord's pierced hands.
So it really pains me when QF women disparage their grand-multipara bodies with comments similar to what Wendy Jeub expressed on the Secret Lives of Women, Born to Breed episode:
"Here my brother shows up for a surprise visit, and I look completely out of shape, and overweight. And I did not like that at all."
Okay ~ what the hell is going on in the mind of a woman who has given birth to 15 children and then feels embarrassed and miserable because she's gained 50 pounds?
In some religions, they'd erect a statue of Wendy Jeub in all her plump naked glory and worship this hardy woman's staggering fertility.
The thing is ~ QF women cannot really say, Yes ~ this is screwing up my body and is slowly killing me. Such an admission would be very poor PR for the Quiverfull message that babies are a blessing ~ because along with the blessing of abundant children comes the implied (and often, frankly stated) consequent blessing of health and prosperity. You trust the Lord in this area of your life ~ joyfully receiving all the children He chooses to bless you with ~ and then watch and see how faithful He is to supply adequate provision for your ever-growing family. After all, "I have never seen a righteous man forsaken nor his children begging for bread."
The idea is that if the Lord has deemed a couple worthy of His special blessing of children, He can also be counted on to ensure the health of the mother ~ He did say, "My yoke is easy, my burden is light." So ~ if a woman accepts the Quiverfull conviction, and subsequently suffers ill health, is that not a sign that her practice of Quiverfull is legalistic and works based? She's doing it in her own strength, obviously.
And so, QF women grin and "bear it."
Quiverfull moms present their bodies, they sacrifice their bodies, they crucify their bodies, they buffet their bodies, … but they cannot love their bodies ~ in any sense of the word "love" that you care to use.
After ditching the Quiverful martyr-mentality and leaving the lifestyle, I have thought quite a lot about the body which I'd surrendered to the Lord, but now have chosen to reclaim as my own. This body of mine has been through 10 pregnancies and delivered 7 living beings ~ 5 of them via c-section. So, yeah ~ it's "out of shape" (actually, it is in shape ~ the shape of a prolific mother) and in pain and I feel old and decrepit.
BUT ~ considering everything ~ I have to admit that my body is pretty amazing. I have a strong, powerful, resilient body ~ a survivor body which has served me admirably even though I (or rather the Lord, whose body it was) pushed it well beyond reasonable limits.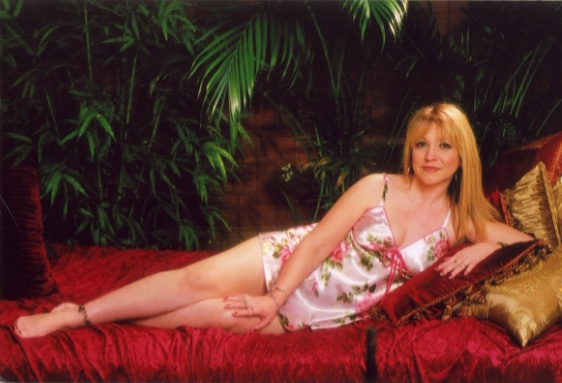 Yes ~ this is me!
About a year after leaving, I did a boudoir photo shoot as a way of reclaiming my body for me. I had gone from denying my body, to hating it ~ eventually, I learned to accept it (this was much easier once the chronic pain disappeared) ~ and now, I want to embrace my body and even love it for the way it has so faithfully carried me through my life when it so obviously could have given up on me years ago.
I'm so jealous of Tapati's wonderful nude image in which her big Gaia belly is the whole earth. I try to imagine my own belly ~ which has been repeatedly stretched out and then shriveled and now flabbly hangs over my too-tight, perpetually itchy cesarean scar ~ not as a humiliatingly ugly thing which disgusts me ~ but rather, I picture it as a cultivated field which, over the years, has been ploughed under, seeded, fertilized, and has produced abundant harvests which have enriched its owner (that'd be ME ~ sorry, God ~ too bad, Warren) sevenfold.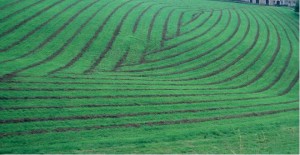 Here's the image of my post-QF belly which I'm carrying in my head these days. Thank you, body ~ for all you've been through with me ~ and for the wonderful children you've produced. I honor you.
Comments open below
Vyckie Garrison is the founder of No Longer Quivering, a site she originally set up to share the story of how she escaped from the Fundamentalist Quiverfull lifestyle and found herself again. As she continued to share her journey with others on NLQ other women in different places while leaving the lifestyle came to NLQ and share their struggles and victories. NLQ seeks to be an encouragement, place of understanding and help for those trying to leave the Quiverfull life.
NLQ Recommended Reading …
'Breaking Their Will: Shedding Light on Religious Child Maltreatment' by Janet Heimlich
'Quivering Daughters' by Hillary McFarland
'Quiverfull: Inside the Christian Patriarchy Movement' by Kathryn Joyce