(Cross posted from Sierra's blog – the phoenix and the olive branch)
If you've been following my blog for a while, you'll recognize William Branham as the name of a faith healing evangelist in the mid-20th century who inspired a group of churches that collectively call themselves "The Message of the Hour." The name refers to the belief that Branham served the role of a major Old Testament prophet for the modern age, delivering the Word of God "fresh" to pre- and post-World War II America (and, increasingly, the rest of the world). Though few have heard of him now, Branham was actually rather famous in his day. He preached a circuit similar to Oral Roberts and Billy Graham (though he was considerably older than Graham), regularly attracting crowds of 50,000.
Branham was famed for two reasons: (1) his healing gift, and (2) his prophecies. He fell very much within the apocalyptic premillennialist camp, which is a fancy way of saying that he prophesied about a number of signs that would immediately precede the return of Christ. One was a flood in Ohio. One was a self-driving car. One was the sinking of Los Angeles like Atlantis and the nuclear destruction of the United States. But there were many more than that.
And now, apparently, Message believers all over are beginning to recognize and speak out against the flaws in those prophecies.
Jeremy Bergen, editor of BelieveTheSign.com, posted this public apology today:
Humble Pie: a formal apology for publishing and distributing false doctrine.
Dear Reader,

From the start, the purpose of Believethesign.com has been to provide evidence to support truth. Having grown up in a Message Church, the truth being supported was naturally that William Branham was Elijah the Prophet in fulfillment of Malachi 4:5 and Revelation 10:7. In the fall of 2011, we changed the main scripture reference of the website to "Jesus Christ the same yesterday and today and forever"(Hebrews 13:8) in order shift the focus of the site clearly onto Jesus Christ.

The driving force behind this change is that we have uncovered a number of significant issues with the evidence supporting William Branham's prophetic ministry, as he proclaimed it. At the same time, we have not found any significant issues with the evidence supporting the healings and word of knowledge that brought attention to William Branham's ministry.

In 1963, William Branham said:

If I say anything that you don't believe, why, do it just like I do when I'm eating cherry pie. I love cherry pie. But when I hit a seed, I never throw the pie away; just throw the seed away. So you do the same thing. Eating chicken, when you hit the bone, you don't throw the chicken away, you just throw the bone away. If I say something you don't believe, just throw the bone away. (Conferences, June 8, 1963, Tucson, Arizona).

What you now read on Believethesign.com should be an accurate historic account of William Branham's life. By bringing to light supportable evidence, we hope that you find yourself in a better position to separate any pits from the pie.
In other words, BelieveTheSign will no longer prop up failed prophecies by asserting truth without evidence. It will, however, maintain its section on Branham's healing ministry, as the editors have not found evidence to contradict it. Basically, they're only going to publish verifiable facts. And take down unverifiable conjecture. Like good journalists!
This is an incredibly brave thing for Bergen to do. A couple of facebook comments on his announcement should give you a good sense of what he's up against: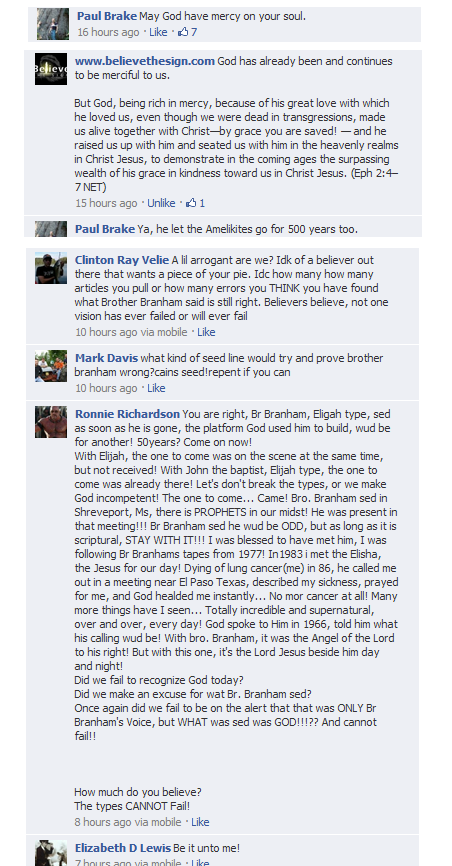 Selected comments on Believe The Sign's facebook page. View the entire conversation here.
I commend Jeremy Bergen for his humble willingness to be corrected when the truth does not line up with the doctrine he has received. I hope that his example will lead others in the Message to honor the questions they have been bottling up and to believe in something bigger than William Branham.
Comments open below
Sierra is a PhD student living in the Midwest. She was raised in a "Message of the Hour" congregation that followed the ministry of William Branham. She left the Message in 2006 and is the author of the blog the phoenix and the olive branch
The Spiritual Abuse Survivor Blogs Network
NLQ Recommended Reading …
'Breaking Their Will: Shedding Light on Religious Child Maltreatment' by Janet Heimlich
'Quivering Daughters' by Hillary McFarland
'Quiverfull: Inside the Christian Patriarchy Movement' by Kathryn Joyce
&nbsp