by Vyckie Garrison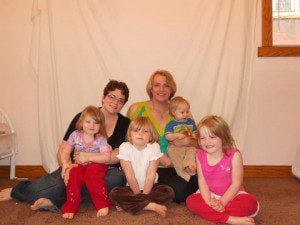 While in Minneapolis this week, I went out for dinner with Joe Sands (Incongruous Circumspection) and his wife, Kristine Sands. It was a true pleasure to hang out with this fun couple – I ♥ awesome people. Yay! (✿◠‿◠)
Also, while in Minneapolis, I had the privilege to spend most of a day with Melissa (Permission To Live) and her spouse, Haley.
Having never personally known any transgender people, I will admit to being quite curious to meet Haley in person – and now that I know her, all I can say is, Wow – she rocks! What a delight to spend time in the company of an energetic, super smart, and truly happy, beautiful woman.
If you have not read the story of how Melissa met and married Haley via courtship closely supervised by their Quiverfull/fundamentalist parents, had 4 children, and lovingly supported her spouse through transition … it's truly an amazing journey which made me cry tears of pride and joy.
Even though these two are heroic in their love and personal integrity, after spending time with them – eating tacos, playing with (sometimes corralling) their precocious kids, chatting, watching music videos on YouTube (I Want to Break Free by Queen), laughing about our old superstitions, I was mostly impressed with how "normal" they are – their family is definitely unconventional, and yet, they seem like regular folks.
Open comments below
Vyckie Garrison started No Longer Quivering to tell the story of her "escape" from the Quiverfull movement. Over time, NLQ has developed into a valuable resource of information regarding the deceptions and dangers of the Quiverfull philosophy and lifestyle. Several more former QF adherents are now contributing their stories to NLQ and our collective voice makes these Quiverfull warnings impossible to dismiss or ignore.
The Spiritual Abuse Survivor Blogs Network
NLQ Recommended Reading …
'Breaking Their Will: Shedding Light on Religious Child Maltreatment' by Janet Heimlich
'Quivering Daughters' by Hillary McFarland
'Quiverfull: Inside the Christian Patriarchy Movement' by Kathryn Joyce