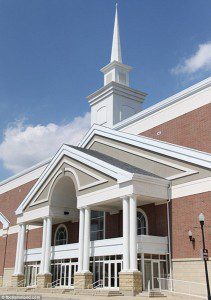 Yesterday First Baptist Church of Hammond, Indiana's long time pastor Jack Schapp was arrested on federal charges. He was charged with having transported a minor across for state lines with the intent of engaging in sexual activities along with a few addition charges. The FBI's investigation of Schaap led to him being charged in U. S. District Court in Hammond, Indiana in violation of the Mann Act.
Apparently the Feds offered Schaap a plea deal and he took it. Under the plea deal Schaap admitted to sex with a sixteen year old girl, that the girl had been under his care and for bonus points, he'd used a computer to persuade the victim to have sex with him.
Where's "NBC's Dateline: To Catch a Predator" and Chris Hansen when you need them?
No word yet on what punishment and sentencing guidelines Jack Schaap will receive. But it's likely that he'll receive a legal slap on the wrist. It's not likely he'll serve many or any months at all according to the several Federal sentencing guidelines available online.
Interestingly enough the prosecution is is petitioning the courts for forfeiture of all electronic devices belonging to Schaap under a law usually reserved for drug offenses. They are seeking to keep his Ipad, Iphone, digital camera, voice recorder and computer flash drives because they were apparently used in the commission of his crime.
Schaap is due to arrive at the courts today for an initial court appearance.
More detail on the the arrest and plea deal at these sites:
Comments open below
NLQ Recommended Reading …
'Breaking Their Will: Shedding Light on Religious Child Maltreatment' by Janet Heimlich
'Quivering Daughters' by Hillary McFarland
'Quiverfull: Inside the Christian Patriarchy Movement' by Kathryn Joyce