A few days after my spiritual epiphany, my three brothers and I received brand new, leather-bound King James Version Bibles for Christmas.
On New Years' Day, we began our annual tradition of reading through the entire Bible in 365 days.
We were 11, 9, 7 and 5 years of age.
This ritual consisted of all of us sitting in a circle and taking turns reading 2 verses each until the assigned passages were finished.
I don't know how anybody else felt about this new development, but personally, I hated it. It wasn't so much that I didn't like reading the Bible as it was that I hated that it was so ritualistic and it kept us from doing "kid" stuff.
My brothers and I liked to listen to Focus on the Family's "Adventures in Odyssey" on Saturday mornings, and this new Bible reading thing totally cramped my style when it came to stuff like that.
And, I was a brat. If I didn't like something, everybody knew about it. Sometimes, by the end of the Bible session, I would be screaming and everyone was fed up. I don't remember exactly what my thought process was, but I think it was something along the lines of, "If I'm not enjoying myself, then no one else should either."
On top of that, I had turned into a major control freak. I wanted it to be exactly the way I wanted it and everybody else had to adjust. I didn't care if it meant that I would be "spanked" or punished in other ways for disrupting the order of things.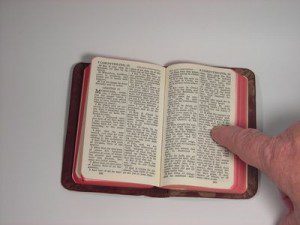 While I'm on the topic of my spiritual education….
My parents were very diligent in seeing that my brothers and I learned not only the stories in the Bible, but the theological and doctrinal teachings of the Bible as well. By the time I left home, I had pretty much memorized the books of Proverbs, John, Romans, Hebrews, Galatians and Ephesians from having repeatedly read those books.
One time, I was in Sunday School (at a non-patriarchal church) that was taught by the pastor's wife, and she started by saying "Today we're going to look at the story of the Woman at the Well. Turn to…." and she began scrambling to try to figure out where we were supposed to turn and I said, "John 4?" My teacher was flabbergasted that I knew exactly where to find the story she was looking for.
When I was a little older (10-12 years old), I began to really resent the whole Bible reading thing. I wanted to do it on my own. I started to read old copies of Keys for Kids, a devotional published by Children's Bible Hour. The family Bible reading thing was too boring and I made it too chaotic to get anything out of it, so I started reading on my own. After a while, I found a Bible somewhere and hid it in my room so I could read the scriptures that went along with the devotional readings.
Yes, I said "hid." I wasn't ever told that I couldn't read the Bible, but I felt so discouraged in every aspect of my life that I felt that I had to hide it, if for no other reason than if no one knew about it, I wouldn't have to explain myself and possibly have to win a battle to keep doing what I wanted.
When I was in my middle teens, after I had saved my birthday money, Christmas money and random pennies I found in random parking lots, I asked my mom if I could buy my own Bible. Yes, I had my copy of the family Bible, but I didn't want to bring it to my room to read it because I didn't want to be discouraged. So I thought I'd just end the possibility of that happening by buying my own — one that no one could tell me when to read and when to not read. My mom discouraged that idea. But the next time we went to the Christian book store, I secretly purchased one anyway, and hid it under my mattress. And read it I did — I read that Bible faithfully through my teen years and through the first three years of college.
| Part 1 | Part 2 | Part 3 | Part 4| Part 5|
| Part 6 | Part 7 | Part 8 | Part 9 | Part 10

Comments open below
Mari is the middle of 5 kids — and the only girl — in a male-dominant, semi-quiverfull, rather patriarchal homeschooling family. She was raised in a patriarchal church and most of her social network as a child consisted of children of patriarchal or quiverfull families. This is the story of how she was sucked into the patriarchal/quiverfull belief system, and how she was lovingly (and in some cases, not so lovingly!) escorted out. Read her blog at: http://www.marismuses.wordpress.com
Spiritual Abuse Survivor Blogs Network
NLQ Recommended Reading …
'Breaking Their Will: Shedding Light on Religious Child Maltreatment' by Janet Heimlich
'Quivering Daughters' by Hillary McFarland
'Quiverfull: Inside the Christian Patriarchy Movement' by Kathryn Joyce