I haven't updated NLQ much with the latest on Jack Schaap and his ongoing legal confloption. Yesterday I was perusing the news on Jack Schaap, the former pastor of the First Baptist Church of Hammond, Indiana to see what had gone down on his plea arraignment on September 27, 2012. Schaap not only plead guilty as he'd agreed to in his plea deal; he also claimed that he didn't realize he was breaking any laws. Ignorance of the law is never a good defense in court. His sentencing will take place on January 15, 2013. It will be interesting to see what the judge feels is appropriate in this case even if it's likely he'll get only the ten years.
The speed the feds has shown from the investigation in August through sentencing in January is mind-blowing. Does the FBI win brownie points for swiftness?
The other thing about the Jack Schaap sexual abuse case was that he was actually caught and prosecuted by law enforcement. There was no collusion between the agencies doing the investigation and the powers that be in the Independent Fundamental Baptist Church to bury the allegations, stifle the press and pretend it didn't happen.
From what I've been reading online and experienced in my tiny town that seems to be what happens, IFB church or not. Yeah, the IFB doesn't have a lock on sexual abuse, but they do seem to have a vast number of sexual predators even while they bash the Catholic priests for the same thing.
So how does something that horrible as child abuse and sexual molestation get covered up by authorities and the members of the church? Well, it looks a great deal like what happened here in my small Virginia town back in 2004 when IFB minister and Jack Schaap/Jack Hyles crony Charles Shifflett was accused of abusing the kids at the church connected school. He'd been allegedly molesting children at the school unchecked for years. Some of his former students came forward and laid the charges of abuse against Pastor Shifflett.
How tight was Pastor Charles Shifflett with Jack Hyles and the Hyles-Anderson College? Hyles came down to his church to speak many times as well as many children from Calvary Baptist went to Hyles-Anderson College. Pretty strong bonds.
Some of the students of the Calvary Baptist school came forward and accused Charles V. Shifflett with a wide variety of abuses, including sodomy, beatings and other actions that have no place in any school. Sadly enough the young adults that came forward to speak of the abuse going on at Calvary Baptist were derided and thought to be liars by many in the community at large and completely dismissed as liars by the members of Calvary Baptist Church. They faced a gauntlet of disapproval as well as having to deal with Sheriff Lee Hart who supposedly told the accusers that if they went forth with their legal charges that the Sheriff would have to charge their own parents with failure to protect their children from harm.
As a side note Sheriff Lee Hart has his own hornet's nest of allegations of improprieties by him and his office he's been dealing with. Notice our current Sheriff is embroiled in the same scandals? So much for true justice.
There is an audio documentary detailed everything that happened. It's called The Lambs of Culpeper by Jeri Massi. Listen and judge for yourself if these young people were making up tales or were truly molested. Many of the local newspaper articles about the sins of Charles V. Shifflett have disappeared. The details in this documentary are enough to break your heart. The legacy that Pastor Shifflett leaves with these young adults will not be long forgotten. It impacts their souls and every aspect of their lives.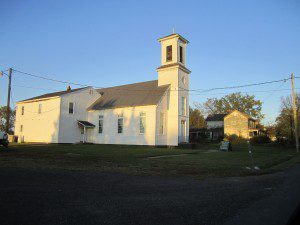 Eventually as the Sheriff's department started investigating it did suddenly dawn on some members of Calvary Baptist that perhaps there was a grain of truth to what these young adults were saying. A church split occurred, with the ones that believed Pastor Shifflett had possibly committed the crimes he was charged with staying at Calvary Baptist with all of Shifflett's supporters following him.
Pastor Shifflett rented an old abandoned church building in Brandy Station, Virginia, naming it The First Baptist Church. A significant portion of the congregation followed Shifflett to the new location, creating a financial strain at Calvary Baptist, leaving a trail of heart-broken, confused, betrayed former congregants behind him
By the time this finished playing out it was actually the IRS that dobbed Shifflett in. He was arrested, tried and convicted on not paying taxes on his ill-gotten illegal gains he'd managed to salt away from his time at Calvary. When it was all said and done Shifflett was sentenced to 100 years in prison with all but 4 years suspended. No one I spoke with in the town seems to have the slightest idea if Shifflett is alive or dead, free or incarcerated. If he served every single day of that sentence he would have been released recently. He could be out now.
Shifflett spoke of returning to his new church and continuing on when he got out but as of 6 pm est Oct 12, 2012 he's not listed as the pastor of First Baptist.
Disgusting slap on the wrist for a monster that physically, sexually and emotionally abused children for years on end. They have to live with a much greater burden in their recovery for what was done to them than their abuser does. Notice there is not one word about his crimes against these young people in the sentencing article. This all happened in the shadow of our nation's capital.
Who will be the next pastor caught with his hands around someone that he has no business touching. I don't know but it seems all of them lead back to the pastors of First Baptist Church in Hammond, Indiana. I have heard of a handful of contenders with links back to First Baptist.
One pastor that has recently been praising Jack Schaap from the pulpit, regardless of the fact that he sexually abused a teen, is Richmond Outreach Pastor  Geronimo Aguilar. Yes, praising Jack! Praising a convicted sex offender! Not just praying for Jack and mentioning that they need to pray for Jack but actively telling his congregation about the wonderfulness of Jack Schaap.
Geronimo's church is always blaring out what they are doing in the Virginia media, from Va Beach to nearly DC. He is one that many believers I know go to his conferences at Richmond Outreach Center and who is a Jack Schaap friend, and may have been up to similar things in the past. I have no proof that he's actually doing/done anything wrong, but there is talk throughout the region. I know he's listed at Rick Ross and other cult watch sites as a cult leader with delusions of grandiose mega churches. Pastor G.
During Geronimo Aguilar's time with the California ministry Set Free Christian Fellowship he filed a frivolous lawsuit against Calvary Chapel in Costa Mesa at the instigation of TBN. This occurred in 1995, well before Geronimo settled on the East Coast in another attempt to plant a mega church. Rick Ross has an entire forums worth of information on the less than stellar doings of Geronimo in the past including names, dates and places where it is alleged that statutory rape happened.
These are all men that have been urging us to birth as many babies as possible to raise up a mighty army for the Lord? Why should anyone listen and choose Quiverfull when the ones teaching QF cannot even be trusted not to prey upon their own flocks?
If the Independent Fundamentalist Church in America has any hope of being taken seriously again they must start outing and dealing with pastors that prey on their followers. No praising molesters from the pulpit either!
I hope I'm wrong but I'm going to be watching and waiting.
To anyone out there being molested or treated inappropriately by clergy at their own church. Please, for the sake of other future possible victims if you won't do it for yourself, report it to law enforcement and to your church leadership. No one has the right to harm you in the name of God.
Comments open below
Calulu lives near Washington DC , was raised Catholic in South Louisiana before falling in with a bunch of fallen Catholics whom had formed their own part Fundamentalist, part Evangelical church. After fifteen uncomfortable years drinking that Koolaid she left nearly 6 years ago. Her blog is Calulu – Roadkill on the Internet Superhighway
The Spiritual Abuse Survivor Blogs Network
NLQ Recommended Reading …
'Breaking Their Will: Shedding Light on Religious Child Maltreatment' by Janet Heimlich
'Quivering Daughters' by Hillary McFarland
'Quiverfull: Inside the Christian Patriarchy Movement' by Kathryn Joyce