The path to Patriarchy is often a convoluted one. Embracing of Patriarchal beliefs is usually not the original intent, but is often the "byproduct" of one's attempt to embrace a particular religion and/ or ideology.
This is important to remember, few women are quick to jump on a bandwagon which promotes a society in which women have few or no rights. However, finding themselves presented with a series of agreeable answers to various concerns will act as a compass which eventually leads the seeker to a particular brand of patriarchy.
In more down to earth terms, proponents of patriarchy know they have a tough sell. After all, what woman in their right of mind is going to embrace a system of terminal submission? For the proponent of Patriarchy, it's sort of like being the frosted covered turd salesman at the ice cream convention. How is one to compete?
Unlike the frosted covered turd salesman however, the Patriarch (or female acolyte) is a true believer. In his mind, Patriarchy is a tough sell due to the fallen state of today's society, not because of any shortcomings of the system itself. His answer is that in a Godly society, women would be delighted to fulfill God's Will for their gender.The modern day aspiring Patriarch knows though, that he has an uphill battle and that subtler, more crafty approach is called for.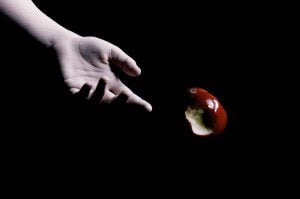 The task is thus to convince the modern day woman to embrace her role in a Patriarchal system. In doing this the proponent of Patriarchy uses both sweetness and intimidation to alternately woo and coerce women (and to a certain degree men) into accepting Patriarchy.
It brings to my mind some seasoned pimp trying to pick up a young runaway at the bus station. Everyone knows that the pimp has bad intentions, but somehow, he must get the girl trapped into his racket.
He would never start out with the reality of his plans. "Hey honey, I'm going to force you to sell yourself, take your money, beat you and make you a slave."
Of course not, more than likely he would pretend to be a good Samaritan and offer the girl food, some money and maybe even a place to stay. These are all good and helpful things that someone in her situation would need. If the pimp is smart enough, he will offer these things in such away as not to raise suspicion, not making things seems "too good".
If the girl accepts first set of gifts, then the pimp offers her something bigger, such as a place to stay. All the time he claims that he's "there to help". In reality he is getting her in his debt. The more she accepts, the more she will feel beholden to him.
Sooner or later the picture shatters, maybe it's the first time that he beats her or forces her to do something. Either way, it's ugly and it's definitely NOT something good for her.
A woman embracing Patriarchy follows a similar path. In the beginning it's all good and fun. In fact, it rarely starts out about women submitting. Like the offers of free food or a place to stay, women are lured into Patriarchy with offers of "restoring the good old days", "a Godly society", "Living by the Bible" and other kindred lines. Patriarchy doesn't rear it's ugly head until later on.
By then it's too late. Through her pursuit of a dream, she was carefully guided to a situation where she must to be religiously consistent, embrace aspects of Patriarchy. At first, it's just a few things…
Part 1 | Part 2 | Part 3 | Part 4 | Part 5 | Part 6 | Part 7 | Part 8 | Part 9
| Part 10| Part 11 | Part 12 | Part 13 |

Part 14 | Part 15 | Part 16 | Part 17| Part 18
| Part 19 | Part 20 | Part 21 | Part 22 | Part 23 | Part 24 | Part 25 |
Part 26 | Part 27 | Part 28 | Part 29 | Part 30

Comments open below
NLQ Recommended Reading …
'Breaking Their Will: Shedding Light on Religious Child Maltreatment' by Janet Heimlich
'Quivering Daughters' by Hillary McFarland
'Quiverfull: Inside the Christian Patriarchy Movement' by Kathryn Joyce