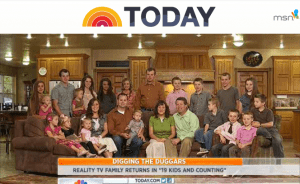 Remember Todd Akin? The guy that said women have magical mystery vaginas that will not allow the sperm of a rapist to fertilize an egg? Him of the flawed biology beliefs?
The Jim Bob and Michelle Duggar Family of TLC's "19 Kids & Counting" will be going to a number of fundraisers for Akin in the next few days.
The Duggars are back on the campaign trail. This time, they are showing their support for representative Todd Akin. Join them in Missouri on October 16th and 17th (details below). The Duggars plan on bringing their entire family, minus John and Jill, to the events to perform music. Josh and Anna also plan on attending with Mackynzie and Michael.

Tuesday, October 16, 12:00-2:00PM
Women's Lunch Rally

Ramada Oasis Convention Center
2546 North Glenstone, Springfield, MO
Michelle Duggar, of TLC's "19 Kids and Counting"
Janet Huckabee, Former First Lady of Arkansas
Penny Nance, President of Concerned Women of America
Cost: $20/person
RSVP to jonica@akin.org or call 417.827.8795Tuesday, October 16, 5:00-6:00PM
Duggar Family Rally for Todd Akin
Main Street Music Hall, 1048 Main St Osage Beach, MO 65065Wednesday, October 17, 12:15-2:00PM
Duggar Family Rally for Todd Akin
The Farmington Civic Center, 2 Black Knight Drive, Farmington, MO, 63640
Wednesday, October 17, 6:30-7:30PM
Duggar Family Rally for Todd Akin
727 Ridge Avenue, Poplar Bluff, MO 63901
I guess it's just not enough to
donate to the campaign of Charlie Fuqua
, the man who wants to use Old Testament laws to justify murdering 'rebellious' children. Now they have to go stump for Mr. Legitimate Rape too.
Doesn't presenting Quiverfull as delightful and heavenly instead of the bondage it actually is keep these people busy enough without trying to get other people elected? Sure reveals what the Duggars actually believe.
Comments open below
NLQ Recommended Reading …
'Breaking Their Will: Shedding Light on Religious Child Maltreatment' by Janet Heimlich
'Quivering Daughters' by Hillary McFarland
'Quiverfull: Inside the Christian Patriarchy Movement' by Kathryn Joyce