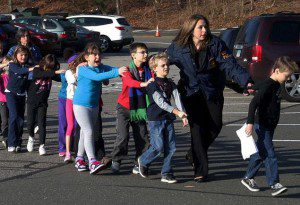 As you know we usually post a list of news links having to do with fundamentalism, quiverfull, or patriarchal subjects on Saturdays. Not today though.
While the events of the school shooting in Newtown, Connecticut unfolded many of us could not look away from the media coverage of this tragedy. It seems no place is truly 'safe' from violence these days, not even schools filled with innocent kindergartener students or kids in grades one through four.  This type of human slaughter is usually visited upon high schools, not small children.
Some many mothers yesterday could not believe what they were seeing and as a nation many of us were overcome with tears, grief, sadness for the loss of innocent lives.
Many things were said yesterday about this tragedy and most ironically the so-called religious leaders blamed all sorts of things for the shooting.  Mike Huckabee blamed taking 'God' out of the classroom while others blamed taking prayer out of school. I'm sure in the hard core fundamentalist community they are busy blaming 'God's Judgement' while crowing that this is another reason that home schooling is safer, God-approved and righteous. Thinking of the blame shifting that will take place once the evangelical media fires up again on  Monday morning makes me sick at heart. Surely Pat Robertson will have some crazy choice words about this tragedy.
Below are listed articles about the impact of what happened along with the words of some of our Spiritual Abuse Survivor Blogs Network members take on what happened.
Please feel free to sound off in our comments on your thoughts about what has happened and what needs to happen. Trying to make sense of the senseless here…
The Huffington Post's Rev. Emily C Heath "Dealing With Grief: Five Things Not to Say and Five Things to Say in a Trauma Involving Children"
Mother Jones "Fuck You CNN: How the Press Got it Wrong in Newtown"

Quest For Meaning on Patheos – "Guns Don't Kill People" and "The Day After Newtown: Finding Our Way"
The Huffington Post – "Connecticut Elementary School Shooting:  How to Help"
Mother Jones "What Happened in the Newtown  School Shooting"
Thin Places on Patheos –
"Where is God When Children are Murdered Down the Road?"
The Huffington Post – "Mike Huckabee: Newtown Shooting No Surprise, We've Systematically Removed God From Schools"
NLQ's SASBN members
Tapati – Knife Vs. Gun–No Contest
Incongruous Circumspection – May God Get the Glory for this Tragedy
Libby Anne – Tragedies Should Be Calls to Action
Sierra – Columbine, martyrs, and growing up NRA at the end of the world
Comments open below
NLQ Recommended Reading …
'Breaking Their Will: Shedding Light on Religious Child Maltreatment' by Janet Heimlich
'Quivering Daughters' by Hillary McFarland
'Quiverfull: Inside the Christian Patriarchy Movement' by Kathryn Joyce