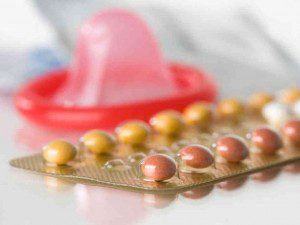 by Ian – Guest writer from Bruce Gerencser's blog  The Way Forward
I am writing this in response to thoughts put out by Pastor Steven Anderson. Guys like this are sick in the head and very dangerous. Given the right opportunity, he would call his followers to take up arms and destroy all who believe differently from him. He has pictures of his smiling children and loving wife, but I know differently. I have lived on the other side of that façade and know what happens. The older kids raise the younger while mom is busy trying to be perfect for her husband. The families are held together by force of will and fear- fear of disappointing God/ the pastor/the church. There is little joy in most of these households. The children can't wait to move out on their own and experience all they have missed; I know because that is what I did. No birth control means that you can create and maintain your own group of followers.
Growing up in an Independent Fundamentalist Baptist church, I was taught that any form of birth control was wrong. I don't remember when I first heard this teaching, but it has been there for as long as I can remember. Most of the people who spoke against birth control, as I remember, normally had 2-3 children. There were a few people with more, but that was the exception.
One of my former pastors had 4 children with a gap of 12 years between the first and last. He brags about how they never used birth control, God kept his wife from getting pregnant. This is the same pastor who was kicked out of the mission field for adultery. Hmm, did he use birth control during his "time of weakness"? Another pastor I had did have 5 children and only stopped because his wife had a hysterectomy for health reasons. Why is this OK, though? Birth control is birth control, even if it is for health reasons. This same man wouldn't agree to an abortion if his wife were in danger of dying (Or would he? He has never had to make that choice.), but he made the determination that God was OK with keeping his wife alive by removing any chance of her having another child.
Here are a few of the verses used to prove birth control is wrong:
Genesis 29:31 And when the LORD saw that Leah was hated, he opened her womb; but Rachel was barren. -OK, nothing about using a condom or hormone pills here, just a simple statement that the LORD opened a womb.

Genesis 30:22 And God remembered Rachel, and God hearkened to her, and opened her womb. –Again, just another statement of fact. We see that God allowed her to have children, nothing more.

1 Samuel 1:5,6 But unto Hannah he gave a worthy portion; for he loved Hannah: but the LORD had shut up her womb. And her adversary also provoked her sore, for to make her fret, because the LORD had shut up her womb. –So here we see that the LORD kept her from having children, but no condemnation of for a person practicing birth control.

Psalm 127:3 Lo, children are an heritage of the LORD: and the fruit of the womb is his reward. –Unless the original Hebrew had a hidden meaning, there is nothing here to condemn birth control. All we learn here is that they will carry on your name and the LORD will reward you with children.
Then, there is the famous story of Onan. Onan's brother died, so his sister-in-law went to Onan to make a baby. (In the Jewish economy, a brother would do this to raise up children to carry on the family name. He was also responsible for those children, but couldn't count them as his, since they were "created" to carry on his dead brother's name.) Onan and sister-in-law were just about to make the baby when Onan pulled out and "spilled his seed". God immediately killed Onan for this act. I was told this was because Onan ejaculated on the ground solely for birth control. As I got older and re-read this story, I came to realize that God killed Onan because he just had cheap sex with his sister-in-law; he had no intention of making a baby. Having regular sex with a close relative was against God's moral law. Agree or disagree with the story, it is there and used to prove that both birth control and masturbation are evil things. Unfortunately, this story is about neither, it about a guy who saw a chance to have sex with a woman besides his wife and God killed him for not carrying on his brother's name.
If birth control were really so evil, how did Jack Hyles and crew get away with it for so may years? Why didn't God kill them like he did Onan? Why didn't God destroy the Hepzebah House for putting birth control hormones in the drink mix they fed to the girls? If God was truly against birth control, why did he not spell it out? He established rules for everything from slavery to divorce to what you owed when your animal killed someone; logically, He would have established guidelines for the very act that would keep people from filling his churches.
People always spoke of having your quiver full of children and children being a heritage of the Lord. This is all fine and good in a place where you can afford to raise them in a proper manner. When people lived on farms, homesteads, even in tents in the wilderness while herding their own cattle, there was actually a necessity for having many children. Children were able to help around the house and barn. Children also helped ensure that the family name and/or position lived on. As times progressed and people started grouping closer together, while demanding more and better things, resources started to become scarce.
Gradually, the man who had 6 or 10 children needed more money to buy supplies for school. He needed a bigger buggy to carry them to town . He needed a way to pay for the doctor to come by when they broke an arm. In addition, he needed money to buy machinery to harvest more crops to pay for the school supplies, buggy and doctor. There is nothing wrong with people bettering themselves, but this progression begins to limit how many children one can afford.
If I can't afford all of my children, then why should I have so many? As a Christian, I was not supposed to take money from the government, or anyone else, to help support my family. If am man doesn't provide for his own, he is worse than an infidel. I was also told that, if God gave you the children, he would give you the means to support them. After my second child was born, I realized I was going to have a hard time supporting any more. I toyed with birth control a bit, but my wife wasn't too thrilled about it. After my third was born, I used birth control more consistently, but not effectively. After my fourth child was born, I had a vasectomy. I have no regrets, but my wife, Christian woman she is, is troubled a little by it. I used birth control before I deconverted and had no problems with it. Now, as a ex-Christian, I am very happy with my decision. This is not because I don't want children; it is because I more fully understand what it means to have and raise children
So, why didn't I use birth control even though I knew I would have a hard time supporting my children? Because I had been taught not to and my dad told me that if I was going to put off having children, then I wasn't ready to be married. This came about because I told a friend that it would be neat if, when I got married, my wife and I didn't have children right away. I didn't say I didn't want children; I just wanted some time with my wife, since we weren't allowed to date or spend any alone time together before we were married. Later, my wife told me she had never given any thought to birth control, she just wanted children of her own. (This is a related, but different, subject that needs its own space.)
I have known many people who try to populate the earth by themselves  One family had 7 children; things were tight with them from time to time, but they seemed to make out OK. Dad was gone a lot working construction, so mom had to raise the kids alone much of the time. This put an unfair burden on mom and the children grew up getting into one kind of trouble after another. Another family I know has 5 with another on the way. The mom was a pretty and healthy woman. Now she is run down and has a few female problems because she has had so many children in a short amount of time. Having three children within six years was hard on my wife. I think she has never fully recovered from number three and it has caused her health problems. I love and adore all of my children, but I think maybe a little more spacing would have been better for her.
There is both a physical and psychological cost to having many children. When people are able to support and love all of their children, that is a good thing. Most of the time, though, the people who are least equipped to support so many are the ones who have the most. Many are not well educated and barely make ends meet. And these are the people who make up about 50% of the IFB congregation. I should know, I was there and I was one.
Comments open below
Read everything by Bruce Gerencser!
Spiritual Abuse Survivor Blogs Network member, Bruce Gerencser blogs at The Way Forward.
Bruce Gerencser spent 25 years pastoring Independent Fundamental Baptist, Southern Baptist, and Christian Union churches in Ohio, Michigan, and Texas. Bruce attended Midwestern Baptist College in Pontiac, Michigan. He is a writer and operates The Way Forward blog. Bruce lives in NW Ohio with his wife of 32 years. They have 6 children, and five grandchildren.