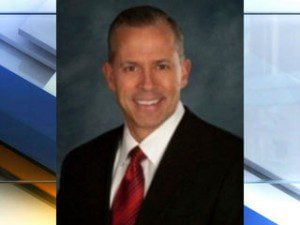 From the Post-Tribune
In another letter, he talks about how he wanted their time together for three days — which appears to reference their time in Michigan — to show her how much she matters to Jesus Christ.

The girl and her family are still dealing with the ramifications of the relationship, according to letters they wrote to the court.

The girl wrote about how she spent her entire life in the church, listening to Schaap preach three times a week and being taught that he was a messenger of God.

"He told me to confide in him, to trust him, and he made me feel safe and comfortable around him as a man of God," she wrote. "(Schaap) preyed on that trust and my vulnerability."

In another letter written to Schaap, she says she was shocked when he first kissed her. When she asked if it was wrong, Schaap told her it was OK.

"You told me that I was sent to you from God, I was his gift to you," the letter says.

She admits that by the time they were discovered, she thought she was in love with him and at first didn't admit he had victimized her.

Now she's had to transfer schools, and her family was told it wasn't safe for them to return to the church, according to letters from her parents. The girl writes that although she still struggles every day, she is determined to "get through this and grow from it."

Assistant U.S. Attorney Jill Koster says in the sentencing memorandum that Schaap started grooming the victim in April 2012, after an administrator at the girl's high school, run by the church, emailed Schaap about how she was "frightened, confused and emotionally traumatized" and in need of guidance.

The administrator wrote that he told the girl to let other people guide her life for now and to trust her leaders.

Schaap encouraged her to talk to him about a past romantic relationship and to view him as a friend. The two called and texted each other frequently, including 662 times in one month, before he was discovered. Phone records show he instigated contact in all but five of those days.

The government's filing says he duped church employees into helping transport the girl across state lines, telling them the girl was "in an extremely vulnerable state" and that he needed prolonged time alone with her to help her.

"In our 'fantasy talk,' you have affectionately spoken of being 'my wife,' " Schaap wrote in one letter. "That is exactly what Christ desires for us. He wants to marry us + become eternal lovers!"

Federal prosecutors included the letters in the government's sentencing memorandum for Schaap, which was filed Wednesday evening in U.S. District Court in Hammond.

Schaap has pleaded guilty to causing the girl to be transported to Illinois and Michigan last year for a sexual relationship. Schaap resigned from the megachurch, one of the largest in the country, last summer after church members discovered his relationship with the girl and reported it to local law enforcement.

In his letters to the girl, Schaap often discusses how he helped save her from self-destruction, helping to put her on a "better path of living — that's what we call Righteousness."

However, he really took her to his personal property in Crete, Ill., and to his cabin in Cadillac, Mich., once spending 36 hours alone with her. When the employees grew concerned about the girl's continued absence and texted Schaap, he claimed the girl had fallen asleep on his couch.

He also engaged in sexual behavior with her in his office at the church during a youth conference, according to the government's filing.

Schaap later lied to his staff when they grew concerned about the amount of time he spent with the girl by claiming the girl was on her period and was just resting on his couch. A staff member found photos of the two a few days later, which led to the federal investigation.

Koster disputes claims in Schaap's own sentencing memorandum that he was stressed from the church's decreasing finances and having to work 100 hours a week to make up for fewer staff members.

"The only way (Schaap) could have been working 100-hour weeks during the time period investigated by the government is if he's counting the many hours he dedicated to grooming and sexually abusing the victim," Koster says in the filing.

She defends the government's agreement to recommend a 10-year sentence for Schaap, noting he agreed to plead guilty even before he was charged.
Comments open below
NLQ Recommended Reading …
'Breaking Their Will: Shedding Light on Religious Child Maltreatment' by Janet Heimlich
'Quivering Daughters' by Hillary McFarland
'Quiverfull: Inside the Christian Patriarchy Movement' by Kathryn Joyce