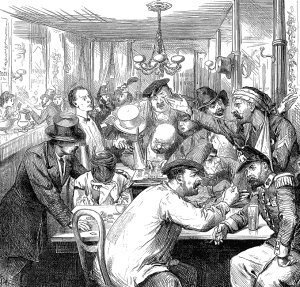 by Vyckie Garrison
Over on the Spiritual Abuse Survivor Blog, Defeating the Dragons, Samantha is looking for input on readers' personal experiences with Christian fundamentalism.
One of the questions she asks is: I know that some of you are like my parents– you didn't grow up in fundamentalism, but found it as an adult. What made it attractive to you?
For myself, though I was definitely attracted by the lovely vision of godly families who, like Joseph, found favor in God's eyes by their faithful obedience to His will, what really drew me further and further into the world of Quiverfull fundamentalism was my desire to be a "student of the word." I took to heart the verse which states that "all scripture is inspired by God and is profitable for teaching, rebuking, correcting, and training in righteousness" and "His divine power has given us all things pertaining to life and godliness according our knowledge of Him …" (Not exact quotes – as part of my deprogramming process, I'm deliberately trying to forget all the verses I had memorized.)
As I diligently searched the bible to discern God's best for myself as a woman and for my family, I found patriarchy. I may not have liked the ideas of submission, prolific motherhood, child training, homemaking, etc. – but I could not deny that all those "family values" were indeed "scriptural."
Granted, I was heavily influenced by the extra-biblical books and teachings I had encountered via the homeschool materials I purchased from Vision Forum, Grace & Truth Books, etc. which promoted a very rigid, extremely narrow definition of the "biblical family." My favorite resource was the magazine, Home School Digest: The Quarterly Journal for Serious Homeschoolers. I remember dreading the magazine's arrival in my mailbox because I knew that I would be challenged to dig deeper into the Word to discover an ever-more-costly practice of "True Christianity" which would mean more sacrifice, more diligence, and an even more demanding lifestyle than that which I had already committed myself and my family to – and at the same time, I felt excited by the prospect of becoming even more intimately familiar with my Savior and His perfect will for our lives.
How about you? What was the appeal of Christian fundamentalism? Join the discussion at Defeating the Dragons … (✿◠‿◠)
Comments open below
Read everything by Vyckie Garrison!
Vyckie Garrison started No Longer Quivering to tell the story of her "escape" from the Quiverfull movement. Over time, NLQ has developed into a valuable resource of information regarding the deceptions and dangers of the Quiverfull philosophy and lifestyle. Several more former QF adherents are now contributing their stories to NLQ and our collective voice makes these Quiverfull warnings impossible to dismiss or ignore.
The Spiritual Abuse Survivor Blogs Network
NLQ Recommended Reading …
'Breaking Their Will: Shedding Light on Religious Child Maltreatment' by Janet Heimlich
'Quivering Daughters' by Hillary McFarland
'Quiverfull: Inside the Christian Patriarchy Movement' by Kathryn Joyce