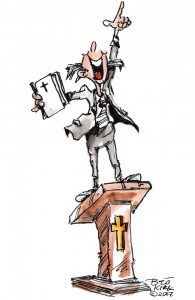 …or How Not To Witness To An Atheist/Agnostic – by Calulu
As I've said before I wasn't raised Quiverfull or even as a fundamentalist or believer. Through the years I kept being subjected to people trying to witness to me, giving that old altar call, tap dancing towards salvation, come to Jesus sonny boy father and the Holy Ghost sales pitch.
I was never interested. Having been raised Catholic and been dragged to the Episcopal church by my father I felt I'd logged as much time in the presence of the Almighty as I was ever interested in. I'd have to say I was a more a bemused agnostic before I got caught up in evangelical Christianity in my mid thirties.
There were always those that tried to make it their business to see to the state of my black cynical soul. I managed to rebuff 99% of the proselytizing masses. Not so with Angus. Angus was determined to 'save' me in spite of myself.
Once my husband and I had moved to Virginia over twenty years ago he had trouble adjusting. We'd moved from Europe, back to America and the change sparked a bout of depression in him. Hubby went to a few traditional therapists, tried a few meds with no success before hitting on the idea of counseling at a local church.
The church my husband chose was housed in an enormous oddly shaped Victorian style building, brave with gingerbread wood work and pale lavender paint. It sat like a big pale lavender toad catty corner from the local courthouse. It wasn't affiliated with any known denomination I'd ever heard of but it had the words "Bible" and "Fellowship" in the name so how bad could it be? Right?
We attended the services a few times, but it wasn't my agnostic cup of green tea at all.  Too much fire and brimstone mixed with Bible cherry picking with a dash of old time religion.
But…if it made the hubby happy, or at least happier, then I was prepared to hold my tongue, tolerate the things that seemed amazingly strange to me and be an amused bystander only. Hubby had been raised in traditional church and I knew before marrying him that he held religious believes I didn't share.
We fell into a routine, every Monday, Wednesday and Friday late afternoon we drove down to the church. While my husband sat with a counselor and talked inside the church I'd sit in the car and read. Afterward we'd shop before we would head home to the kids.
One day the main pastor, a guy named Angus, saw me sitting in the car reading "To Kill A Mockingbird" and invited me into his office to wait. We talked and had coffee three times a week. I thought Angus was a little squirrelly, a little eccentric, but he was intelligent and amusing, a good way to pass an hour. This lasted for a few months, or at least until Angus decided that I needed saving.
I should have known that something was up when I walked into Angus' office and he locked the door behind me. What followed was a full hour of Angus trying to charm, plead, beg, threaten me into accepting Jesus into my life. I became worried for Angus's mental state by the unbalanced way he was acting, the locking of the door, the tears and laughter. My hour with him more resembled something out of a grotesque parody of an altar call. I broke down sobbing and recited the Sinner's Prayer just to get him off my back. He phoned his wife and told her, forcing the phone into my hands as I blubbered and wept, commanding me to tell his wife I'd just accepted the Lord into my life. I wept because he'd broken my will down just as I'd once witnessed my grandfather break the spirit of his ponies while breaking them to the saddle.
Once he unlocked the door I escaped and ran crying to our car. I told my husband about the antics of Angus before we both concluded that this wasn't an emotionally healthy place to visit. He stopped his therapy visits and I avoided the place so much that if I happened to be in the downtown of this military base town I crossed the road so I wouldn't have to walk anywhere near that church.
I felt emotionally raped, used and abused to notch some grand soul-winning bed post. Angus didn't give a real crap about me at all, only that I was a number he could count. For weeks after I was horribly depressed, trying to sort through what exactly had happened to me, how I sold out and said something I didn't mean just to get away from a lunatic. This experience was a big stumbling block later when I actually did embrace Christ.
Years later I heard of Angus's own nervous breakdown mixed in with various scandals, church splits and ecclesiastical bad behavior. Can't say I was surprised.
If some crazy minister tries to lock you into his office until you say something completely against your will please be smarter than I was. Kick him in the shins and run!
Have you had an altar call or come to Jesus that violates your own will?
Comments open below
Calulu lives near Washington DC , was raised Catholic in South Louisiana before falling in with a bunch of fallen Catholics whom had formed their own part Fundamentalist, part Evangelical church. After fifteen uncomfortable years drinking that Koolaid she left nearly 6 years ago. Her blog is Calulu – Seeking The Light and The Burqa Experience
NLQ Recommended Reading …
'Breaking Their Will: Shedding Light on Religious Child Maltreatment' by Janet Heimlich
'Quivering Daughters' by Hillary McFarland
'Quiverfull: Inside the Christian Patriarchy Movement' by Kathryn Joyce