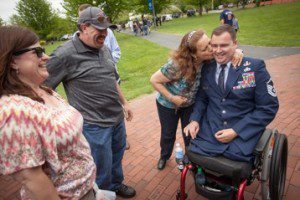 Rather than repost an article or two about Memorial Day or the military here's a list of links to a number of great articles about the sacrifices made by those in our armed services.
Huffington Post – Honoring Muslim American Veterans On Memorial Day
Huffington Post – Giving Thanks For All Who Have Worn 'The Uniform'
Huffington Post – It's What We Do When The Bagpipes End
Washington Post – In Mass, Injured Veteran Gets a Small-Town Homecoming
Washington Post – Memorial Day – My Tribute
For those of you who haven't visited it yet – Military Religious Freedom Foundation
As usual most of the QF sites writing about Memorial Day make it all about themselves and Jesus or things without much link to soldiers dying in combat. Most did not acknowledge the day, merely kept on shilling their books, conferences and other merchandise.
Shepherd Press – Do You Remember?
John Piper – The Unmarked Tomb of a Well-Known Soldier