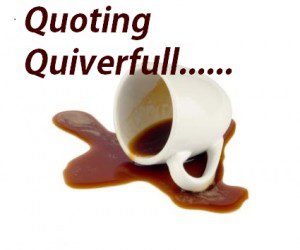 Vaughn Ohlman of Persevero News in "Real Men Marry"
Vaughn has been busy making new friends lately with his charm and wit over on Free Thought Blogs "Butterflies and Wheels"
Here's his entire thoughts on men marrying.
Who is your hero? This popular FaceBook Meme mocks those who make a teenage vampire their hero, proposing instead the grizzled cowboy. It would indeed be an interesting discussion: Who is our hero? Who should be our hero?

But at the very end of the meme there is another issue briefly raised. A related issues, but a different one. The issue of the 'real man'.

When I was a kid 'Real men…' was a popular phrase. 'Real men don't eat quiche,' 'Real men don't wear pink,' 'Real men don't cry…'

The expression was at the same time a joke and a serious point. Our society was then in the throes of throwing off age-old sex roles. Sodomy was being accepted, women pastors were being considered, more and more women were working, working longer hours, and leaving their children to other's care. At the same time what men were to do was also being challenged: men were being encouraged to 'be sensitive' and 'get in touch with their feminine half'. In response to that some diehards came out with a list of what 'real men' did or didn't do. It was a joke, but the joke had a point.

Man is called to be different from woman. The point, however joking, was real. Real men are different from women… especially real women.

But real men are also called. Called to do things. Commanded to do them. Urged to do them. Blessed for doing them. Real men obey God. These are men acting in their ultimate reality as created beings who seek to do everything God desires them to do.

I would like, in this post, to focus on one thing, one aspect, one action, of real men:

Real men… marry.

Psalm 128a Blessed is every one that feareth the Lord; that walketh in his ways.  For thou shalt eat the labour of thine hands: happy shalt thou be, and it shall be well with thee.

Thy wife shall be as a fruitful vine by the sides of thine house: 


Proverbs 5:18-19

Let thy fountain be blessed: and rejoice with the wife of thy youth.

Let her be as the loving hind and pleasant roe; let her breasts satisfy thee at all times; and be thou ravished always with her love.


Real men marry. Real men seek the responsibilities (and joys!) that God has called them to and seek, actively seek: a wife and children. A wife and children that will require work on a daily basis; work to feed and clothe them, work to share in their joys and sorrows, work communicating, fixing, kissing… real men take those responsibilities seriously.

Real men marry, and lead spiritually. They realize that, however little they know about God and Scripture, it is their responsibility to step up to the plate and lead their family. To learn and to lead. Every day, all the time.

Real men marry. They don't take vows of chastity that they know (or should know) they can't keep and then spend years trying to drown their passions in cold showers. They take wives and rejoice in them sexually.

Real men marry. They don't sit around in their bachelor pads with their little toys… x-box, etc. They play with their toys in the garage or back yard: building, digging, with little eyes watching them, and little hands 'helping them'… and a wife who is still adding to the 'honey-do' list.

Real men marry, hopefully young. They realize that it doesn't take a job, a house, and a dog in order to have a wife. While it takes two to tango, and a father to convince; the real man is ready for his wife at a young age, and desires her then. Is ready to do what it takes

Real men marry. They don't pore over their black book and flirt with woman after woman, wondering how much [censored] they will be able to 'get'. They can [censored] with the woman that God has given to them… just them… and who is theirs to [censored].

Real men marry. They don't worry about all of the women they will then have to do without. They don't worry that they will have found the wrong wife. They know that the wife that they have is the one they are commanded to love. They know that if that wife has faults, however impossible that may seem, it is their responsibility to wash them in the Word.

Real men marry. They don't whine about how they can't find a wife. They get out there and do what is necessary. They talk to their father, their pastor, their long-lost great uncles.

Real men aren't worried about being called 'desperate' for a wife. They see men around them who are 'desperate' for tickets to the latest game or concert, 'desperate' to see the latest movie, or 'desperate' for the latest hot video game. Compared to those a wife… well, there is no comparison between those and a wife, is there?

Real men marry. They may or may not get a college degree but, either way, they know that it is infinitely less important than a wife and children. They say 'you can't take it with you,' but there is one thing that, Lord willing, the Godly man can take to heaven with him… or who will follow him there.

Real men can really admit they have real problems; and know that that is what wise counsel is for. Their father, their father-in-law, the elders of their church, other wise men… real men aren't (too) afraid to go to these men and admit that they have struggles, and listen to, and act on, their advice.

Real men marry, but they realize that this doesn't break their relationship with their parents. They know that Christ honored and obeyed his father. They know that the Scriptures teach that the respect, obedience, and care that a man owes his parents is life-long.

Real men marry, hopefully young, so they don't rack up debt. They would rather live frugally, eschewing all of those toys, than handicap themselves for their upcoming marriage.

Real men marry. They don't pretend that they are pristine pure and sexually uninterested. That they are wiser than Solomon, more self-controlled than David, and stronger than Sampson. They know that they are more doubting than Thomas, more treacherous than Peter, and more fearful than Mark. They know that sexual temptations will overcome them even with a wife; and that life would be impossible (or at least unbearable) without one.

Real men marry real women and have sex with them. Really. They don't get all embarrassed about this fact or try to pretend otherwise. Real men read the Song of Solomon and only blush out of envy, not because they are too spiritual and pristine for such things.

Real men marry… and have children. They do not worry about what the children will do to their lifestyle, about all of the vacations they will have to go without.

Real men marry real women.



Prov 31b Who can find a virtuous woman? for her price is far above rubies. The heart of her husband doth safely trust in her, so that he shall have no need of spoil. She will do him good and not evil all the days of her life.

She seeketh wool, and flax, and worketh willingly with her hands. She is like the merchants' ships; she bringeth her food from afar. She riseth also while it is yet night, and giveth meat to her household, and a portion to her maidens.

She considereth a field, and buyeth it: with the fruit of her hands she planteth a vineyard. She girdeth her loins with strength, and strengtheneth her arms.  She perceiveth that her merchandise is good: her candle goeth not out by night.  She layeth her hands to the spindle, and her hands hold the distaff.

She stretcheth out her hand to the poor; yea, she reacheth forth her hands to the needy.  She is not afraid of the snow for her household: for all her household are clothed with scarlet.  She maketh herself coverings of tapestry; her clothing is silk and purple.

 Her husband is known in the gates, when he sitteth among the elders of the land.  She maketh fine linen, and selleth it; and delivereth girdles unto the merchant.

Strength and honour are her clothing; and she shall rejoice in time to come.  She openeth her mouth with wisdom; and in her tongue is the law of kindness.  She looketh well to the ways of her household, and eateth not the bread of idleness.

Her children arise up, and call her blessed; her husband also, and he praiseth her.  Many daughters have done virtuously, but thou excellest them all.  Favour is deceitful, and beauty is vain: but a woman that feareth the Lord, she shall be praised.  Give her of the fruit of her hands; and let her own works praise her in the gates.

Real women marry, hopefully young. They know they are called to marriage in their youth, to a husband in his youth, and are not afraid of this.

Real women who understand that they are not called to 'a career' but a house. They are called to love their husbands, bear and love their children, and keep their house.

Real women don't worry about marrying the perfect man. They are betrothed to Him already, and we all await that heavenly consummation. In the meantime she is called, here on Earth, to marry a very imperfect man. He may be a real man, but he is still really imperfect, really human, really fallen. Real. Not the idolized image that some have presented to her.

Real women are ready to please their husband sexually. They don't look down on him for his very natural and Earthly desires. They know that doing their duty in this area cannot be done by merely 'doing their duty' but by rejoicing in, and allowing their husband to rejoice in, the physicality that is sex.

Real women realize the marriage is more important than the wedding. They don't bankrupt their new husband or father, or delay their marriage for months while things are 'planned' to be just perfect. Real women marry and bear children; they don't spend the rest of their life poring over their wedding pictures.

Real women obey their husbands over their fathers. While the honor that the young woman owes her parents is lifelong, and includes obedience to all of his lawful commands, she realizes that she now has a much more direct authority in her husband.

Real women are not afraid of submission. Well, maybe they are, but they do it anyway. They strive to give to their husbands the same kind of submission that the Church owes to Christ.

Real women know that they are often called to listen when they would like to speak. That is more important to build their husband up than to put him down with their latest spiritual point.

Real women want to have children. Lots of children. They realize that children are a blessing from God, and his reward to a Godly couple. They realize that bearing and raising children is a core responsibility of the woman. While they know that children must come from the Lord, they strive not to reject or denigrate His gift.

Real women aren't afraid of sex. They look forward to [censured].

Real women (and real men) have real children.

 Psalm 127:3-5
Lo, children are an heritage of the Lord: and the fruit of the womb is his reward.As arrows are in the hand of a mighty man; so are children of the youth.

Happy is the man that hath his quiver full of them: they shall not be ashamed, but they shall speak with the enemies in the gate.

Real children are messy. Conceiving them is messy, birthing them is messy, and then they get really, really messy. Physically, yes, they literally 'make messes' for the first 18 or so years of their life. And they cry, complain, and learn the word 'no'. But spiritually, too, they are messy.

Real children need to be trained in Godliness. Their parents pass down to them full measures, pressed down, of original sin… and they add to this measure daily. They need daily… nay, several times daily, discipline.

Real children don't come with a sixty day refund. Nuff said.

Real children are really hated by the world. The couple that has a real number of children will face reactions from embarrassment, to teasing, to outright anger. "Don't you know what causes that?" is but a mild example.

Real children rise up and call their mother blessed. The crown and joy of the Real Mother and Real Father are children who, themselves growing and grown into Real Men and Real Women, look back and give some small honor to those to whom some small honor is due… their Real Parents.

The Real Honor is due to God, the Real Father of us all. But in honor to Him we should choose to occupy the roles He has  for us: Real Men and Real Women.

Prov 31:22-33
Wives, submit yourselves unto your own husbands, as unto the Lord.  For the husband is the head of the wife, even as Christ is the head of the church: and he is the saviour of the body.  Therefore as the church is subject unto Christ, so let the wives be to their own husbands in every thing.

Husbands, love your wives, even as Christ also loved the church, and gave himself for it;  That he might sanctify and cleanse it with the washing of water by the word,  That he might present it to himself a glorious church, not having spot, or wrinkle, or any such thing; but that it should be holy and without blemish.  So ought men to love their wives as their own bodies. He that loveth his wife loveth himself.

For no man ever yet hated his own flesh; but nourisheth and cherisheth it, even as the Lord the church:  For we are members of his body, of his flesh, and of his bones.  For this cause shall a man leave his father and mother, and shall be joined unto his wife, and they two shall be one flesh.  This is a great mystery: but I speak concerning Christ and the church.

Nevertheless let every one of you in particular so love his wife even as himself; and the wife see that she reverence her husband.

—
Note: There is a danger that this post will be read as raising 'the bar' that a young man must jump over in order to be 'worthy' of marriage. Let me quickly squash that idea with full vigor. Scripture calls every young man to marry. Fathers of daughters, this is what you are to challenge the young man to be and become… the young man you say 'yes' to… not things you are to accuse him of not being as you slam the door in his face.

Note:  There is another danger. Some reading this post might be tempted to ask, "Are you saying I'm not a real man just because I'm not married?" To this I have to answer, "Sort of." The young man (or woman) who has been denied a wife (or husband) by the actions of others has been, essentially, partially emasculated by those others. The young man who has failed to seek a wife (or encourage his father to seek a wife for him) or who has turned down several possibilities has emasculated himself. He has denied part of what it means to be a real man.
There is listed one other possibility in I Cor 7. There are young men or women who, during a time of distress, may be given by God the gift of not needing a spouse. These are men made Eunuchs by God for special service. This is a high calling.
But if, instead, you do not have this gift. If you are one of us ordinary mortals who crave the sexual satisfaction and companionship of a spouse; who are called to be fruitful and multiply… but you reject this for unBiblical reasons of 'readiness' or 'soul mate' etc., then I do indeed ask you how, if you would casterate, you can expect the gelding to be fruitful? How, if you reject God's clear commands and present blessing, can you expect Him to bless you?

Note: This post is part of a series of posts on the Biblical nature of the path to marriage. The series includes:
Comments open below
QUOTING QUIVERFULL is a regular feature of NLQ – we present the actual words of noted Quiverfull leaders and ask our readers: What do you think? Agree? Disagree? This is the place to state your opinion. Please, let's keep it respectful – but at the same time, we encourage readers to examine the ideas of Quiverfull honestly and thoughtfully.
NLQ Recommended Reading …
'Breaking Their Will: Shedding Light on Religious Child Maltreatment' by Janet Heimlich
'Quivering Daughters' by Hillary McFarland
'Quiverfull: Inside the Christian Patriarchy Movement' by Kathryn Joyce