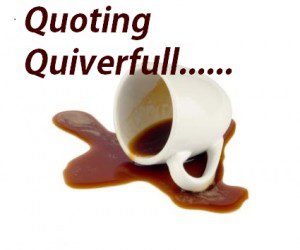 From yesterday's Quoting Quiverfull by Nathaniel Darnell  on Persevero News. This is a comment that the writer of the piece Nathaniel Darnell made to a divorced homeschooling momma's question in the comments.
I am sorry to hear that your husband has divorced you. This is a shame. Even so, however, my statement is still true as I explain below.

Assuming your husband is a Christian, if he were obeying God's Word, he would not have divorced you. If he is not a Christian, and you married him when you were, then you disobeyed God's Word in marrying him because Christ commands us not to be unequally yoke with unbelievers. If you married him before becoming a Christian, then you should have a family and a church body to assist you in your time of genuine need. One area they should assist you in is in discipling your children at home.

This could be done by relatives either personally mentoring your children or by fellow Christians helping to serve you so you could have more time to personally instruct your children. If you have older children, they could assist in training the younger.

But whatever the case, your situation has not become an excuse for your children to be trained in a non-Scriptural fashion any more than it is an excuse for you to stop feeding or clothing them.

From what I have gathered about you from visiting you blog, it appears that you are persevering as a homeschool mother despite a trying circumstance, and I commend you for it. Your husband should be called to repentance. If he will not, then other men in your family or congregation should minister to your family in this time of need. Under no circumstances, however, should your training and disciple-making responsibilities over your children be disregarded.

Please persevero!

Nathaniel
Comments posted below
QUOTING QUIVERFULL is a regular feature of NLQ – we present the actual words of noted Quiverfull leaders and ask our readers: What do you think? Agree? Disagree? This is the place to state your opinion. Please, let's keep it respectful – but at the same time, we encourage readers to examine the ideas of Quiverfull honestly and thoughtfully.
NLQ Recommended Reading …
'Breaking Their Will: Shedding Light on Religious Child Maltreatment' by Janet Heimlich
'Quivering Daughters' by Hillary McFarland
'Quiverfull: Inside the Christian Patriarchy Movement' by Kathryn Joyce