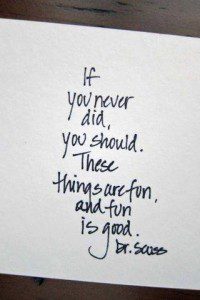 by Cindy Foster cross posted from her blog Baptist Taliban and Beyond
I borrowed this from a facebook status today.
It reminded me of a particular notion The Preacher was 'inspired' with and later emphasized in a sermon.  He was determined to dissuade the teens from being  seduced away by this youthful desire to have fun, from their devotion to God and the church.
"Fun is not in the Bible" became his new fundamental.
At least, not the kind of activities they considered fun at the time.  Such worldly things as: off-roading in their jeeps and four-wheel drive trucks; hanging out with friends without an adult, married chaperone; going to the Mall; watching rented videos or anything that does not have a spiritual purpose would likely lead to superfluous 
naughtiness.
Now, not wanting to seem a complete ogre, The Preacher did sanction some kinds of fun…the things he considered fun: fishing, hunting, camping and playing a little pick-up basketball, football, baseball, volleyball….as long as it didn't  involve teams from 'unscriptural' churches or secular organizations.  But not much more than that.
Shortly thereafter, I heard it taught by the Jr. High teacher who later became Youth Director upon our leaving.  He too feared the kids were living for 'fun', and "Fun is not in the Bible".
It was taught again by another church leader when Paul invited him to speak to the teens as a guest.  As I recall, he said something in reference to the Christian life not being like a smorgasbord where we can choose from so many options as our appetites dictate.  We don't have the right to expect to have fun, because "Fun is not in the Bible". 
But there are at least two verses that immediately came to my mind upon hearing this, that directly contradicted this new fundamental.
I Timothy 6:17 
Charge them that are rich in this world, that they be not highminded, nor trust in uncertain riches, but in the living God, who giveth us richly all things to enjoy,
Every good gift and every perfect gift is from above, and cometh down from the Father of lights, with whom is no variableness, neither shadow of turning. 
And also that every man should eat and drink, and enjoy the good of all his labour, it is the gift of God.
Behold that which I have seen: it is good and comely for one to eat and to drink, and to enjoy the good of all his labour that he taketh under the sun all the days of his life, which God giveth him: for it is his portion.
It's perfectly normal and healthy and even needful for young people to want to have fun.  It's normal and healthy for adults too.  
What possibly could be wrong with wanting to have as much fun as opportunity permits when it is celebrated as another of the innumerable gifts from God?
Yeah, Dr. Suess had it right.
[Editorial Note: This article is intended for those readers who have chosen to accept the Bible as authoritative for faith and practice. If you are not one of those readers, please be understanding of the intended audience and refrain from commenting on the assumptions on which it is based. Please refrain from this pertains to all Christians everywhere and show some respect for the writer please. For more info on the site please visit – Is NLQ an Atheist Website?]
Comments open below
Spiritual Abuse Survivor Blogs Network member, Cindy Foster blogs at Baptist Taliban and Beyond.
Cindy Foster is "Mom" to eight gorgeous, talented, temperamental, noisy, opinionated, alike-but very different kids. She has been married to their daddy, Paul, for 34 years.
NLQ Recommended Reading …
'Breaking Their Will: Shedding Light on Religious Child Maltreatment' by Janet Heimlich
'Quivering Daughters' by Hillary McFarland
'Quiverfull: Inside the Christian Patriarchy Movement' by Kathryn Joyce