Recovering From Religion is in the process of fundraising for their Hotline Project, a 24 hour 7 days a week 800 number to help those struggling with support and local community resources to help on their journey out of spiritual abusive situations and churches.
We wholeheartedly endorse the Hotline Project because it is a very needed resource. Like RFR our site gets emails from those seeking help on their journey, but we don't have the resources to help out as much as we'd like or that is needed. Make no mistake, the need is great! Please consider contributing.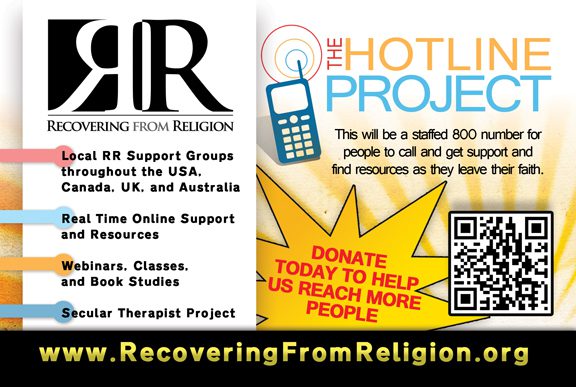 Here's what they have to say.
The Hotline Project – A Secular Service Project from Recovering from Religion 

The process of leaving religion is usually not an overnight experience, as many of you know. Recovering from Religion receives countless emails and phone calls from people seeking help on their journey away from faith. 

This is where YOU come in! 

Recovering from Religion is launching a brand new campaign to start The Hotline Project. With your help, the Secular Movement can provide a valuable service for people struggling with their faith, with nowhere to turn. Our goal is to raise $30,000 before June 30th.  The Hotline will provide trained volunteers to answer a toll-free hotline and provide real time, caller-specific support to each person who contacts us, 24/7! We will offer national, regional, and local resources – a secular support network they can utilize. By providing this Hotline service, Recovering from Religion will be able to help people in their most urgent time of need.

We appreciate your interest and support, please help support this project by donating today!
You can donate on their website.
Comments open below
NLQ Recommended Reading …
'Breaking Their Will: Shedding Light on Religious Child Maltreatment' by Janet Heimlich
'Quivering Daughters' by Hillary McFarland
'Quiverfull: Inside the Christian Patriarchy Movement' by Kathryn Joyce