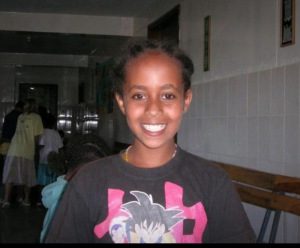 Updated 8-23-13
Hana Grace Williams adoptive parents Carri and Larry William's trial for her murder started on Monday July 22nd.
Currently the case is ongoing, with troubling testimony and expert witnesses likening the methods of punishment used to torture. The trial is still in the prosecution stage after a month but they are coming to the end of their witnesses. The defense will be next up. Curious as to what the Williams will claim in regards to why they withheld basic care from their adoptive child. It's really quite indefensible.
Best place to follow what's going on in detail is Light Of Day Stories blog by Maureen Evans. Maureen is blogging the trial. Maureen is attending the trial. She is heavily involved in international adoption and all things adoption.
We'll be updating this page every day and stickying it to the top till the trial is over. It was expected to run anywhere from four to six weeks, but who knows how long it will take. Voir Dire was supposed to take two days and it's now in day four. We will keep an eye on this story.
Justice for Hana!
Day by day breakdown of the trial
July 22 Day 1 -Jury selection starts
July 23 Day 2
July 24 Day 3
July 25 Day 4
July 26 Day 5 – Opening arguments start
July 29 Day 6 – Adopted brother and medical expert on child abuse testify
July 30 Day 7 – Autopsy findings, testimony from the adoption agency and translation of the adoption paper by a multilingual instructional assistant from the Seattle school system.
July 31 Day 8 The therapist for Hana's adopted deaf brother Immanuel, Julia Peterson, was on the stand testifying all day.
August 1 Day 9 Adopted brother Immanuel testified again. Several ladies that knew Carri Williams testified to her treatment of Hana and the last witness of the day was an expert in torture.
August 2 Day 10 Torture expert John Hutson continues his testimony followed by more acquaintances of Carri Williams and Detective Dan Luvera who testifies on the physical evidence from the crime scene. He was one of the original investigators on the case.
Maureen Evans of Light of Day Stories Blog is out of town so the sources will be different till she's back
August 4 Day 11 Two of the biological daughters of Carri Williams testified about the day of Hana's death and the elder Williams treatment of Hana and Immanuel
August 5 Day 12 Continued testimony by the daughters. Immanuel recalled to the stand. the Williams brothers get immunity in exchange for their testimony and are expected to take the stand.
August 6 Day 13 Daughter back on stand along with Detective Luvera and adopted son Immanuel
August 7 Day 14 Two of the Williamses natural sons testify to the ways Hana and Immanuel were treated differently than the natural children.
August 8 Day 15 Adopted brother Immanuel was on the witness stand for the fourth time. He testified that Carri Williams and her children were laughing as Hana during her staggering around shortly before she died. Also the family doctor testified he say no signs that anything was wrong.
August 9 Day 16 Witnesses on the stand included a forensic dentist, Larry Williams brother-in-law, Larry Williams sister, and Hana's biologic cousin
August 13 Day 17 Adopted brother Immanuel testified for the fifth time, this time to a hostile and badgering defense attorney. Also testifying was a volunteer from the orphanage Hana came from. Cousin who testified on Friday is currently missing.
August 14 Day 18 One juror is dismissed for sleeping during the trial. Torture/trauma doctor, Dr Katherine Porterfield is called to testify but the jury is made to leave the courtroom after one hour.
August 15 Day 19 The Williams brothers testified to their parents treatment of Hana, including the fact that the children were told not to tell anyone about the beatings.
August 16 Day 20 Williams 16 year old son testifies to treatment of Hana and his mother telling the children what to say to law enforcement. First mention of Michael Pearl's abusive child training manual "To Train Up A Child" in the courtroom. One of Emmanuel's therapists testifies.
August 19 Day 21 Emmanuel is testifying again. 16 year old Williams son back on stand testifying to the inconsistency in his initial statement to law enforcement and his testimony in the court room. CPS Investigator testifies along with a school district employee, funeral home director, Skagit county deputy and another CPS employee.
August 20 Day 22 Foster mom of three of the Williams children testifies as well as sheriff's deputy.
August 21 Day 23 Foster mom for Emmanuel testifies briefly. Family photos admitted to evidence during testimony of sheriff's deputy.
August 22 Day 23 or 24 depending on which site you look at. Witnesses were called to determine what exactly Hana's actual age was. This is important because it could affect the charges against the Williams. Emmanuel's scars were discussed in testimony as well.
News Articles
San Francisco Chronicle July 22, 2013- Adopted daughter murder trial in Mount Vernon
The Seattle Times July 21, 2013 – Homicide-by-abuse trial begins Monday
Tadias Magazine – Washington State: Trial Begins In Starvation Death of Hana Alemu (Hana Williams)
KING 5 television – Trial begins for couple accused of starving adopted daughter
KOMO News – Trial begins for parents accused of killing adoptive daughter
Bellingham Herald – Adopted daughter murder trial in Mount Vernon
KOMO News – Child testifies about beatings, neglect from adoptive parents
KIRO News – Boy tells jury his adopted parents beat him until he bled
Tadias Magazine – Autopsy Shows Beatings, Malnutrition
The Republic – Autopsy testimony in homicide by abuse trial of Sedro-Woolley couple in daughter's death
Tadias Magazine –Hana's Adoptive Brother Has PTSD Because of Abuse
KIRO News – Jurors see before and after photos of starved girl
Yakima Herald Republic – Autopsy shows girl struck with switch
KIRO News – Jurors hear shocking details in child murder trial
GoSkagit –Williams daughter: Adopted children suffered multiple abuses
Light of Day Stories blog – Case Study, Part 1: The Williamses' adoption agency
KIRO News – Adopted boy snaps on the stand
KIRO News – Murder charge may be thrown out because adopted girl's age
Tadias Magazine – UPDATE From Williams Trial: Adopted Son Testifies Mother, Siblings Mocked Hana
Light of Day Stories blog – Case Study, Part 2: The Williamses' adoption agency
Light of Day Stories blog – Snakes, a Child and Defense Attorneys
KIRO News – Dead girl's cousin testifies, then disappears
KIRO News – Juror dismissed for sleeping during Skagit county homicide, abuse trial
Go Skagit – Williams trial cut short this morning
Comments open below
NLQ Recommended Reading …
'Breaking Their Will: Shedding Light on Religious Child Maltreatment' by Janet Heimlich
'Quivering Daughters' by Hillary McFarland
'Quiverfull: Inside the Christian Patriarchy Movement' by Kathryn Joyce