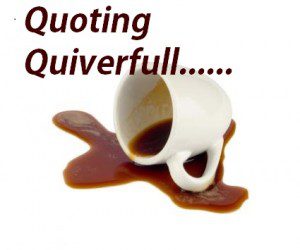 From the Botkin Sisters (Anna Sophia and Elizabeth) Blog Visionary Daughters
The entire Botkin family is doing another one of their paid seminars, this time having to do with how you need to home school your child to make them into a successful adult, complete with the scare-tactic graphic of a wide-eyed teen reading a mock up newspaper with headlines such as 'College Grads Can't Find Work' and 'Generation Y Unemployed'
We're doing Quoting Quiverfull a little different today. After reading what the Botkins have listed about their seminar topics it would be good if we listed in the comments the genuine ways you can help your child be ready for real life along with the commentary on the quotes.
What Should a 21st Century Education Look Like?

We homeschooling parents know we're giving our children a decent academic education. But let's face it – we sometimes wonder if we really know how to equip them to be the adults the 21st Century needs. After all, the world our children are inheriting will be more complex, uncertain, and turbulent than the one we had to face.

Will your children know how to handle business and finance in a down economy? Defend their faith to militant antagonists? Stand firm against a defiling culture? Fight for their freedoms? Take advantage of technological innovations? And see opportunity amid the chaos?

More importantly, what kind of salt and light are they prepared to be? They may be able to name every country in the world, but do they know how to disciple the nations? They may know about the Battle of Waterloo, but do they know how to fight the battles of today – to win? Homeschoolers have proven they can beat the world at geography and spelling. But can we lead in the arts? Can we lead in the gates? Do we know how to take dominion of science and technology?

If your children are going to be the leaders of the 21st Century, they need to be educated for it. And even if you feel unprepared to equip them for this… there's no one more qualified for the job than you.

Sessions include:

Ready for What? What We Must Educate Our Children to Be and Do
Ready to Think and Communicate: How to Have Something to Say and How to Say it – Studying Theology, Apologetics, Critical Thinking Skills, Writing, Researching, Editing, Speaking, and how to boldly give an answer.
Ready to Lead Culture: How to Take Dominion of the Arts Without the Arts Taking Dominion of You – Studying Music, Art, Photography, Graphic Design, Fashion, and Filmmaking
Ready to Take Dominion of the Earth: Studying Science, Math, Engineering, Medicine, Computer Sciences, Agriculture, Construction, and the basic knowledge necessary in order to participate in 21st Century progress.
Ready to Lead in the Gates: Studying Economics, Law, Political Science, Military Studies, Geography, and History
Ready for Anything: Figuring Out Vocation, Gifts, Real Life Skills, and the Unique Challenges of the 21st century
Bonus: Final Questions and Answers
Comments open below
QUOTING QUIVERFULL is a regular feature of NLQ – we present the actual words of noted Quiverfull leaders and ask our readers: What do you think? Agree? Disagree? This is the place to state your opinion. Please, let's keep it respectful – but at the same time, we encourage readers to examine the ideas of Quiverfull honestly and thoughtfully.
NLQ Recommended Reading …
'Breaking Their Will: Shedding Light on Religious Child Maltreatment' by Janet Heimlich
'Quivering Daughters' by Hillary McFarland
'Quiverfull: Inside the Christian Patriarchy Movement' by Kathryn Joyce