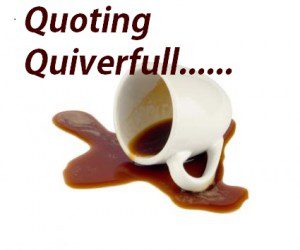 by Nancy and Colin Campbell from a transcript from an Australian television show called A Woman's Place
Mike Munro: This church teaches that true happiness can only be achieved if women obey their men.

Their view is that the western world must populate or perish.

It's a war against Islam, and the battle is being fought in the womb.

Pastor Colin Campbell: The Islamics are having 8.1 member families, average and every one of them when they reach the age of eighteen will have a vote. Already in good old England there are cities that are now becoming more Islamic than English.

Can you imagine England becoming an Islamic state?

Mike Munro: One of the more controversial aspects of Quiverful is this DVD – claiming Muslims will eventually out-populate and take over the West without any conflict.

Pastor Colin Campbell: In southern France, traditionally one of the most populated church regions in the world, there are now more mosques than churches. We must prepare ourselves for the reality that in thirty years there will be 50 million Muslims living in America.

The world that we live in is not the world in which our children and grandchildren will live.

Colin: Dealing with other enemies that are bringing down our country out of prosperity into poverty, this is what we're talking about, raising an army.

Amen.
Comments open below
QUOTING QUIVERFULL is a regular feature of NLQ – we present the actual words of noted Quiverfull leaders and ask our readers: What do you think? Agree? Disagree? This is the place to state your opinion. Please, let's keep it respectful – but at the same time, we encourage readers to examine the ideas of Quiverfull honestly and thoughtfully.
NLQ Recommended Reading …
'Breaking Their Will: Shedding Light on Religious Child Maltreatment' by Janet Heimlich
'Quivering Daughters' by Hillary McFarland
'Quiverfull: Inside the Christian Patriarchy Movement' by Kathryn Joyce