(Disclaimer: We're big Jimmy Carter and the Carter Center supporters in this household. We've met former President Carter more than a few times and been struck by how he and his dear wife Roslyn do a good job living out the words of Jesus every day. Just precious dear people to everyone. I am most definitely biased but it's okay if you're not. My calling him 'Mr. Jimmy' here isn't meant as disrespect, this is what we've been told is his preferred moniker by the locals of Plains, Georgia.)
This weekend The Carter Center held a conference on women and religion hosted by former president Jimmy Carter and prominent women in all sorts of different religions from around the world. I really wanted to go to this very badly since this is where my interests lie, but I wasn't able to fit it into my budget this summer.
The Huffington Post did an article on Mr. Jimmy's opening remarks – http://www.huffingtonpost.com/2013/06/28/jimmy-carter-women_n_3516823.html but I think this first sentence sort of sums it all up. Is there anything else that needs to be said on the subject? –
Former U.S. President Jimmy Carter says religious leaders, including those in Christianity and Islam, share the blame for mistreatment of women across the world.
One of the things to come out of his remarks also was that the fundagelical crowd in this country does not really want a 'Christian' government in place. Someone made a nice meme of his statement and I posted it on my Facebook account like I do many of Mr. Jimmy's common sense statements.
He was speaking in regard to the federal food stamps cuts and the Religious Right. Shortly after posting this meme one of my family members who is deeply Religious Right started trying to link Jimmy Carter's statements about 'Christian' government and food stamps to socialism and the ways of the former Soviet Union.
So I'm leaving it to you to sound off about a Biblical-based government and responsibility for the poor. What are your thought on this? It's all too easy to see what the Fundagelicals think about it.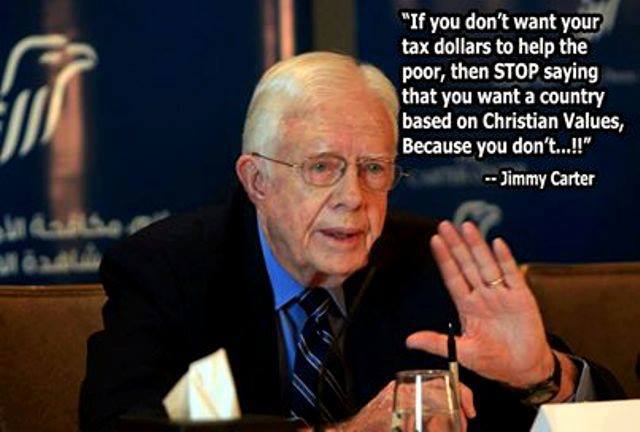 Comments open below
Calulu lives near Washington DC , was raised Catholic in South Louisiana before falling in with a bunch of fallen Catholics whom had formed their own part Fundamentalist, part Evangelical church. After fifteen uncomfortable years drinking that Koolaid she left nearly 6 years ago. Her blog is Calulu – Seeking The Light
NLQ Recommended Reading …
'Breaking Their Will: Shedding Light on Religious Child Maltreatment' by Janet Heimlich
'Quivering Daughters' by Hillary McFarland
'Quiverfull: Inside the Christian Patriarchy Movement' by Kathryn Joyce