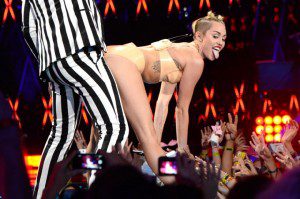 by Ladies Against Feminism from their site – Answering the Shame of Miley Cyrus
(Editor's Note: LAF are upset with Miley's recent performance on MTV's VMA awards. I'm sure by now most of you have seen the original clip they reference. If not click here —Miley Cyrus )

Miley Cyrus has a lot of shameful things to say to the world and that is putting it nicely. She is an icon of a soul that is a wasteland and she's taking others

down with her. The Dave Ryan Show reports that,

"Miley Cyrus' controversial performance at the MTV Video Music Awards is now the most-tweeted moment of the year. Twitter announced on Monday that Miley and her provocative dancing with singer Robin Thicke set a record on the social networking site, garnering 306,000 tweets per minute. Four-point-five million tweets about Miley went out during the award show's two-hour airtime."

Spreading her foul stench at record breaking speeds I might add. You and I both know people we need to reach out to who are following her lead on the downward spiral. Just this morning I shared the gospel with a young lady who had never heard the message about godly purity, chastity and the sin of Miley Cyrus. She listened. She and seemed to be convicted. While I gave her the Word I also reached for some trusted resources, which I have listed below.

Join LAF on twitter as we treat @mileycyrus along with wonderful quotes from some of the following books and interfere with her worldwide trending status. Hope to see you there.
Comments open below
QUOTING QUIVERFULL is a regular feature of NLQ – we present the actual words of noted Quiverfull leaders and ask our readers: What do you think? Agree? Disagree? This is the place to state your opinion. Please, let's keep it respectful – but at the same time, we encourage readers to examine the ideas of Quiverfull honestly and thoughtfully.
NLQ Recommended Reading …
'Breaking Their Will: Shedding Light on Religious Child Maltreatment' by Janet Heimlich
'Quivering Daughters' by Hillary McFarland
'Quiverfull: Inside the Christian Patriarchy Movement' by Kathryn Joyce