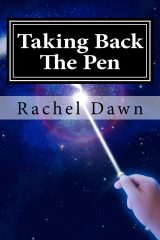 Life challenges all of us. This book is meant to empower all people who struggle in life. This book gives the life story of a young girl who faced more trials and heartbreak in life than most will ever endure. It is a story of hope and resilience. There have been many stories written on hardship. This one is unique in the sense that it all happened before reaching 25 years old. The key message is urging people to share their story and to learn from others mistakes no matter how bizarre. Each story has a purpose and each life has worth. This book tells the story of a girl who took the pen back from life and wrote her own story. The key is that just because your life starts a certain way, does not mean it has to end that way.
Rachel Dawn is a 25 year old from Detroit, Michigan, a registered nurse working in emergency medicine, a sexual assault forensic examiner and public speaker who empowers and motivates people. Her autobiography focuses on overcoming adversity and remaining resilient through life's struggles. She utilizes the unconventional life of heartbreak she was given to promote an atmosphere of hope and endurance. Her positive outlook shows people that their own trials can give their lives purpose and meaning. For anybody who wonders how a 24 year old has the right to be presumptuous enough to write an autobiography, once you read this book you will understand….
"I have been working on my autobiography for many years and I have had a lot of set backs while writing but at the same time an equal amount of motivation to keep moving on with it. The first copy I ever wrote my stepfather found. He ripped up the drafts and burned it all in front of me. He didn't want people to know the truth about what I went through. That was a setback. I ended up picking the pen back up years later and pushing forward with it to have my story heard. I have finally finished it and I self-published through create space. The book is available online. I will include the link here if you would like to order a copy.
This is a story of trials and perseverance though the unconventional events and heartbreak I faced in life. It is the story of how I was dealt a bad hand of cards yet was able to become successful even through the rough times. During my childhood I was held back by religion while being a part of an Independent Fundamental Baptist Church that I had no choice in participating in. It was like a cult. Half of the struggles I faced were a result of the brainwashing that took place, even getting married at such a young age out of guilt and fear was a result of the forced thinking. I went through the years of physical and sexual abuse. Through all of this I managed to clear my mind and see on the outside of this realm I was surrounded in. If you know of anybody who is going through a hard time in life and is struggling to move forward or find success in hard circumstances please let them know about this book. This book is meant to encourage motivate and inspire. This is the story of my life. This is a story that has a purpose. I won't claim to be an awesome writer, but I will claim to have a GREAT STORY! I want this story to reach as many people as possible to accomplish its purpose."
Here is an excerpt from Chapter 1: "There I sat, a four-year-old girl, in a dark room filled with heroin needles, lighters and walls covered in blood. As I heard the sirens and shouts, confusion and chaos, I knew that something was about to happen and things were about to change. I heard voices on megaphones coming from outside in the front yard letting us know the house was surrounded. The door was kicked open and the raid began.
As my 10-year-old brother Brian tried to hide me in a closet, a tall, thin, dark haired female social worker came between us and took me from his arms. Our mom lay drunk and full of heroin on the couch not able to comprehend what was going on in her own living room. The police stood around and went in and out of rooms. There were many arrests made that day.
The people who were always hanging around in the house with us were finally taken into custody and I was taken down the front steps by a police officer. As they put me in the social worker's vehicle, I kicked the dash screaming to be let out. I turned and looked through the back window as we drove away. I saw my mom stumbling down the steps confused and finally becoming aware that I was being taken away. I watched her being pulled back in and handcuffed by a police officer. My brother got out of the arms of the other social worker and chased the car down the road until the police officer grabbed him and held him back.
That was the last time I saw my brother Brian until I was 6 years old. That is one of the earliest memories I have. That moment is one of the recurring dreams and flashbacks I suffer with today. I was taken to the Department of Social Services that day and adopted by a seemingly decent church going family. I thought my new life would be better than what it was……"
The book is available to order online as a hard copy. Through this link: www.createspace.com/4271634
Comments open below
NLQ Recommended Reading …
'Breaking Their Will: Shedding Light on Religious Child Maltreatment' by Janet Heimlich
'Quivering Daughters' by Hillary McFarland
'Quiverfull: Inside the Christian Patriarchy Movement' by Kathryn Joyce