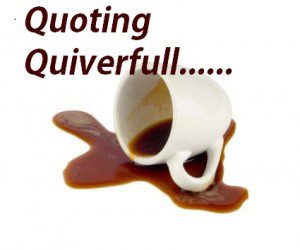 Or an example of how famous religious people spread disinformation (or as they are called in the Bible, lies)
Normally the way we do Quoting Quiverfull here on NLQ is we post a quote from someone in the Quiverfull movement that many look up to without any commentary, only a request to be respectful. That was until this moment, after uncovering this example of how extreme Christianity lies confidently as if their lies are actually established truth, muddying the water.
Isn't lying still listed as a sin, one of the Ten Commandments?
Posted will be the usual quote/content and proof of the lie will be posted beneath in italics.
by Nancy Campbell from Above Rubies – Watch Out

You are most probably aware that written in the 2,517 pages of Obama Care, that hardly a soul has read, that they will be giving a minimum of $500,000,000.00 to Planned Parenthood each year. Our government does not promote life, but death. Obama Care is not for our blessing but to take control of our lives.

Actually, Nancy, Planned Parenthood is not receiving money from the Affordable Care Act (also known as 'Obama Care') for abortions. They have been receiving around 500 million from the government, give or take a few 40 or 50 million or so, for some time now before the ACA. None of that money may be used for abortion at all. Only 3% of the services provided by PP is abortion-related. Most of the rest is preventative care.

What monies from the ACA that PP will receive are the same money being given out to any health care provider that helps sign up people for the ACA, not to provide abortions.

It makes me think of Nehemiah 9:37, "Also they have dominion over our bodies, at their pleasure, and we are in great distress."

Last week a dear friend called me to say that she received a knock on the door. A lady stood there from a local government agency to state that her perfectly beautiful and HEALTHY 10 year old daughter had not had a medical checkup in the last year! She didn't need a checkup. She is totally healthy! Can you believe such an invasion into family life? And this just happened last week.

Hmm, this sounds like something that would be a strict violation of the HIPPA law. Unless, of course, the mother and child are enrolled in a state program. Even then it would be more likely you'd receive a postcard or letter informing you that a well child check should take place soon. No, Nancy, there's nothing wrong with ANYONE getting a check up. It's a wise decision if you can afford it.

Very very unlikely that this incident took place. Research turned up nothing on door to door health screenings or visits from government agencies. Now before the Affordable Care Act went into effect there were door to door people from Organizing For America under the aegis of the US Dept of Health and Human Resources going out to explain the plan and help educate people how to sign up if they were interested.

If we don't stand up now for truth, we will lose all our freedoms.

If you don't knock off distorting the truth then by your own rules you'll end up frying in hell. ACA is law now, no matter if you hate it or love it. Nancy is indulging in more fear mongering to control her followers.

Comments open below
QUOTING QUIVERFULL is a regular feature of NLQ – we present the actual words of noted Quiverfull leaders and ask our readers: What do you think? Agree? Disagree? This is the place to state your opinion. Please, let's keep it respectful – but at the same time, we encourage readers to examine the ideas of Quiverfull honestly and thoughtfully.
NLQ Recommended Reading …
'Breaking Their Will: Shedding Light on Religious Child Maltreatment' by Janet Heimlich
'Quivering Daughters' by Hillary McFarland
'Quiverfull: Inside the Christian Patriarchy Movement' by Kathryn Joyce