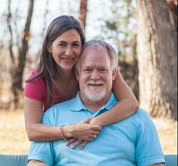 by Matthew Chapman – Thoughts on Betrothal (15 Years Later)
Many Christian homeschooling homes, on the other hand, seem to provide young women with a more natural context in which to come forth—that is, if the parents have an eye for this and their time is used wisely. This is not only true in daughters learning homemaking skills from their mothers, but in the Lord fashioning in them a gentle and quiet spirit. Daughters can also develop a truly submissive heart in how they relate to their parents, and particularly their father, for one day they will have another man with whom they must submissively relate to as their head.


I know that in my case, I cannot even begin to fully communicate the wonderful gift Maranatha's father gave to me in his daughter on the day we married. All her life, he had called her to trust him and follow him, even when she didn't understand or, perhaps, even agree with how he was leading her, and she did. A few nights before our wedding feast, when Maranatha was dressed and ready and waiting for me to come, the doorbell rang and it was her dad who showed up instead. He assured her the wedding feast was not that particular night, and asked her to change her clothes and join him for a special dinner. He took her to a nice restaurant where they had a wonderful evening talking and sharing and laughing and crying together. Then, at one point, he told her, "Sweetheart, all your life you have submitted to me, trusted me, and followed me, and you have done this well. But, when Matthew comes and takes you, all of that transfers over to him, even if that means he leads you in ways that vary from how I would do things." And when I went to get her, she followed her dad's final lead right into my headship of her. Wow! Did I walk into a good deal or what?! I'll tell you what though, having a wife with a heart like that makes you all the more want to seek the Lord and lead her faithfully.
Comments open below
QUOTING QUIVERFULL is a regular feature of NLQ – we present the actual words of noted Quiverfull leaders and ask our readers: What do you think? Agree? Disagree? This is the place to state your opinion. Please, let's keep it respectful – but at the same time, we encourage readers to examine the ideas of Quiverfull honestly and thoughtfully.
NLQ Recommended Reading …
'Breaking Their Will: Shedding Light on Religious Child Maltreatment' by Janet Heimlich
'Quivering Daughters' by Hillary McFarland
'Quiverfull: Inside the Christian Patriarchy Movement' by Kathryn Joyce