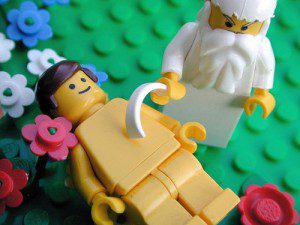 by Becky Stelzer from Ladies Against Feminism and Answers in Genesis – Inferior or Equal?
Modern extreme feminism places women in authority over men, while traditional Darwinian evolution places women far below men. And since the Bible directs that a wife be in submission to her husband, even Christians may wonder, "Is the woman inferior or equal?"

The Genesis account of God's creation of the first male and female gives a clear picture that is extremely different from evolutionary views in our culture. God designed both the man and woman in His own image equally.

Adam was created first, but God decreed that it was not good for man to be alone. Therefore, God fashioned Eve out of Adam's rib. The well-known Bible commentator Matthew Henry said that Eve was "made of a rib out of the side of Adam; not made out of his head to rule over him, nor out of his feet to be trampled upon by him, but out of his side to be equal with him, under his arm to be protected, and near his heart to be beloved."

Josh Harris, author and speaker, reaffirms this biblical teaching in his book Boy Meets Girl. – "God didn't make us to duplicate each other, but to complement each other. The point here is not that Adam was better than Eve, just as God the Father is not "better" than God the Son. Father and Son are equal in essence, power, glory, but they have different roles; and the Son joyfully submits to the Father's will. So in marriage a husband and wife are equal, even though Scripture tells the wife to joyfully submit to her husband's leadership.
Comments open below
QUOTING QUIVERFULL is a regular feature of NLQ – we present the actual words of noted Quiverfull leaders and ask our readers: What do you think? Agree? Disagree? This is the place to state your opinion. Please, let's keep it respectful – but at the same time, we encourage readers to examine the ideas of Quiverfull honestly and thoughtfully.
NLQ Recommended Reading …
'Breaking Their Will: Shedding Light on Religious Child Maltreatment' by Janet Heimlich
'Quivering Daughters' by Hillary McFarland
'Quiverfull: Inside the Christian Patriarchy Movement' by Kathryn Joyce