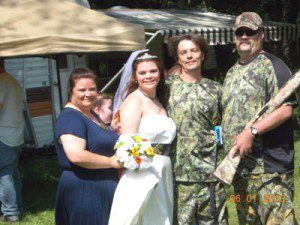 by Phil Robertson of "Duck Dynasty" at a Sportsmen Ministry event in 2009
But some Americans could also be shocked to find out that Robertson believes that the age of 15 is the perfect time for girls to get married — as long as they can cook and carry a Bible.

At a Sportsmen's Ministry talk in 2009, Robertson had some advice for a young man.

"Make sure that she can cook a meal, you need to eat some meals that she cooks, check that out," he said. "Make sure she carries her Bible. That'll save you a lot of trouble down the road. And if she picks your ducks, now, that's a woman."

"They got to where they're getting hard to find," Robertson remarked. "Mainly because these boys are waiting until they get to be about 20 years old before they marry 'em. Look, you wait until they get to be 20 years old, the only picking that's going to take place is your pocket."

The Duck Commander company founder added: "You got to marry these girls when they are about 15 or 16, they'll pick your ducks. You need to check with mom and dad about that of course."

He went on to say that the Bible gave Americans the right to hunt.
Comments open below
QUOTING QUIVERFULL is a regular feature of NLQ – we present the actual words of noted Quiverfull leaders and ask our readers: What do you think? Agree? Disagree? This is the place to state your opinion. Please, let's keep it respectful – but at the same time, we encourage readers to examine the ideas of Quiverfull honestly and thoughtfully.
NLQ Recommended Reading …
'Breaking Their Will: Shedding Light on Religious Child Maltreatment' by Janet Heimlich
'Quivering Daughters' by Hillary McFarland
'Quiverfull: Inside the Christian Patriarchy Movement' by Kathryn Joyce