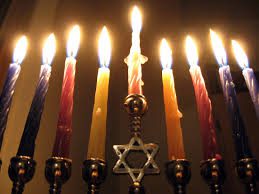 by Nancy Campbell of Above Rubies – Full Time Hanukkah Parenting
Proverbs 22:6, "Train up a child in the way he should go: and when he is old, he will not depart from it." The word "train" is "hanuk," the verb of Hanukkah, meaning "to initiate, dedicate, consecrate." It is not enough to celebrate Hanukkah for eight days. As parents, we are in a FULLTIME HANUKKAH CELEBRATION!
When we understand that to train our children means to dedicate them to the Lord, it gives us new vision. Everything we do is now in the light of dedicating our children to the Lord and setting them apart for His service. It's not a one-time dedication. It is a verb which requires daily action.
When our children are disobedient or don't complete what we have asked them to, we can sometimes be lazy and let it go. But, not if we understand we are daily dedicating them to the Lord. How can we let things go when we consecrating them to God's holy service. We have the responsibility to train and prepare them for Him
As children get older, they can become more worldly and want to do what other more worldly teens are doing. We could think, "Oh that is the stage they are going through." But, not if we understand that we are daily consecrating them to the Lord. We will pray up a storm. We will fight the devil. We will work with our children to keep them on the narrow road that leads to life. We will do everything to save them from the broad road that leads to destruction. WE ARE HANUKKAH PARENTS!
When we "hanuk" our children, it determines how we educate our children. It would be ludicrous to send our children into a an ungodly education system each day when we are daily consecrating them for God's purposes.
Comments open below
QUOTING QUIVERFULL is a regular feature of NLQ – we present the actual words of noted Quiverfull leaders and ask our readers: What do you think? Agree? Disagree? This is the place to state your opinion. Please, let's keep it respectful – but at the same time, we encourage readers to examine the ideas of Quiverfull honestly and thoughtfully.
NLQ Recommended Reading …
'Breaking Their Will: Shedding Light on Religious Child Maltreatment' by Janet Heimlich
'Quivering Daughters' by Hillary McFarland
'Quiverfull: Inside the Christian Patriarchy Movement' by Kathryn Joyce