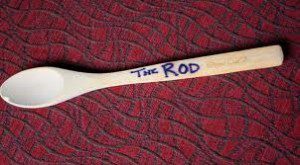 by Debi and Michael Pearl from "To Train Up A Child" as quoted at the site Why Not Train A Child
Page 9
At five months, she was too unknowing to be punished for disobedience. But for her own good (and our peace of mind), we attempted to train her not to climb the stairs by coordinating the voice command of "No" with little spats on her bare legs. The switch was a twelve-once long, one-eighth-inch diameter sprig from a willow tree.
Page 63
But what about the grouchy child who would rather complain than sleep? Get tough. Be firm with him. Never put him down and then for some reason reverse your position, allowing him to get up. For your reputation with the child, you must follow through. He may not be able to sleep, but he can be trained to lie there quietly. He will very quickly come to know that any time he is laid down, there is no alternative but to stay put. To get up is to be on the firing line and get switched back down.
Page 79
A seven-month-old boy had, upon failing to get his way, stiffened clenched his fists, bared his toothless gums and called down damnation on the whole place. At a time like that, the angry expression on a baby's face can resemble that of one instigating a riot. The young mother, wanting to do the right thing, stood there in helpless consternation, apologetically shrugged her shoulders and said, "What can I do?" My incredulous nine-year-old whipped back, "Switch him." The mother responded, "I can't, he's too little." With the wisdom of a veteran who had been on the little end of the switch, my daughter answered, "If he is old enough to pitch a fit, he is old enough to be spanked."
Page 55
If a father is attempting to make a child eat his oats, and the child cries for his mother, then the mother should respond by spanking him for whining for her and for not eating his oats. He will then be glad to be dealing only with the father.
Page 46
At this point, in utter panic, he will rush to demonstrate obedience. Never reward delayed obedience by reversing the sentence. And, unless all else fails, don't drag him to the place of cleansing. Part of his training is to come submissively. However, if you are just beginning to institute training on an already rebellious child, who runs from discipline and is too incoherent to listen, then use whatever force is necessary to bring him to bay. If you have to sit on him to spank him then do not hesitate. And hold him there until he is surrendered. Prove that you are bigger, tougher, more patiently enduring and are unmoved by his wailing. Defeat him totally. Accept no conditions for surrender. No compromise. You are to rule over him as a benevolent sovereign. Your word is final.
and there is still more….
Comments open below
QUOTING QUIVERFULL is a regular feature of NLQ – we present the actual words of noted Quiverfull leaders and ask our readers: What do you think? Agree? Disagree? This is the place to state your opinion. Please, let's keep it respectful – but at the same time, we encourage readers to examine the ideas of Quiverfull honestly and thoughtfully.
NLQ Recommended Reading …
'Breaking Their Will: Shedding Light on Religious Child Maltreatment' by Janet Heimlich
'Quivering Daughters' by Hillary McFarland
'Quiverfull: Inside the Christian Patriarchy Movement' by Kathryn Joyce