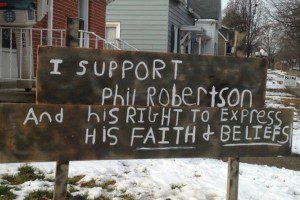 by Bruce Gerencser cross posted from his blog The Way Forward
Millions of Evangelical Christians are in an uproar over A&E suspending Duck Dynasty star Phil Robertson over his homophobic, racist remarks made in a recent GQ magazine interview. Facebook, Twitter, and the Sunday pulpit have been awash in defenses of Phil Robertson's right to publicly state what he believes about homosexuality and the Jim Crow days of the South. I thought I would use this post to summarize the various articles, news reports, and blog posts about Phil Robertson and Duck Dynasty:
I have written three posts on Phil Robertson and Duck Dynasty:
How Phil From Duck Dynasty Avoids Committing Sexual Sin
Phil Robertson of Duck Dynasty Fame Talks Out of Both Side of His Mouth
Phil Robertson of Duck Dynasty Shares His Beliefs in a Sermon
Here's the funniest thing about Duck Dynasty…the Robertson clan is pulling the wool over the eyes of its viewers when they give the "appearance" that they are backwoods rednecks. Here are a few before Duck Dynasty started and after Duck Dynasty started pictures:
And here is a picture of some of the Duck Dynasty cast out in the backwoods.
Real backwoods Rednecks, aren't they?
The Cult of Dusty has put out a hilarious, spot on video about the whole Duck Dynasty/Phil Robertson affair. WARNING! Dusty uses a lot of colorful, irreligious language. You have been warned, so no whining later that you were offended.
Harvest Crusade Evangelist, Greg Laurie had this to say:
"It seems to me that some people who talk the most about tolerance are the most intolerant toward anyone who dares to disagree with their views. As Christians, we are not wanting to force our views on anyone. The fact is, we are, as a whole, tolerant of other people's choices, even if we don't agree with them. But what is being asked of us is not tolerance, but acceptance and endorsement of sin. We cannot do that."

"Phil Robertson. A plain-spoken follower of Jesus is now 'in trouble' for speaking his mind, and more specifically, for holding to a position that is taught in Scripture. What Phil said has been described as 'hateful,' 'anti-gay,' etc. A&E has pulled him off the hugely popular show Duck Dynasty as a result. I don't know how stressed Phil is about this. He's probably out duck hunting."
Laire Lightner started a petition of support for Phil Robertson and Duck Dynasty on change.org. As of today is has 115,551 signatures. Lightner wrote:
Freedom of speech along with freedom of religion is being attacked every single day in this country. Phil Robertson simply stated what his convictions are. Homosexuals have their convictions and Christians respect them. There is a difference between respecting someone rights to exercise free will and imposing on others what we believe. Phil has done nothing more than state what he believes in. Just because homosexuals do not agree, does not mean Mr. Robertson needs to be suspended. That is not only discrimination, it violates his first and second Amendment rights. Duck Dynasty has a huge following and WE THE PEOPLE stand behind Phil Robertson and his family. We stand for faith and freedom. We stand for family and values. Those who disagree have the God given right to, that doesn't mean Phil needs to be punished for exercising his rights. We will boycott A&E if he is not brought back and the network apologizes for such treatment.

We the people, have spoken!
One of my favorite responses on Twitter came from Charlie Sheen:
hey Mallard brained
Phil Robertso!
you have offended and hurt so many dear friends of mine,
who DO NOT have the voice or the outreach that I do.
well news flash
shower-dodger,
I will speak loudly and clearly for ALL of them.
so,
just when your desperately sub evolved ass thought the pressure was off,
you are now in the crosshairs of a MaSheen style media
beat down.
(I'll try to keep the big words to a minimum as not to confuse you)
your statements were and are
abhorrently and
mendaciously unforgivable.
the idea that you have a job
outside of dirt-clod stacking
is a miracle.
the only 'Dynasty' you are attached to might be the
re-runs of that dated show.
the only thing you should ever be in charge of building is a hole in the ground the exact size of your head.
perhaps your beard would fit as well if you plucked out the
army of scabies and
bull weevils sequestered deep in it's sarcophagus of dander and weasel pelts.
shame on you.
you're the only surviving
brain donor I've ever known.
when the gators and Egrets
kick you out of their
hovel,
you need to make serious amends to those you have
radically offended.
on the eight day
when I was whittling my cosmic banjo,
I'm pretty sure YOU were the scattered dross I then used to light a fire and
locate the nearest
Andy Gump.
repulsed by you;
c sheen
Think Progress reported on Cracker Barrel stopping the sale of Duck Dynasty junk only to change their mind after so many Evangelical Christians complained:
Cracker Barrel, a country-themed restaurant and gift shop, has a storied history of discriminating on the basis of both sexual orientation and race, which is why it was perhaps surprising when the chain announced on Friday that it would be pulling some Duck Dynasty products from its shops. The show's patriarch, Phil Robertson, had made comments comparing homosexuality to bestiality and suggesting African Americans were content without full civil rights. However, it was only 39 hours later that Cracker Barrel was apologizing to fans of the show and promising to sell the products.

Friday evening, Cracker Barrel posted on Facebook the following message championing "fairness, mutual respect and equal treatment of all people" and suggesting that some Duck Dynasty products would be removed from stores so as to not to offend guests:

Cracker Barrel's mission is Pleasing People. We operate within the ideals of fairness, mutual respect and equal treatment of all people. These ideals are the core of our corporate culture.

We continue to offer Duck Commander products in our stores. We removed selected products which we were concerned might offend some of our guests while we evaluate the situation. We continually evaluate the products we offer and will continue to do so.

Conservatives objected, including Mike Huckabee and the Family Research Council's Tony Perkins. By Sunday morning, the chain decided that its own actions were actually more offensive than Robertson's comments and proceeded to apologize to its customers:

Dear Cracker Barrel Customer:

When we made the decision to remove and evaluate certain Duck Dynasty items, we offended many of our loyal customers. Our intent was to avoid offending, but that's just what we've done. You told us we made a mistake. And, you weren't shy about it. You wrote, you called and you took to social media to express your thoughts and feelings. You flat out told us we were wrong.

We listened.

Today, we are putting all our Duck Dynasty products back in our stores. And, we apologize for offending you. We respect all individuals right to express their beliefs. We certainly did not mean to have anyone think different.

We sincerely hope you will continue to be part of our Cracker Barrel family.

In 1991, Cracker Barrel instituted a policy prohibiting the employment of gay and lesbian employees. It was deemed "inconsistent with our concept and values and… with those of our customer base, to continue to employ individuals… whose sexual preferences fail to demonstrate normal heterosexual values." The establishment of this policy led to store managers interviewing employees to find out if they were gay, leading to the firing of as many as 17 employees across several states. The policy only lasted one month, but none of the people who were fired were ever offered their jobs back. In 2002, shareholders finally voted to add sexual orientation to the company's equal employment opportunities policy.

In 2004, an investigation by the U.S. Department of Justice found that Cracker Barrel consistently mistreated African-American customers, segregating where they sat, allowing white servers to refuse to wait upon them, and seating or serving white customers ahead of them. The investigation also alleged that restaurant owners directly participated in exercising this segregation. In addition to abiding the Justice Department's guidance, Cracker Barrel also later paid $2 million in 2006 to settle a suit related to charges of racial and sexual discrimination against employees at three Illinois restaurants.
Polly and I love eating at Cracker Barrel, but after learning about their racist, homophobic past, I think we will no longer eat there. Like A&E, Cracker Barrel made their decision based on demographics and who their core customers are and not any sense of justice or morality,
On Sunday, in a small group Bible study, Phil Robertson had this to say:
We murder each other and we steal from one another, sex and immorality goes ballistic. All the diseases that just so happen to follow sexual mischief… boy there are some microbes running around now. Sexual sins are numerous and many, I have a few myself. So what is your safest course of action? If you're a man, find yourself a woman, marry them and keep your sex right there. You can have fun, but one thing is for sure, as long as you are both healthy in the first place, you are not going to catch some debilitating illness, there is safety there.

Commonsense says we are not going to procreate the human race unless we have a man and a woman. From the beginning Jesus said, "It is a man and a woman." Adam was made and Eve was made for this reason. They left their fathers and mothers and be united to become one flesh, that's what marriage is all about. But we looked at it and said it was an outdated stereotype. When you look back at the human race, the sins have always been the same: We get high, we get drunk, we get laid, we steal and kill. Has this changed at all from the time God burnt up whole cities because their every thought was evil?

The acts of the sinful nature are obvious. Sexual immorality, is number one on the list. How many ways can we sin sexually? My goodness. You open up that can of worms and people will be mad at you over it. I am just reading what was written over 2000 years ago. Those who live like this will not inherit the kingdom. All I did was quote from the scriptures, but they just didn't know it. Whether I said it, or they read it, what's the difference? The sins are the same, humans haven't changed. […]

But there's a way out, do you want to hear the rest of the story or what? Jesus will take sins away, if you're a homosexual he'll take it away, if you're an adulterer, if you're a liar, what's the difference? If you break one sin you may as well break them all. If we lose our morality, we will lose our country. It will happen. Wouldn't it be nice if we could all walk around without stealing from each other and killing each other?
Finally, the Support Phil Robertson Facebook page:
I am sure The Way Forward readers will want to LIKE the Facebook page, so here is the link to it.
All I want to know is when Charles Manson got out of prison?
(Editor's note: I'm curious as to what you, dear readers, think about the entire Duck Dynasty debacle. Tempest in a teapot or the end of the civilized world as we know it? 😉
[Editorial Note: This article is written from the premise that the Bible is not the authoritative last word for faith and practice. If you are not one of those readers, please be understanding of the intended audience and refrain from commenting on whether the Bible should be taken as such. Please show some respect for the writer and others of their faith or own belief/nonbelief by discussing the topic, rather than questioning whether the topic is one that even should be discussed or attacking the author. We try to be supportive of everyone coming out of abusive theology and Religious Trauma Syndrome. For more info on the site please visit – Is NLQ an Atheist Website?]
Comments open below
Read everything by Bruce Gerencser!
Spiritual Abuse Survivor Blogs Network member, Bruce Gerencser blogs at The Way Forward.
Bruce Gerencser spent 25 years pastoring Independent Fundamental Baptist, Southern Baptist, and Christian Union churches in Ohio, Michigan, and Texas. Bruce attended Midwestern Baptist College in Pontiac, Michigan. He is a writer and operates The Way Forward blog. Bruce lives in NW Ohio with his wife of 35 years. They have 6 children, and nine grandchildren.
NLQ Recommended Reading …
'Breaking Their Will: Shedding Light on Religious Child Maltreatment' by Janet Heimlich
'Quivering Daughters' by Hillary McFarland
'Quiverfull: Inside the Christian Patriarchy Movement' by Kathryn Joyce