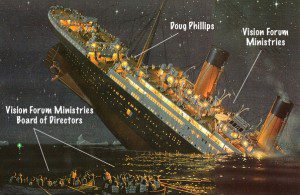 by Calulu cross posted from her blog True Love Doesn't Rape
…And so things get a bit more grim for the Phillips.
There's been no official word on the closing of the incorporated for profit side of Vision Forum closing after Doug Phillips stepped down after admitting his affair and the closing of the ministry side of Vision Forum, but it looks like that is indeed what is happening.
T.W. Eston of the blog Jen's Gems is reporting that many people working at the Inc have been given notices that they are losing their jobs. Others are reporting that if you order from Vision Forum Inc. you'll receive notice that all sales are final and that an inventory liquidation is ongoing. Emails went out from other sources saying that FVI is having a Black Friday sale. Lots of compelling evidence that the money maker is shutting down as well at Spiritual Sounding Board
Starting January 1, 2014 the assets of Vision Forum will start being liquidated. The Phillips family has until New Years Eve to be out of their luxury mansion that is owned by the ministry. The mansion, vehicles, some of the personal belongings and clothes are rumored to be on the chopping block for sale since they were purchased with ministry funds.
Peter Bradrick, Doug Phillips former right hand man, has finally spoken out on the mess and about his being let go by Doug. Read his take at Homeschoolers Anonymous: Peter Bradrick, Former Executive Assistant to Doug Phillips, Speaks Out On Being "Formally Disowned" and "Declared to be a Destroyer"
If you still think that perhaps Doug Phillips and his wife have been handed a raw deal I suggest you real the series over at Jen's Gems on her own personal experiences attending the church Doug Phillips pastored. Starting with Part 1 to the bitter end at Part 12. It's a fascinating and horrifying read on the way the Phillips acted towards church members.
Do you think perhaps this is it and nothing more 'wrong' will come out from the ministry or are there even worse allegations to come?
Comments open below
Calulu is an empty nester lives near Washington DC with her husband, cats and various rescue birds. She works at a residential treatment center for children and is also the administrator of NLQ. Was raised Catholic in South Louisiana before falling in with a bunch of fallen Catholics whom had formed their own part Fundamentalist, part Evangelical church. After fifteen uncomfortable years drinking that Koolaid she left nearly 7 years ago. Her blogs are True Love Doesn't Rape and Calulu – Seeking The Light
NLQ Recommended Reading …
'Breaking Their Will: Shedding Light on Religious Child Maltreatment' by Janet Heimlich
'Quivering Daughters' by Hillary McFarland
'Quiverfull: Inside the Christian Patriarchy Movement' by Kathryn Joyce