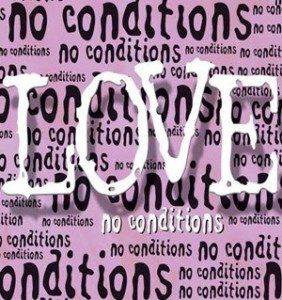 by Bruce Gerencser cross posted from his blog The Way Forward
Ask an Evangelical Christian if God loves humans unconditionally and they will likely respond with a resounding YES! God loves us no matter what we do, they will say. If the person is familiar with the Bible, they might even quote Romans 8:38,39:
For I am persuaded, that neither death, nor life, nor angels, nor principalities, nor powers, nor things present, nor things to come, nor height, nor depth, nor any other creature, shall be able to separate us from the love of God, which is in Christ Jesus our Lord.
OK, does this verse apply to the non-Christian? After all, when the non-Christian dies they go to hell. So, this means they are separated from the love of God, right? Uh, well…the Bible says God is love! OK, where does it say that God's love is unconditional?
The word unconditional means without any conditions, not contingent, not determined or influenced by someone or something else. I know that Evangelicals desperately want God's love to be unconditional, but any cursory reading of the Bible shows that God's love is ALWAYS conditional.
Consider salvation for a moment. Are there any conditions that must be fulfilled before God will save a person? Or does a person go to bed one night unsaved and wake up the next morning saved? Of course not. In order for a person to be saved, they must repent, believe, and follow. These are the conditions that must be fulfilled in order for a person to be considered a Christian.
Both Calvinism and Arminianism teach that God's love is conditional. For the Calvinist, God's love for a person is predicated on unconditional election and predestination. For the Arminian, God's love for a person is predicated on prevenient grace.  If God unconditionally loves everyone then he would save everyone. But, he doesn't save everyone because he has already determined who he is going to save. But Bruce, the only reason a person is not saved is because they choose not to be. OK, so then them CHOOSING is the condition for God saving them, right? Well, uh…can't get away from it…God is not the God of unconditional love.
Let's move on from salvation to what we can know from the Bible about God's "unconditional" love. When God created Adam and Eve, he told them that his love, favor, and blessing was contingent on one condition;don't eat of the tree of the knowledge of good and evil.  Of course we all know how that worked out.
After Adam and Eve sinned until Jesus died on the cross, God required a blood sacrifice in order to expiate the sins of any human. The human's forgiveness was contingent on the blood sacrifice. No sacrifice, no forgiveness. Even now, the forgiveness of sin is contingent on the atonement of Jesus on the cross. (and sects argue endlessly about whose sins and what sins were expiated on the cross) Again, it is clear that salvation and the forgiveness of sin is conditional.
When I am talking to Evangelicals about the unconditional love of God, I ask them, give me one illustration from the Bible where God's love is shown to be unconditional? If they think about his for a moment, they likely will argue that God's love is different from human love, so it is impossible for us to understand it. According to many Evangelicals, God is capable of perfectly loving and hating a person at the same time. This is a nice theory for which there is no proof. (at least from the Bible)
Genesis 6-8 states that God caused a flood to engulf the earth, killing every human and every animal that was not on the Ark with Noah and his family. Millions of people died. Men, women, children, and babies still in the womb, died because God drowned them.  Was God's love for those that drowned unconditional?
According to Genesis 6:3, God gave humans 120 years to repent. The New Testament tells us that Noah was a preacher of righteousness. Noah was God's warning siren to the inhabitants of the earth. Their survival depended on them repenting from their evil ways. Granted, things were bad. According to the Bible, the sons of God, which many Evangelicals believe were fallen angels, were marrying and having sex with human women. This sexual union produced what the KJV calls giants, mighty men, men of renown.
The conditions of earth were so bad that God:
…saw that the wickedness of man was great in the earth, and that every imagination of the thoughts of his heart was only evil continually.And it repented the Lord that he had made man on the earth, and it grieved him at his heart. And the Lord said, I will destroy man whom I have created from the face of the earth; both man, and beast, and the creeping thing, and the fowls of the air; for it repenteth me that I have made them. (Genesis 6:7,7)
Humans had become so evil that God regretted creating them. He decided to kill everyone except Noah and seven members of his family. Simply put, God hit the reset button and started over.
When an Evangelicals preaches at/to me about the unconditional love of God, I always ask them to explain the unconditional love of God to me from Genesis 6-8. Usually, the Evangelical will quickly say that God killed them because of their sin. So, God's love was conditioned on them repenting, so his love wasn't unconditional. Besides, God killed innocent children and unborn babies in the flood.  God loved them so much that he killed them?  Perhaps God thought they would be better off dead? (an argument used by more than a few deranged parents)
It is clear from Genesis 6-8 that God's love was NOT unconditional, and no matter where a person reads in the Bible, they are going to find that God's love is conditional. If the Bible is anything, it is the written record of God's wrath, vengeance, and hate towards those who do not accept and act on the conditions he gives them. The gospel message of the Bible is this, Do THIS and thou shalt live. Either we do things God's way or he makes us pay.
Imagine a person saying, I love my wife, kids, neighbor, friend, etal. Yet, this person  afflicts, starves, brutally punishes, and kills those he says he loves? Would we not rightly say that this person knows nothing about love? Yet, when the unconditional love God does these things, he is given a pass. God is right in all he does because God is right. Like Paul in Romans 9, many Evangelicals say, how dare you question what God does. He loves because he says he loves. End of discussion.
Shouldn't we expect God to at least measure to human standards? A person who afflicts, starves, brutally punishes, and kills people knows nothing about love. He is likely a sociopath. He is not a person any of us would want to have anything to do with. Yet, God when he acts this way, The Evangelical choir begins to sing, What a Mighty God we Serve, followed by, Our God is an Awesome God.
The truth is, many Christians are far more loving than the God they profess to worship. We all should be very glad that many Christians are more God-like than God himself . Imagine what the world would look like if Christians loved what God loved and hated what God hated. (read the Bible for the list of people and behaviors God hates)
I realize that most Evangelical readers, and many non-Evangelical Christian readers, will reject what I have written here.  They are convinced that God is love, every time, all the time, and he can be nothing but love. They even carry it a step farther when they naïvely say, not only does God love unconditionally but we are to love everyone unconditionally too.
While it is hard to "prove" that an invisible God does not love unconditionally, it is quite easy to prove that NO human loves unconditionally. At best, unconditional love is a grand ideal, but back here in the real flesh and blood world, human  love always has conditions.
I am sure someone will say, I love my wife and my children unconditionally.  This person's thinking is well-intentioned, but it is based on sentimentality rather than fact. Suppose for a moment this person went to work, came home early from work, and found his wife in bed with the neighbor. Would his love still be conditional? Perhaps, he forgives his wife for her indiscretion, but what if she continues to sleep with the neighbor and even starts sleeping with numerous men. Would his love still be unconditional?
Parents like to say that they love their children unconditionally.  Suppose for a moment this person went to work and when he came home he found his wife and four of his five children murdered. He soon finds out that his teenage son killed his wife and his children. Would his love still be unconditional?
But Bruce, these are extreme examples. Yes, and shouldn't unconditional love work no matter the circumstance?  Remember:
The word unconditional means without any conditions, not contingent, not determined or influenced by someone or something else.
It is important for us to love others and we all can and should broaden the limits of our love. But, like the God of the Bible, our love does have limits and this is why I must conclude that the notion of unconditional love is a myth. It is a belief rooted in human sentimentality. Perhaps it is a worthy goal, but all I know is that everywhere I look, be it the Bible, or the actions of my fellow humans, or my own actions, all I see is conditional love.  Yes, I want to love more, but there are things that those I love can do that will destroy the love I have for them.
~~~~~~~~~~~~~~~~~~~~~~~~
Bruce has also written a great post about how the Evangelical church plant movement is nothing more than a modern con job – The Elevate City Church Con Job
[Editorial Note: This article is written from the premise that the Bible is not the authoritative last word for faith and practice. If you are not one of those readers, please be understanding of the intended audience and refrain from commenting on whether the Bible should be taken as such. Please show some respect for the writer and others of their faith or own belief/nonbelief by discussing the topic, rather than questioning whether the topic is one that even should be discussed or attacking the author. We try to be supportive of everyone coming out of abusive theology and Religious Trauma Syndrome. For more info on the site please visit – Is NLQ an Atheist Website?]
Comments open below
Read everything by Bruce Gerencser!
Spiritual Abuse Survivor Blogs Network member, Bruce Gerencser blogs at The Way Forward.
Bruce Gerencser spent 25 years pastoring Independent Fundamental Baptist, Southern Baptist, and Christian Union churches in Ohio, Michigan, and Texas. Bruce attended Midwestern Baptist College in Pontiac, Michigan. He is a writer and operates The Way Forward blog. Bruce lives in NW Ohio with his wife of 35 years. They have 6 children, and nine grandchildren.
NLQ Recommended Reading …
'Breaking Their Will: Shedding Light on Religious Child Maltreatment' by Janet Heimlich
'Quivering Daughters' by Hillary McFarland
'Quiverfull: Inside the Christian Patriarchy Movement' by Kathryn Joyce