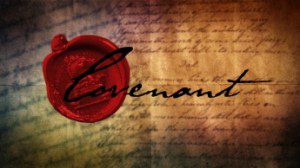 by Doug Wilson of Blog and Mablog
Children are a blessing. Scripture speaks that way, and so should we. But children are a blessing in the covenant. The cup of blessing at the Lord's Supper is a blessing — it is called the cup of blessing. And yet, there were some at Corinth who were sick and who had died because of how they mishandled that blessing (1 Cor. 11:30). The mercy seat on the ark of the covenant was a mercy seat — but was Uzzah struck dead because he touched it (2 Sam. 6:7)?

This means that children, in order to be experienced as the kind of blessing that God wants them to be for us, must be received in faith, by faith, and through faith. The just shall live by faith, and this includes life together in a family as the children are brought up in the nurture and admonition of the Lord.

To anticipate one objection, obviously parents cannot use birth control in order to weed out the Judases. That is not possible for us to do — we do not have that kind of knowledge. What they have to do, walking by faith, and refusing to listen to the anti-child propaganda that the world dishes up, is to make their decisions before the Lord. They have to refrain from unlawful means, and they have to walk in true wisdom with the rest.
Comments open below
QUOTING QUIVERFULL is a regular feature of NLQ – we present the actual words of noted Quiverfull leaders and ask our readers: What do you think? Agree? Disagree? This is the place to state your opinion. Please, let's keep it respectful – but at the same time, we encourage readers to examine the ideas of Quiverfull honestly and thoughtfully.
NLQ Recommended Reading …
'Breaking Their Will: Shedding Light on Religious Child Maltreatment' by Janet Heimlich
'Quivering Daughters' by Hillary McFarland
'Quiverfull: Inside the Christian Patriarchy Movement' by Kathryn Joyce