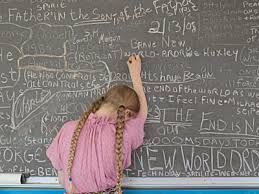 by Brian Unruh from World Net Daily – Judge: Homeschooling a 'concrete endangerment' to kids
A judge has issued a stunning verdict in a homeschooling case in Germany, ordering that the parents cannot have custody of their children because the family might move to another country and homeschool, posing a "concrete endangerment" to the children.

Dirk and Petra Wunderlich's case made international headlines in August when 20 armed police arrived with a battering ram and forcibly took their four children from their home in Darmstadt, Germany, and enrolled them in public school.

As WND reported at the time, the children, ages 7 to 14, were taken into police custody. They were allowed to return home three weeks later when their father and mother, given no choice by the federal bureaucracy in Germany, agreed to allow their kids to attend public schools despite their objection to the social and religious instruction there.

According to the Home School Legal Defense Association, an international organization advocating for homeschool rights, the ruling from Family Court Judge Marcus Malkmus rejected emphatically the parents' request to regain custody.

Lawyers for the family had asked the judge to allow the parents to have custody because they had met all court demands for their children to go to public schools, and they wished to move to France, where homeschooling is legal.

The judge, in his ruling, said that even though the Wunderlich children were academically proficient, well-adjusted socially and without educational deficiencies, he was horrified by homeschooling.

Malkmus compared homeschooling to having the children wear a straitjacket and said he had to make sure the children remained in Germany so they would be integrated into society.

He feared "the children would grow up in a parallel society without having learned to be integrated or to have a dialogue with those who think differently and facing them in the sense of practicing tolerance."

Such treatment, he warned would be "concrete endangerment to the wellbeing of the child."

The father, Dirk, told HSLDA the recent decision was shocking.

"I had really hoped the judge would just let us leave Germany peacefully. We don't isolate our children. They are well adjusted and doing well academically. We are happy for them to be connected to society. We just prefer to homeschool them because we believe it is better for them. It is so sad that my countrymen are not able to see that homeschooling should be allowed. It is legal in many other countries, and I believe it's a human right."

He compared Malkmus' decision to building "another Berlin Wall apparently designed to prevent all parents who might leave to homeschool from leaving Germany."

Wunderlich said it's no different "than what happened in the former East Germany under communism and before that under the Third Reich."

"We need help from others around the world to help our country see this terrible violation of human rights," he said.
Comments open below
QUOTING QUIVERFULL is a regular feature of NLQ – we present the actual words of noted Quiverfull leaders and ask our readers: What do you think? Agree? Disagree? This is the place to state your opinion. Please, let's keep it respectful – but at the same time, we encourage readers to examine the ideas of Quiverfull honestly and thoughtfully.
NLQ Recommended Reading …
'Breaking Their Will: Shedding Light on Religious Child Maltreatment' by Janet Heimlich
'Quivering Daughters' by Hillary McFarland
'Quiverfull: Inside the Christian Patriarchy Movement' by Kathryn Joyce