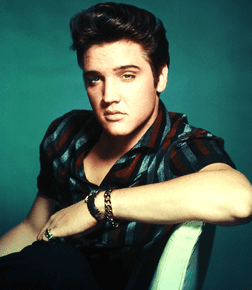 by Suzanne cross posted from her blog Seeking The Light
The Seeker King: A Spiritual Biography of Elvis Presley by Gary Tillery
Before opening up this book I thought I knew everything there was to be known in the public realm about Elvis Presley. After all, I grew up in the Deep South, and the Deep South is still a place where the shadow of Elvis looms like a rock and roll Jesus. My mother loved Elvis and my father wasn't a fan of his. I grew up in the 1960s, surrounded by the music of Elvis Presley courtesy of my mother keeping Elvis Presley records on our stereo turntable.
My father could not take Elvis serious as a worldwide phenomenon because he'd seen a young unknown Elvis perform at the Brown Door lounge in Hammond, Louisiana near his university. For him Elvis was just a regular guy who made it big. Somehow after reading this delightful book I get the feeling that Elvis would have liked to have been thought of as a regular guy.
Turns out there is a side of Elvis that was hidden from most everyone, including those in his 'inner circle', the Memphis Mafia, at times. That was Elvis Presley's search for spiritual significance. Even as he was surrounded by loving family, friends and fans he wasn't satisfied. His search in some ways reminded me of the words of King Solomon, a man with everything that inside is longing for more. Nothing earthly satisfies when you have riches and privilege surrounding you. That becomes even harder to accept as your reality once you've experienced more in the realm of the spiritual.
From Elvis's earliest days he was immersed in the Assemblies of God church. Like everything else in his young life, being raised poor in Mississippi amidst the nearby impoverished African Americans, the blues, cotton and country music, it was a perfect storm of conditions to break down cultural walls and usher in the beginning of rock and roll.
Author Gary Tillery manages to link all the early influences of the King of Rock and Roll with the music and spiritual needs. His book gives the reader a deep insight into the inner world of Elvis, the unknown Elvis. It was a fascinating read on many levels, enjoyable by the most intense Elvis fan or those that barely know anything about him. Tillery shows the real man, not just the glittering image on the Las Vegas stage.
Comments open below
Suzanne is an empty nester lives near Washington DC with her husband, cats and various rescue birds. She works at a residential treatment center for children and is also the administrator of NLQ. Was raised Catholic in South Louisiana before falling in with a bunch of fallen Catholics whom had formed their own part Fundamentalist, part Evangelical church. After fifteen uncomfortable years drinking that Koolaid she left nearly 7 years ago. Her blogs are True Love Doesn't Rape and   Seeking The Light
NLQ Recommended Reading …
'Breaking Their Will: Shedding Light on Religious Child Maltreatment' by Janet Heimlich
'Quivering Daughters' by Hillary McFarland
'Quiverfull: Inside the Christian Patriarchy Movement' by Kathryn Joyce