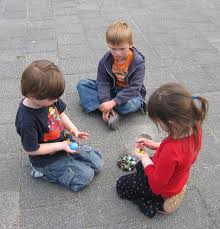 by Jonathan Lindvall on the Yahoo Bold Christian Living Group –
As many of you know, the Lord has granted me the privilege to encourage a
small, but growing number of saints in India to homeschool their children.
(My family will be going with me for an extended time of ministry there from
December through February.) One father who has just begun homeschooling his
daughter wrote me this week with an interesting concern. He subsequently
gave me permission to share his note and my response. He wrote:
> We noticed that she doesn't like to play with the other kids
> as much now and prefers to play alone. Any idea what could be happening?

That's GREAT! I often hear from new homeschoolers that their children are
preferring to play with the parents, siblings, and alone, soon after
beginning homeschooling.
In my opinion, that's part of the goal. Congratulations! She was becoming
addicted to interaction with her peers, who were, perhaps unintentionally,
stealing her heart from you. She had already started down the road to
becoming peer-dependent. But now, she is preferring being with you, being
with her little brother, and being alone. I think that's really healthy.
Many people worry that this will make children unable to relate to others.
In fact, it makes them less intimidated by others' acceptance/rejection of
them. She will be less likely to be pressured into conformity with the world
(Rom. 12:1-2). And as you spend time with her, her emotional focus is
turning to you. God is "turning the hearts of the children to the fathers,
and the hearts of the fathers to their children" (Mal. 4:6). Ultimately this
will make it easier for Grace to give her heart to you (Prov. 23:26) in
preparation for fully yielding and trusting her heart to the Lord.
Comments open below
QUOTING QUIVERFULL is a regular feature of NLQ – we present the actual words of noted Quiverfull leaders and ask our readers: What do you think? Agree? Disagree? This is the place to state your opinion. Please, let's keep it respectful – but at the same time, we encourage readers to examine the ideas of Quiverfull honestly and thoughtfully.
NLQ Recommended Reading …
'Breaking Their Will: Shedding Light on Religious Child Maltreatment' by Janet Heimlich
'Quivering Daughters' by Hillary McFarland
'Quiverfull: Inside the Christian Patriarchy Movement' by Kathryn Joyce